The Long Sleeve Cycling Jersey We Can't Live Without
Heading out the door? Read this article on the new Outside+ app available now on iOS devices for members! Download the app.
Field tested, Triathlete approved. 
The Pro Team Long Sleeve Shadow Jersey from Rapha came about as a direct request from the riders from Team Sky. After enduring some treacherous conditions during spring races, they wanted a race worthy long sleeve jersey that would shed water and repel wind, have a slim fit, breathe well and not restrict motion. You know, do it all.
To meet that request, Rapha designed their own method to create a fabric that is unlike others. Most protective fabrics consist of three layers: a soft layer for comfort, than a protective membrane, and finally a durable outer. These fabrics typically do well in the protection department, but lack in breathability. Rapha uses a single layer. Each yarn is coated with Durable Water Repellent (DWR) treatment, then woven together. At this point, it is dyed at a high temperature, causing it to shrink and become so tightly woven together that it repels wind and water. Rapha finishes the process with a second DWR treatment. Other details included taped shoulder seams, small holes in the pockets for water to drain, three rear pockets, one zippered pocket and a reflective left arm band. And an inside so soft you won't want to wear anything under it.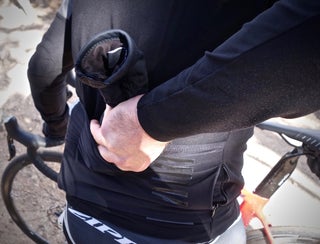 A note on the pockets: Rapha nailed them. Sure, it's your standard three pocket back with a zippered side pocket, but they hold a lot of stuff while not being baggy. Often, race cuts mean small pockets that are very hard to utilize. But the material has plenty of stretch–we were able to get a vest, phone, two bars, a balaclava and a small pump in there, no problem.
The one catch with the Shadow is that while it offers protection, it does not offer a lot of added warmth. It's is designed to protect while you are making your own warmth riding hard, so it' so it's best for mildly chilly temps no lower than 40 degrees Fahrenheit.
At $350, this thing isn't cheap. Most protective shells like this one cost between $150 and $200, but none that we have worn have the breathability and thin feel of the Shadow. And we should know, because we put it to the test on rides with temperatures ranging from 40 to 55 degrees, in calm conditions and blustery winds, on flats and in the mountains. (Check out the Strava file from Gear & Tech Editor, AJ Johnson's test ride.) Through it all, the Shadow continually surprised us and backed up the claim of protection paired with breathability.
The Verdict
This wouldn't be your outer layer for a bitterly cold ride when you're pedaling easy, bit it excels at keeping the elements out, which is the first step to staying warm. Depending on how you layer under and over it and what your workout is, the Shadow can be worn in wide range of temperatures and conditions. Yes, $350 is a lot of money for a jersey, but the Shadow can do the job of a long-sleeved jersey and windproof vest in one piece with no sacrifice. If you believe in the philosophy of buy it once, buy it right, the Shadow is worth a look. Johnson's final comment: "If you told me I had to have only one long sleeve jersey, this is it, no question."