Girl Gear: Scott Pro Lady Bike Shoes
Heading out the door? Read this article on the new Outside+ app available now on iOS devices for members! Download the app.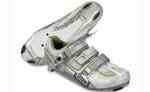 Triathlete web editor Liz Hichens reviews Scott Pro Lady bike shoes in this week's edition of Girl Gear.
When it comes to all of the bikes, shoes, apparel and accessory options related to the sport of triathlon, I get easily excited by all of the choices and details related to each category. I often meticulously countdown the miles until I need a new pair of running shoes, and sign up for 5ks and 10k run races well aware of the great excuse a race provides to buy a new running top and shorts.
Despite my love for swiping the credit card at my local run or bike store, there is one item that I avoid purchasing as long as possible: bike shoes. Prior to giving the Scott Pro Lady bike shoes a shot, I pretty much thought all bike shoes had two things in common: they are fairly expensive and never comfortable enough.
Given my lack of love for bike shoes, I wasn't overly excited when I received the Scott Pro Lady shoes to test. Since I desperately needed new bike shoes anyway, I tried them out right away and was very impressed. They put my former tri shoes and bike shoes to shame.
My favorite feature of the shoes is the one-buckle/two-strap system. Unlike shoes I've had in the past, the buckle is fairly easy to adjust. The addition of the two Velcro straps made for a perfect fit and comfort through my long rides. The combo of the easy-to-use buckle and the straps also made for very quick entry. I was in and out of the shoes as quickly as my tri shoes.
Aside from the quick entry/exit, the shoes include another advantage that is usually reserved for tri-specific shoes: great ventilation.  The mesh on the upper extends from the toe to the heel. The combo of the comfort, quick entry, ventilation and lack of heel blisters has even led me to consider using them in my upcoming race. They aren't as light as my tri shoes, but they are definitely more comfortable and stable.
And when it comes time to replace the Scott Pro Lady bike shoes I won't have to flinch when it comes to the price tag, these bad boys cost about $130.
To learn more about the shoes, or find a store near you to purchase the shoes visit http://scottusa.com/us_en/product/1655/15891/pro_lady.
Let's face it: It's often a man's world when it comes to triathlon gear. In order to help bridge the gap, web editor Liz Hichens and staff writer/editor Susan Grant bring you women-specific gear and clothing reviews that promise to focus more on the important facts and less on the presence of pink bows and flowers. Girl Gear is a weekly feature that will appear every Tuesday at Triathlon.competitor.com. This week we feature Scott Pro Lady bike shoes.