Budget and Deluxe Funky Summer Cycling Clothing Roundup
We review a wide price range of wild men's and women's summer cycling clothing so you can stand out from the herd this season.
Heading out the door? Read this article on the new Outside+ app available now on iOS devices for members! Download the app.
As the North American summer season rolls on and group training rides begin to get bigger, it's important to not only feel comfortable in that peloton, but also to look your best. While this summer's run gear is all about bold colors, cycling is looking a little more funky! Hoping to move past the all-black-everything, drab-is-pro look that dominated the last few seasons? Geometric patterns, offbeat color choices, and wild prints will help you stand out in the crowd. We've got you covered with both budget and deluxe summer cycling clothing choices to "get your peacock on" this tri season!
Jersey
Castelli
Tabula Rasa Women's Jersey (left) – $90
Tabula Rasa Men's Jersey (right) – $100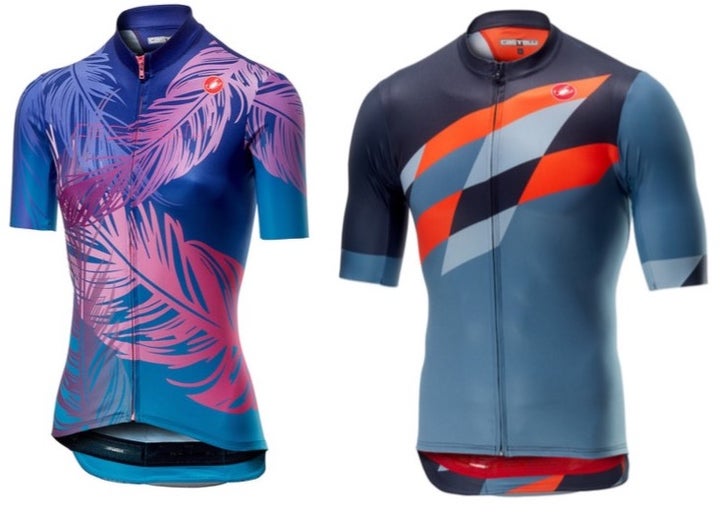 If you are looking for attention, this jersey will definitely earn you some summer cycling clothing style points. On the practical side, after a ride in the heat of the midday sun, this jersey barely showed signs of perspiration. The Tabula Rasa also follows the trend of longer and compressive sleeves which feel great. However, the zipper has fabric shielding it from the skin only on the uppermost section, leaving the zipper exposed from mid-chest onward. If you do not wear a base layer, the zipper definitely makes its presence known. The waistband keeps the jersey in place, but the unusual "drop tail" design is a love it or lose it feature that needs to be checked out before purchasing.
Wattie Ink
Contender 2.0 Endless Summer Women's Jersey (left) – $160
Contender 2.0 Men's Jersey (right) – $160
The Contender 2.0 Jersey will quickly become a go-to training piece for its technical features and overall comfort. With this jersey, Wattie Ink has made a "set it and forget it" garment. The Contender 2.0 is compressive in the shoulders and sleeves, eliminating flapping in the wind, and flexible in the back and chest, which allows for rider movement on the bike without it moving around on you. Nice touches on this piece of summer cycling clothing include a tab covering the zipper bottom to prevent rubbing against your bibshorts and mesh fabric on the sleeves allowing a refreshing cooling and drying effect so you look and smell fresher during post-ride coffee. Wattie Ink is known for its aggressive designs so those with conservative tastes be warned.
Bottoms
Louis Garneau
Neo Power Art Motion Men's Bibs (left)  – $145
Neo Power Art Motion 7 Women's Cycling Shorts (right) – $110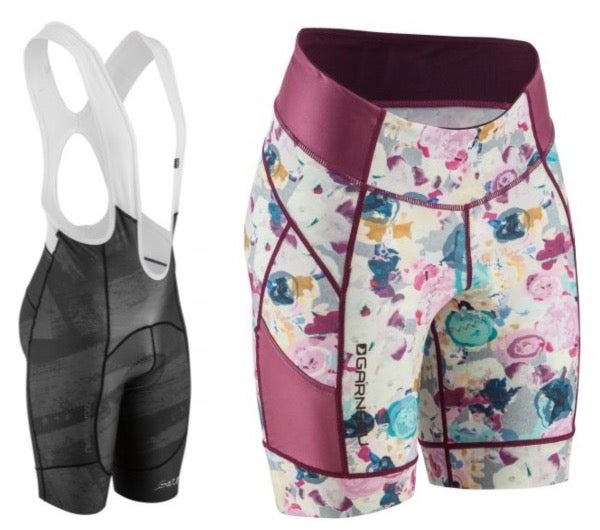 Garneau's Neo Power Art Motion Bibs are worth considering for long training rides in hot climates. These bibs employ fabrics designed for quick drying and have a sun protection factor of 50—good news for the summer months. The patented motion airgel chamois is comfy, but definitely noticeable underneath you—like adding a gel seat cover to your spin bike. The cross-back style bibs ensure straps stay in place and are long enough not to tug on you when dropping into your aerobars. A note of caution, Garneau uses a Power + Lycra fiber to create compression bottoms, making the legs on these bibs tight.
Sportful
Bodyfit Pro 2.0 Ltd Men's Bibshorts (left, reviewed) – $170
Bodyfit Pro W Women's Bibshorts (right) – $150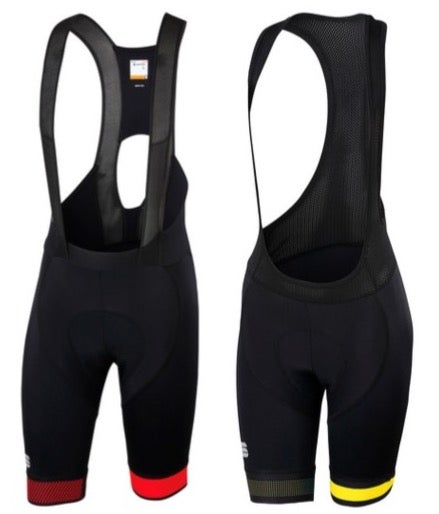 Good bib shorts should not dig into your shoulders, legs should not ride up, and the chamois should be unobtrusive and comfortable. Sportful's Bodyfit Pro bibs easily checks off all of these boxes. Distinguishing features include ventilated and seamless bibs, silicone leg band grips, and light weight. It's easy to forget you're even wearing these—a good thing. However, these are pro-style bibs on every level, including fit. If you have muscular thighs and butt, Sportful's AeroFlow compression provide a noticeably snug fit when putting them on, though they're not an uncomfortable piece of summer cycling clothing when training.
Gloves
Pearl Izumi
P.R.O. Gel Vent Men's Gloves (left) – $45
P.R.O. Gel Vent Women's Gloves (right) – $45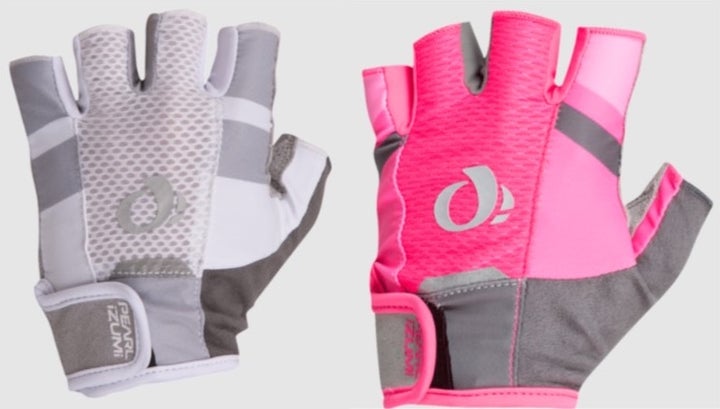 "Why hasn't this been done before?" is a question that comes to mind when putting on the new PRO Gel Vent gloves. Pearl Izumi has solved the uncomfortable rubbing problem created when the velcro strap on the wrist digs into the back of one's hand by placing a small tab on the outside wrist of the glove. Comfort is further provided by ventilated gel padding—think squishy honeycomb—that improves pressure relief without heating up your hands, however it does come at the price of decreased "bar feel." For the aero geek in us all, the pull tabs to remove the gloves are on the palm side of the fingers, keeping the back of your hands facing the wind clean. These do tend to run large, so consider sizing down when purchasing.
Giro
LX Men's Gloves (left) – $65
LX Women's Gloves (right) – $65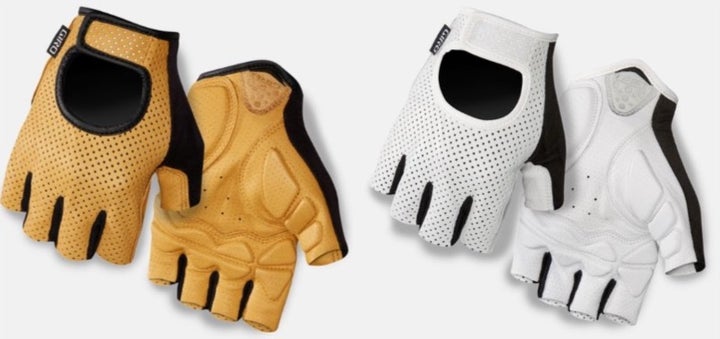 Fine goods continue to be made of leather for a reason—because the quality is noticeable. "Supple" is the best word to describe the Giro LX gloves. Styling is reminiscent of old-fashioned driving gloves, but these are definitely not old fashioned in comfort. Padding is lean, but sufficient, allowing for pressure relief while retaining good feel on the bars. Although the back of the gloves are perforated for cooling, the leather is no substitute for today's synthetic wicking fibers for temperature control. Hands will get hot and sweaty, making the leather noticeably damp. But if style and comfort are priorities, look no further.
Base layer
Giordana
Tank Lightweight Tubular Women's Base Layer (left) – $55
Short Sleeve Drirelease Men's Baselayer (right, reviewed) – $30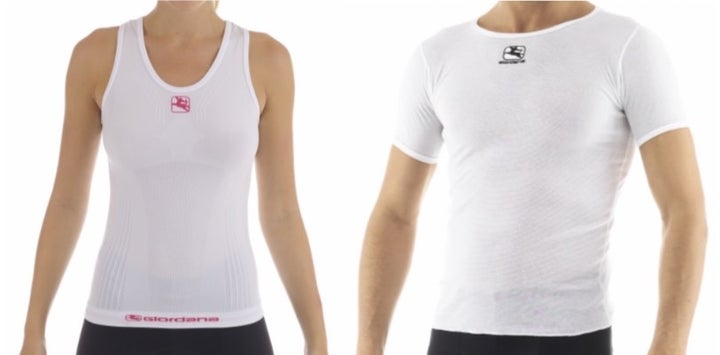 This essential piece of summer cycling clothing has been in the Giordana's collection the longest, and for good reason. The Dri Release fabric does an excellent job wicking away sweat, even on hot days, reducing that soggy base layer feel after a hard effort. The short sleeve design could be used as a tech shirt when doing brick workouts allowing for faster transition changes coming off the bike—adding value to an already competitively priced garment. The fabric is banded at the collar and base of the sleeves preventing the base layer from bunching up under a jersey. While this is an effective feature, the compression of the arm bands is initially very noticeable.
Rapha
Brevet Women's Base Layer (left) – $80
Brevet Men's Base Later (right) – $80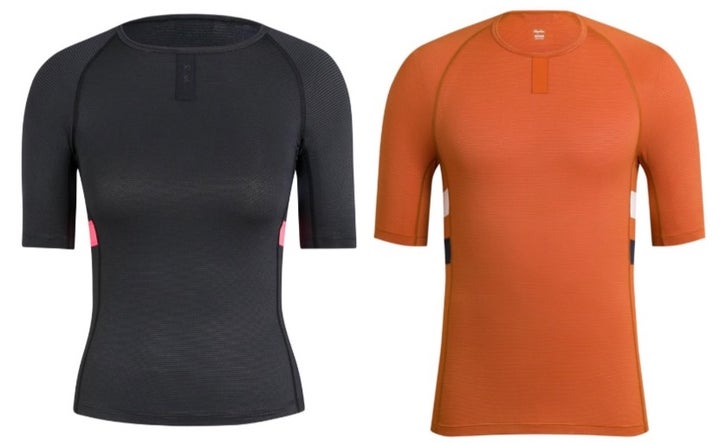 The Brevet base layer feels better than your finest cotton t-shirt—and probably cost more too. The Brevet is stylish, but with tech fibers that keep you looking and smelling fresh on and off the bike, and you would be hard-pressed to find a better base layer when looking and feeling pro is important. This garment was designed by Rapha to be worn with or without a jersey, and it works. If mixing up the tri wardrobe and trying some gravel or bike packing is in your future, give this strong consideration (pair with Rapha's Core Cargo bibshorts to add pockets!). Although this crucial piece of summer cycling clothing listed for a wide range of temperatures, this is noticeably warmer when the mercury starts rising.
Socks
Sock Guy
Men's and women's Crew SGX (men's and women's) – Starting at $13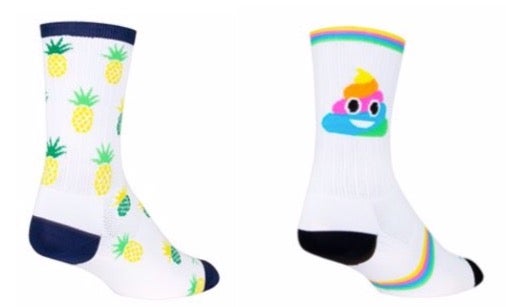 Socks are becoming the place where we can express ourselves and have some fun outside of the "matchy-matchy" world of pro-looking kits and bikes. When it comes to fun designs and countless choices, SockGuy is a go-to. SockGuy's Stretch-to-Fit sizing provides comfort, and their SGX line offers a compression sock for those who prefer a milder level of compression. With multiple designs, lengths, and levels of compression (crew or SGX), everyone should find something they like. And with competitive pricing, you can afford to flaunt your style.
Freshly Minted
Men's and women's Triangulate (left) and The Chutney (right) – $20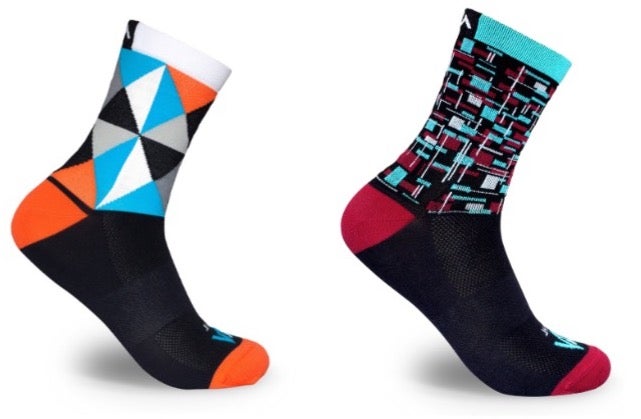 Let's be honest, socks are…well, socks. Yes they can gain you style points, but at the end of the day (really, the start of the day), you put them on because you wear shoes. Mint socks are something different. Simply put, these socks feel amazing: The compression is uniform, the ventilation paneling on the top cools your feet, and try as you might, you will not feel a single stitch. Will these make you go faster or be more aero? Doubtful. Should you treat yourself to a pair of these? Definitely. A single grumble: I wore a pair with dress shoes (yes, I like Mint socks that much), and the heel showed rub/wear after a single use. Sometimes you can't win them all.