Aero Road Bikes: On the Upswing?
Heading out the door? Read this article on the new Outside+ app available now on iOS devices for members! Download the app.
About two weeks ago I took possession of my newest objet d'art: The Felt AR2. I have a very small fleet of bikes (a Guru Crono, a Specialized Transition and a Cervelo Soloist), so it was a pretty big day for me. I'd been looking forward to adding this aero road bike to my fleet for some time.
Why would I want another road bike, when I already have a Cervelo Soloist? That's not a question I would ever ask myself; it's a question my wife is asking me, sheerly based on the fact that we have a two bedroom condo, and bedroom No. 2 isn't really a bedroom. complete with five bikes and a computer and… no bed. It's essentially a bike garage.
Hence my wife's question. Never mind that, I'll deflect it as long as I can. Every time I try to sneak in a bike, even a test bike, I recall a chat I had with Robin Williams at the Challenged Athletes event a few years back, asking him about his reputedly massive bike collection. "My wife say every time I get a new one, one must go." So I feel like Robin Williams. Minus any actual wit.
So now I now have two of the world's five aero road bikes. I'm currently writing a piece for Triathlete magazine on the proliferation of this fairly small category. I had coffee with Felt's Doug Martin and Pete Coulson recently, and talked about that very subject. "I guarantee you, by the time Interbike rolls around, we'll see a lot more aero road bikes," Martin said. I wholeheartedly agree.
Why do we care about aero road bikes? We're triathletes and riding tri bikes, right? Yes… and no.
One: while some contend you should train on what you race on, I am of the school of getting base miles in on a road bike. Especially when coming out of a winter and absent the flexibility to dive into your deep aero position. A road bike is good to that end.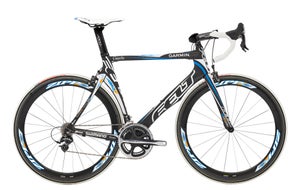 Two: I am for the abolishment of weak-ass triathlon courses. I don't think I need to go into specifics, you know which events I'm talking about. They typically have drafting  attached as a stigma, True, most local sprint races are going to be of that persuasion, but they're not gonna be abolished, nor should they be; we need to foster growth of the sport, and easing neophyte triathletes in with courses that aren't daunting is the way to go. So yeah. there's a place for them in our sport.
But hell, there's also a place for ass-kicking bike courses like Savagemen. 70.3 Monaco. Escape from Alcatraz. If going fast, getting a PR, finishing top quarter of your age group or qualifying for a world championship event is in the cards for you, you should have to face harder courses. And for some of those courses, a road rig is the go.
So I drove to Felt headquarters in Irvine, Calif. to take receipt of this new rig. I have been a fan of the AR2 since it debuted at the Tour de France last year. I spoke with Garmin-Slipstream's David Millar at the tour about the bike. I have spoken to Felt engineers Tim Lane and Jim Felt about this bike, and they did enough tunnel study to prove a significant wattage savings over a standard road bike.
Which is what I loved; proven data.
Of course, a bike like the AR2 (or more pointedly, the AR3—the same bike with a lighter spec) is good even for beginners. It has the comfort that comes with riding a road bike with road drops and integrated shifters, but also has the sex factor with those aero tubes. A set of clip-ons and they're just as set for their local sprint—or a ride in the park with their spouse and kids. It's much harder to tool around the park on a tri bike. Trust me.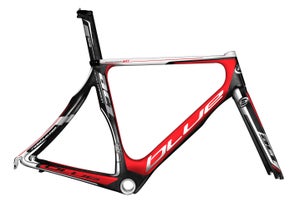 The bike will feature as part of an aero road bike feature in our September issue, but is reviewed in depth in our August issue. Is this a category that will keep growing? Up until just a few years ago, there were just two brand offering aero road bikes: Kestrel (with the Talon) and Cervelo (offering the Soloist, now the S1).
Today, add to the list last year's debuted AR series from Felt, as well as Ridley with the Noah And just this week, Blue Competition Cycles entered the fray, debuting the AC1 and AC1-SL.
Aero road bikes on the rise? I tend to think so.