In Heavy Rotation: Our Editors' Favorite Gear
Our editors review their favorite, battle-tested stuff.
Heading out the door? Read this article on the new Outside+ app available now on iOS devices for members! Download the app.
Introducing the first installment of our new column, "In Heavy Rotation." Each month, our editors will break out their favorite, battle-tested stuff and talk about why this is their go-to gear for training, racing, and living the tri-life. We won't be digging deep into our closets on this one—here we'll talk about that piece of equipment that gets tossed in the washing machine most often, grabbed first in a rush, and used when we know we need something that just plain works. Companies provide us with a lot of products to check out (tough job, right?), but these are the things that stick around long after the photo shoot is over and the review has been written.
Check back here each month for an eclectic mix of our editors' greatest gear hits.
---
Chris Foster, Senior Editor
Former pro triathlete, current three-sport vagabond
Can't wait to…run on empty trails.
Can't wait to be done with…the swim.
Gear wisdom: "If the thing takes longer than 20 minutes to set up, it's probably not worth it."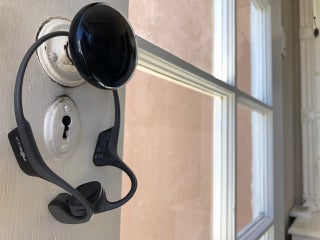 Aftershokz Trekz Air
Aftershokz.com, $180
As a former stoic believer of the "no music while running" rule, this is the only pair of headphones that I've ever felt fully comfortable wearing out on the roads. Because it doesn't take up real estate in your precious ear-holes (instead relying on bone conduction tech that transmits sound vibes through your skull…for real), you can still hear the warning sounds that should alert you to the runner-assassins lurking around every corner. Also, as someone who is an admitted gear abuser, I've smashed these inside plenty of bags and even thrown them—inaccurately—to a friend from across the road, and the soft rubber-coated construction holds up—even when soaked in my caustic sweat. Excellent Bluetooth connectivity with my iPhone or .mp3 smartwatch makes up for sound that needs a little EQ'ing and volume that could use a slightly higher ceiling. Battery life is on par with—or better than—other BT headphones (think 15+ hours of continuous use), and even if you go for a month without firing it up, the thing still holds some juice.
Pro tip: The Trekz Air also does a pretty legit job of making phone calls. Long, company-wide teleconference? Go for a run while you listen in.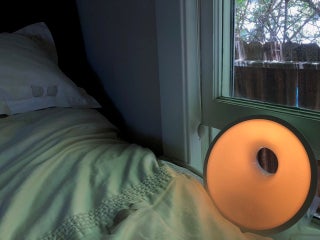 Philips Somneo
Usa.philips.com, $200
To start: I had my reservations about a huge alarm clock that would wake me up with a red-hued electronically rising sunrise. I figured my smartphone could do pretty much everything I need anyway. But then once the winter months hit, and I was waking up pre-dawn to run or ride or work, I literally saw the light. With a nearly obtrusive amount of settings, it took a while to dial down specifically how my body best liked to be woken up (I use about one-third-brightness max over a five-minute interval with "Forest Birds" as the audio). As someone who doesn't drink coffee, I find that my mornings are more productive, I can get started quicker, and I feel less tired throughout the day when using the Somneo. Though it has a USB port to charge and an AUX port for audio, the inclusion of .mp3 wakeup sounds would be nice addition, and the lack of a battery keeps this thing tethered to the wall. Though a little modern portability would go a long way, none of those details affect how much better I feel waking up to a little electric sunrise.
Pro tip: Start on the softer side of max brightness to find the sweet spot between being awake and waking up your bed-mate (or your neighbor).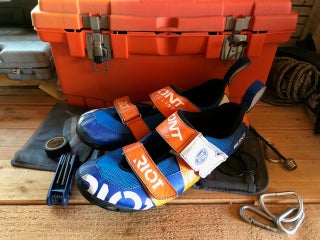 Bont Riot TR+
Bontcycling.com, $160
Yes, the Riot's got our "Best in Class" for our 2018 Buyer's Guide, but I still ride the absolute crap out of these. Despite once being fit for fully custom carbon shoes, these are still in the running for the most comfortable tri shoes I've ever worn, and even though I've got even pricier road shoes, I still go for these almost every time. I've raced these long-course and barefoot up super-hot SoCal climbs, and I've raced them on freezing descents in the Israeli high desert (long story) and had no issues with blisters or numbness—the obscenely long heel tab may look strange, but it's a huge boon when fumbling in an icy transition. Also, the wraparound carbon composite sole certainly *feels* like it's giving a ton of power transfer by cradling the whole foot—not just the bottom—but the materials and fit still take a backseat to this shoe's most outrageous feature: its price. I've had to re-check the price on this shoe every time I sit down to write because it still doesn't make sense that the Riot falls into the entry-level category.
Pro tip: Bont also makes the Riot TR+ in wide and Asian-fit options.
---
Erin Beresini, Editor-In-Chief
All-distance three-sport geek, from super sprints to Ultraman
Can't wait to…be outside
Can't wait to be done with…I love it all!
Gear philosophy: "I'm a minimalist. I like to go old-school and listen to my body, as detached from tech as possible. But when I like something, I'll use it hard and forever until it explodes."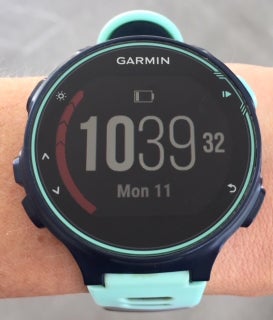 Garmin Forerunner 735XT
Garmin.com, $350
Let's be clear: I will never know the full capabilities of this watch. After my $15 Shark watch died, I didn't even wear a watch for a full year. But I instantly fell in love with this thing: it's lightweight and not too big on a small wrist; it'll go about a week or so without needing a charge, even with hour-long GPS enabled workouts every day; and when I do charge it while I'm at my desk, via a USB cable stuck into my computer, it takes less than an hour to juice back up. The interface is incredibly intuitive—three clicks and I'm off on a swim, bike, or run—and I find myself looking at stats I never thought I wanted to before: daily steps, average resting heart rate, and time spent in certain heart rate zones during workouts. It'll even map open water swims—fun but horrifying when I see how much I zig-zag. It's held up splendidly over the last 18 months of daily use, through salt water, baby teething and button-pressing, and sunscreen. Bonus: It'll auto upload my workouts to Strava. I don't even have to think about it.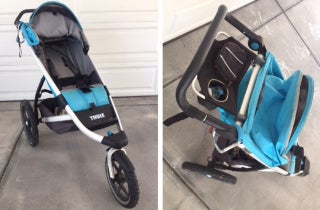 Thule Urban Glide 1 Jogging Stroller
Thule.com, $480 (for the updated Urban Glide 2)
My husband and I knew when we had our first daughter in 2016 that the only way we'd have time to run was to bring her with us. This thing is an investment, but 16 months and literally more than 1500 miles later, and it's proven to be worth the spend with zero issues. It feels lightweight and handles excellently; when baby was four months old, I started toward the back of a 5K and zigzagged my way up to an age-group podium spot pushing her in it. It has tons of storage underneath—enough to fit a little skateboard (baby's current obsession), diapers, a bucket and shovel for the park, and the whole family's sweatshirts. A mesh back pocket fits several tubes of sunscreen, and the stroller folds in half and the wheels pop off easily to fit in the trunk of a small sedan. (Note: You probably won't be able to fit anything else, but it will fit!) Most importantly, baby, who is now a toddler, loves it. So much that she won't nap anywhere else—she has to go for a walk in the Thule to pass out. Next up for us: the Thule Double.
Pro tip: Definitely spring for the cupholder and extra zipper storage. Yeah it's $50, but you'll use it for your own fuel on long runs.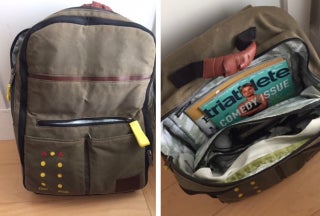 Rule Number 5
Rulenumberfive.com, $200
Until I started using this bag two years ago, I'd throw the Jansport I've had since freshman year of high school over my shoulder for everything. At first, this was a welcome style upgrade. I loved the subtle tri references on the zipper pull, the front pocket, and the elevation-profile liner. Then I started using it for everything because it looks compact, but it actually carries a ridiculous amount of stuff. It's also somehow managed to stay clean-looking, despite the gross places I've tossed it (airport floors, office floors, curbs, sidewalks). The dedicated laptop pocket is a plus, though you can only access it through the main compartment, and the drop-down shoe area has come in handy for the times I've wound up with a damp, stinky bathing suit that I didn't want to touch my notepads or clean clothes. #triathleteproblems
It's not perfect. The shoulder straps don't tighten up enough to carry this in a back-friendly position—it rests on my bum, which annoys me, and I'm not a short person at 5-foot-7. If the shoulder straps could shorten up, it'd be near perfect.
---
Corey Hollister, Art Director
Seasoned cyclist, triathlon newb
Can't wait to…ride.
Can't wait to be done with…racing in the heat.
Gear wisdom: "If it doesn't make me faster or look faster, it's useless."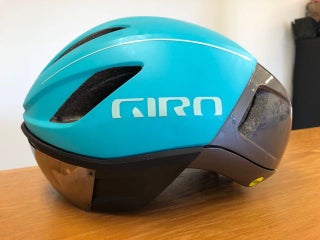 Giro Vanquish Helmet
Giro.com, $275
I have been grabbing this bad boy for most of my training rides for the past five months. It's a great mix of aerodynamics and lightweight, with a compact and comfortable feel. It vents well, but I would choose a more vented helmet for warmer days. Chin strap is comfortable like most helmets in this price range, and I enjoy the extra MIPS-equipped protection. A big plus is the option to wear normal cycling glasses on training rides (and not look weird), but when it's racing time, slap on the magnetic lens shield for the ultimate competition helmet. The shield easily stores away on top of the helmet, thanks to magnet mounting points. It really makes makes me feel fast, and that's what really counts, right?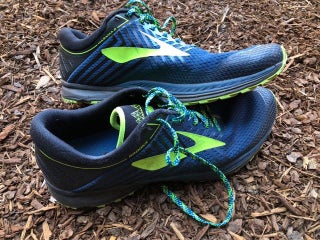 Brooks Mazama 2
Brooksrunning.com, $140
I used to run a lot, but when my knees started going bad I turned to cycling. Now that I am starting to run again, I needed a shoe that would keep my knees happy. I tend to stick to trails and softer surfaces, and for the past four months these have been my go-to. These things are comfortable and keep knee pain to a minimum. The tread is not overly aggressive, which makes the transition from trail to pavement easy. The outsole has also held up well, with plenty of life left. I even prefer to grab these shoes when I know I will be on my feet for most of the day—they really feel like they can do it all.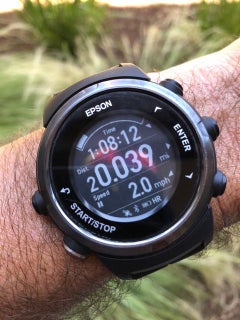 Epson ProSense 347
Epson.com, $395
I don't wear watches. Haven't for a long time. But now that I am dipping my toes into tri, I felt it was time to jump on board. I chose the Epson for its simplicity—this is no overblown smart watch. It doesn't have a ton of unnecessary bells and whistles, and that's what I like about it. Though it's a bit chunky, and the strap is not the best, it's a tank—which is a good thing. Battery life is outstanding (I charge it once every 10-12 days), and it really takes a beating. Over the past eight months of hard use, it only has one scratch. Syncing to satellites can take a while in some cases, compared to other GPS devices, but once tracking starts, it's solid. Interface is simple enough, and it doesn't take many clicks to start recording. This watch is also a great conversation starter—most people that ask about it have no idea that Epson made multisport watches. "The printer company?" The companion app is a miss—it feels dated and lacking features—but you don't need it much, so it's not that big of a deal. I now feel naked when I don't grab it. I wear watches now.
---
Liz Hichens, Senior Digital Editor
Former endurance junkie, current HIIT fan
Can't wait to…run.
Can't wait to be done with the…bike.
Gear wisdom: "Buy it right the first time, and limit what you keep. Don't end up with all kinds of gear in a box in your closet."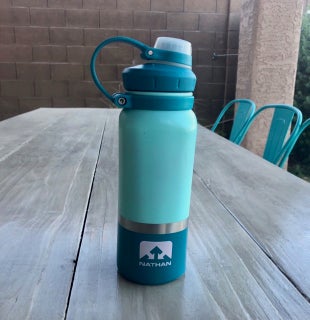 Nathan HammerHead 18oz Steel Insulated Bottle
Nathansports.com, $30
A water bottle isn't something I usually get too excited about, but I've had the HammerHead for about six months, and I just love it. It keeps iced water cool for hours (even in 100-degree plus temps) and has zero condensation or sweat. Its unique cap system has a large-mouth cap for an easy way to add ice and a narrow-mouth cap for drinking. It all comes apart easily for simple cleaning, and the strap makes it super easy to carry around. The big reason that its my go-to water bottle is the fact that it fits in every cup holder I've tried. I've put this thing through the ringer—it's been on several road trips, it's been tossed around by my kids, and it's sat in my super-hot car for hours. It's held up well and looks exactly the same as the day I got it. As a bonus, every purchase sends funding to Ocean Conservancy's Trash Free Seas Initiative.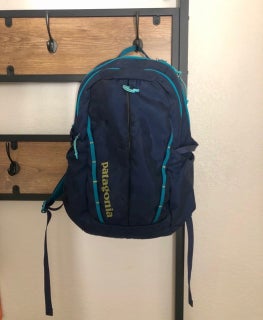 Patagonia Women's Refugio Backpack 26L
Patagonia.com, $90
I initially got this backpack as a replacement for my too-worn laptop backpack. It's ideal for travel and work—my computer fits easily, and there is plenty of extra storage for a wallet, pens, travel documents, etc. What I didn't expect is that it replaces other bags as well. I've taken it to kids' soccer games, swim meets, hikes, Disneyland, the gym—it basically goes everywhere with me. It's really perfect for my life as a working, active mom. (Heck I wish I had three of them, so I wasn't constantly moving stuff around!) The storage (including two large water-bottle pockets) is top notch, but more than that, it's durable and water repellent. I love not stressing about whatever dirt or grime gets on it—everything comes off easily with a wet cloth. I am petite (5'2") so the fact that it's designed specifically for a woman's torso has been ideal—but I could see how it could be too restricting for anyone who's on the taller/broader side.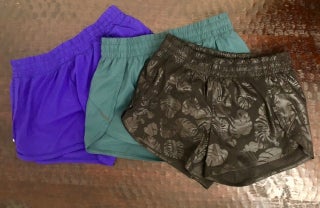 Athleta Racer Run Short 4.5"
Athleta.com, $40
Finding running shorts that are comfortable, stylish, forgiving, and not too revealing is so hard. I've gone through several brands/styles over the course of my running life and never really found anything I loved. I discovered this style from Athleta about six months ago and have become obsessed with getting a new color or print every chance I get. I get that many love the shorter short for running, but I've never been comfortable with that both for modesty and for practicality. These are the first shorts I've found that feel like a running short but are long and loose enough for things like strength training or just running errands after a workout. Also, the $40 price tag is pretty affordable—especially coming from a luxury brand like Athleta.