Last weekend, Age Group National Championships returned to Milwaukee, Wisconsin, with athletes competing in Olympic-distance, sprint-distance, aquabike events, and more. Dani Fischer, of Indianapolis, Indiana, and Matt Guenter of Boulder, Colorado, both claimed overall national titles in the Olympic distance events with times of 2:10:31 and 1:51:41, respectively.
We spoke to both winners about their emphatic victories only moments after finishing on Saturday and captured intimate images (far below) of the best age-group triathletes in the country:
Female Olympic-Distance Overall Age-Group National Champion –  Dani Fischer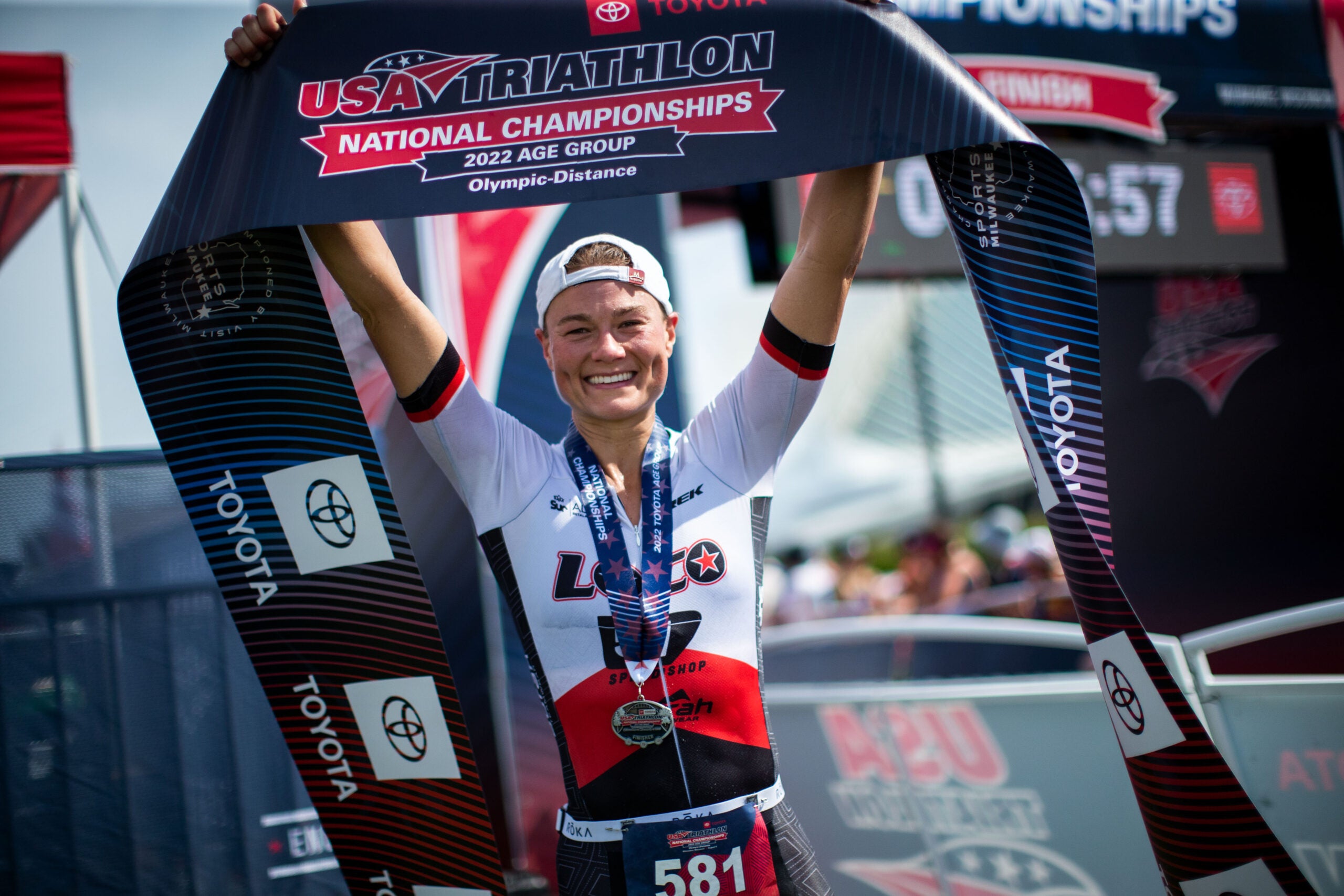 Finishing time: 2:10:31
Swim: 24:43 (1:38/100m pace)
Bike: 1:00:32 (24.6mph pace)
Run: 42:02 (6:46/mi. pace)
Fischer was the winner of her age group at National Championships in Cleveland back in 2019. This was her first overall age-group win after a career of ups and downs in the age-group and pro circuit.
"It's a complete surreal dream. I've been through so much in my career. I started triathlon in 2013, and this race was my first Olympic-distance triathlon. I came back in 2014 and won my age group in both Olympic distance and sprint distance. I kept having flashbacks to that day in 2014 today. It was so positive and really uplifting.
To start there, but then to go professional for two years and get completely burned out, and then come back as an amateur and win Ironman Wisconsin and go to Kona and then get burned out again. Taking last year off, having back surgery in December of last year, then a foot stress fracture, and come back this year…it's just been the most surreal rollercoaster ride of my life."
Fischer, like most age-group athletes works full time while training. She's worked as a pharmacist for the last eight years and as an oncology pharmacist for the last six.
"I love what I do, I would never give it up. Even when I was a pro, I never ever considered giving up my clinical profession. This year was all about coming back and having fun—taking a mental break from last year after getting burned out, you don't know what expectations to have coming back. I'm just grateful for the sport, grateful to be healthy.
Obviously I work hard to do what I do, I'm not just out here d***ng around and winning age-group nationals. But that's all part of why I do this—to challenge myself to be the best that I can be because you never know when it can slip away."
Male Olympic-Distance Overall Age-Group National Champion –  Matt Guenter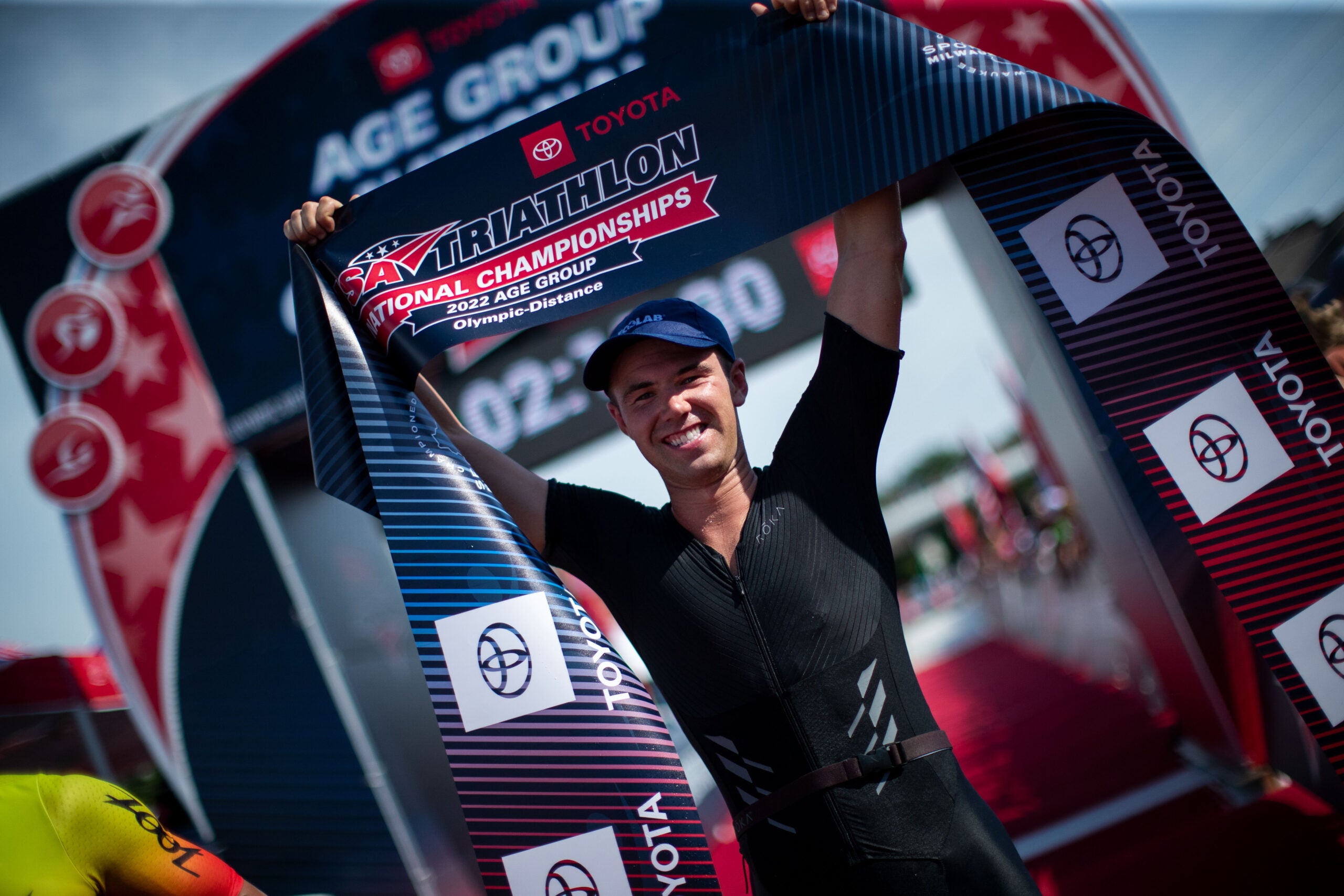 Finishing time: 1:51:41
Swim: 18:11 (1:12/100m pace)
Bike: 55:04 (27.1mph pace)
Run: 35:17 (5:41/mi. pace)
Guenter is a three-time age-group national champion, but his highest placing overall was sixth in the Olympic-distance event.
"I'm big on self talk, and a lot of times when I talk to people before races, I tell people swimming is my best discipline, biking is my second-best discipline, and I always tend to run scared. Today I swam hard, biked hard, and then ran confident instead of running scared. I got a little nervous when I heard about big names showing up, then I remembered you can't affect who shows up.
I'm a full-time engineer at Lockheed Martin. A lot of people have asked me about what I'm going to do if I win. Eventually I think I'll go pro, but I want to compete when I get to that level, not just show up and be at the back of the pack."
His father passed away in 2021 suddenly due to a pulmonary embolism, and Guenter's mom joined him in Milwaukee for support.
"A lot of people have gone into this. That's what I thought about when the run got hard today. I didn't get here alone, my mom is here, my dad passed away a year ago. He would have loved to be here, so I thought about that when it got hard. It's an awesome moment [to win]. He's happy right now."
Racers lined up on the shores of Lake Michigan in Milwaukee, Wisconsin, on Aug. 6 to compete for spots to Age Group World Championships next year in Hamburg, Germany.
Temperatures topped 90 degrees F as later waves headed out on the flat (but exposed) lakeside run.
There were plenty of stars and stripes (and hugs and kisses) at AGNC in Milwaukee, as families traveled from all over the country to watch their loved ones compete.
Rhiannon Seneli of Bettendorf, Iowa, rests in the water after finishing in 3:02:38 in the Olympic event.
Owen Schessler of Mars, Pennsylvania, sits in the finish area after placing fifth in the Olympic-distance competition for the 15-19 age-group category.
Julia Shatalov of Cheshire, Connecticut, gives everything she's got to finish in 2:31:19 in the women's 15-19 age group.
Richard Schmidt of Fort Myers, Florida, makes his way along Lake Michigan and out onto the 10K run course before winning the men's 80-84 age group.
Ian Clark of Chicago, Illinois, comes through the finish line as the Milwaukee Art Museum towers in the background.
Over 3,000 triathletes converged on the downtown Milwaukee area for the USA Triathlon Age Group National Championship.