Viterra Ironman 70.3 Calgary Debuts Sunday
Heading out the door? Read this article on the new Outside+ app available now on iOS devices for members! Download the app.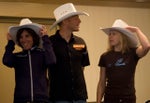 Triathlete senior editor Jay Prasuhn previews the course and the professional field for the inaugural Ironman 70.3 Calgary.
It hasn't even kicked off yet, but the inaugural Viterra Ironman 70.3 Calgary promises to become an instant classic. Set at the foothills of the Canadian Rockies in Alberta, few can argue that the venue is among the most beautiful in racing. As for the impressive pro field assembled for Sunday's debut (as well as the sold-out age group contingent), they'll be hard-pressed to stay focused and not become distracted by one of the most gorgeous stops in racing.
"I rode some of the course yesterday, and was in awe," said Canadian pro Lisa Bentley, who will not only line up for the start at Ghost Lake, but is also an investor in the race. "A deer jumped over fence and across the road in front of me, and after that I saw foxes, cattle, horses. I'm proud that it's a great course, and especially that it's in Canada."
The event, which sold out at just over 1,600 starters, stands as the second-largest triathlon in Canada (behind Ironman Canada) even before Sunday's start, and is Western Canada's only half Ironman-distance event.
Bentley, who was involved in early discussions about racecourse design, has done enough events to know what makes a race a popular one. And she's convinced Ironman 70.3 Calgary will be one athletes will put in their crosshairs for years to come. "I don't want it to be a race that just lands in a city," she said. "The point-to-point does a lot to showcase what Calgary is. Sunday, everyone will have the Rocky Mountains over their shoulders; the rolling countryside and we won't ride through traffic jams. It's not a city race, but it has the city appeal. It's going to be a beautiful, fair race, and it's going to stand out."
The Field
The field adds up to just under 20 pros, including top ITU pro Tim O'Donnell. Australian Stephen Hackett also makes the start, as does former Montana college and current Colorado pro Ben Hoffman.
Local pro Kyle Marcotte of the Timex/Trek team will certainly want to have a good showing in his hometown, but despite wanting to represent properly on his home turf, he said there are other emotions fueling his race. "The family is here, I have friends coming in. (Winning) would be the biggest thing to date," Marcotte said," but we had a friend, Jason Lapierre, pass away, hit by a car, and the course goes by where he passed away. For many of us, it's a feeling we're racing on his training grounds. So we'll have a bit of an extra push."
A deep Canadian contingent continues with names like fellow Calgarian Scott Curry and TeamTBB's Matt O'Halloran.
—
The women's field is certainly intriguing as well. Canada is well-represented with Toronto's Bentley one of the top names here. While she makes the start, her race organizational duties have kept her busy, as well as some lung health concerns due to effects from her fight with cystic fibrosis.
"I'm very fit, but CF has been rearing its ugly head this year, so I'm not at 100 percent and am lucky I have great doctors," Bentley said. "At the same time, I don't come to a race unless I'm ready to race. I hope my taper will do some magic!"
Bentley will have her hands full. Australian Mirinda Carfrae has made a career at this distance in winning the 70.3 World Championship and will make the start. Montana's Linsey Corbin comes across the border to do battle in Canada, and Quebec's Magali Tisseyre, a recent 70.3 winner, will take on her two LifeSport Coaching teammates in Bentley and Corbin.  Xterra pro Danielle Kabush of Calgary and Victoria, B.C.'s Sara Gross also line up.
Lots of interest comes with the presence of Scotland's Catriona Morrison. The reigning ITU duathlon long distance world champion recently scored a third-place finish at the famed Roth Challenge, with the fastest Ironman-distance debut time of 8:48:11, the fastest Ironman-distance debut. While this year's Hawaii Ironman debut is high on her priority list, this race is as well for several reasons.
"I'll stick to my race plan, which is to come out of the water with a minimal gap, but really it's a great chance to have a big experiment to see how I feel racing after an Ironman-distance race, because I'm still new to this Ironman and half-Ironman thing," Morrison said. "I just hope there's no explosions!"
For Morrison, Calgary is a second home, revealing her secondary reason for flying from Scotland to Western Canada; Morrison attended the University of Alberta when in college, and she and Marcotte were friends before either had done a triathlon. "My first ever triathlon was in Edmonton, at the St. Albert Triathlon. It's a junket race, a chance to catch up with some friends!"
The Course
Sunday's race begins at 6:50 a.m. Sunday at Ghost Lake. After the single-lap 1.2-mile swim, athletes will board their bikes for a point-to-point 56-mile bike. The predominantly rolling course has a few little pitches for good measure. Despite that, Bentley predicts it will be a fast course. Just seven miles into the bike, athletes will head north for a six-mile tempo climb. A far north u-turn, and athletes head south again, with a likelihood of a southern tailwind pushing them on straight, rural farmroads back toward Calgary proper and T2. "It has good climbs, and a climb I'm calling 70.3 Richter Pass," Bentley says.
Rides roll past Downtown Calgary to T2, with the half marathon taking place in Glenmore Park. The run is a predominantly flat jaunt along a path along Glenmore Reservoir, finishing in the park.
Finishers will be privy to one of the most unique finishers medals in racing: a belt buckle, a nod to Calgary's cowboy culture. (Calgary hosts the annual Calgary Stampede rodeo, one of the largest in the world). "I'm glad (Montana pro) Linsey Corbin is racing here," Bentley said with a laugh, "cuz she's such a cowgirl!"
Check in with triathlete.com for a detailed race report, as well as a race photo gallery.