Vancouver International Triathlon: Bree Wee's Perspective
Heading out the door? Read this article on the new Outside+ app available now on iOS devices for members! Download the app.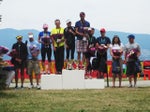 Bree Wee recaps the Vancouver International Triathlon Half-Ironman distance race from a professional's perspective.
Written by: Bree Wee
The Vancouver Half successfully kicked off its third race with flying colors. I've been lucky enough to race in all three. Each year it only gets better and better. Vancouver will host the 2010 winter Olympics and this race brought out athletes and spectators alike, eagerly awaiting the enormous fun to come!. In fact, 15 non-triathlete Olympians raced in the event just to fire up the competition and fuel their future racing spirits. The Olympians included a range of athletes including swimmers, rowers and windsurfers. They seemed to have a great time mixing it up as relay teams. It was definitely a treat for the crowds.  Of course the event also brought out a lot of professional and amateur triathletes.  The race has definitely seen growth, as the number of athletes participating nearly doubled from 2008 to 2009.
For those unfamiliar with Vancouver, let me give you a small glimpse.  The swim was in the Pacific Ocean with gorgeous snow capped mountains in the background.  To the right was a sailing club that hosted beautiful sails of all colors on the water.  A skyline of the city also makes the view worth looking at.  To the left were sunbathers, large green trees that looked like they belong in a forest and cute little ice cream stands filled with families enjoying the weekend.  Each view looked postcard perfect.  To top off the beauty, a bald eagle graced us with its presence. It was amazing.
The course is a two-loop swim, and wetsuits were, of course, allowed. It's very spectator friendly.  The bike is a four-looper that keeps you honest to say the least.  You get to do your fair share of climbing (4x of course) and get to test out your breaks on one of the fun descents.  The ride is on a well-paved road and well stocked with cops to patrol vehicles and traffic spots.  In fact, the cops do a terrific job. I know first hand as my first attempt at this race ended with me in a cop car. Sadly they did not serve me coffee and doughnuts.  The run is a two-looper that winds you through a hidden trail, along the coast and a short section next to a main road (this was the only truly paved section).  There are a few sections that hurt the quads as you climb, but it is mostly mello.  The volunteers are unbelievable!  They are loud and proud for everyone, from the first to last finisher.  I must admit that they kept me smiling and high-fiving.
This year was also pretty special because the woman with the fastest recorded half-iron distance time of 2009 was competing.  It made for an exciting race as she scared a few of the boys too.  Her record 2009 time of 4:12 was nearly matched here in Vancouver with her 4:14.  This woman would be Lifesport teammate and friend, Magali Tisseyre.  Other pro women were in the field were Linsey Corbin, Janet Neilson, Hayley Cooper, Christine Fletcher, Cheryl Murphy, Rachel Kiers, Amy Kirkham, and me-Bree Wee. Our race started out with me pretending to be in warm Hawaiian waters and leading the swim.  Off on the bike Magali soon took over and never looked back.  I gave it my best effort to keep her in sights, but with a nickname like "the next Chrissie Wellington", that didn't last as long as I hoped.  The bike resulted in some shuffling of places with a couple women. The run was the deciding factor and the top five finished up as follows:
1. Magali Tisseyre           4:14.34
2. Bree Wee         4:23.12
3. Christine Fletcher    4:30.32
4. Haley Cooper        4:33.32
5. Cheryl Murphy    4:38.58
The men's race saw some fiery competition too.  Names like Jordan Rapp, Jasper Blake, Brent Poulsen, Justin Park, Jason Shortis, Steven Kilshaw, Kelly Guest and a few others came to play.  I'd like to give you the low down of their race, however I wasn't able to play spectator and race myself well enough to tell the truth.  Here is the men's top five:
1. Jordan Rapp        3:53.17
2. Stephan Kilshaw     3:59.48
3. Jasper Blake        4:02.04
4. Justin Park         4:03.15
5. Kelly Guest         4:07.47
For complete results check out this link:  http://triseries.ca/vancouver/
A personal thank you goes out to my supporters who make this an absolute dream job:  Trakkers, Argon 18, K-Swiss, Lifesport Coaching, Bike Works, Cerasport, Splish, Blue Seventy, The Schott family, Johnson & Blanton, and of course my family, friends, and training partners.
A huge Mahalo goes out to the team at Lifesport for hosting a fabulous event!  Also big props to the local Vancouver community for being so supportive and allowing such a big event take over your town.  Subaru also deserves a shout out as they are a major sponsor and made sure anyone needing a ride had one.  As for photos, I did manage to snag these!  Enjoy…
[nggallery id=43]