USA Triathlon Partners With Local University To Give Junior Triathletes A Place To Train In College
The game-changing program finally gives talented young triathletes a place to continue their triathlon training in college.
Heading out the door? Read this article on the new Outside+ app available now on iOS devices for members! Download the app.
USA Triathlon has partnered with the University of Colorado-Colorado Springs and the United States Olympic Committee to create the Elite Triathlon Academy, an athletic scholarship, training and academic program for talented collegiate triathletes.
Student athletes in the Elite Triathlon Academy will have priority registration at the University of Colorado-Colorado Springs, full access to all of the resources available to Olympic hopefuls at the Olympic Training Center in Colorado Springs, full access to University of Colorado athletic facilities, a full-time coach, and the potential to earn a full athletic scholarship.
Prior to this program, junior-level triathletes who wanted athletic scholarships to college would have to choose between swimming and running programs, thereby putting their triathlon careers on hold for at least four years.
"Thanks to the formation of the Elite Triathlon Academy, every youth and junior triathlete in the country can now strive to earn a university scholarship in the sport of triathlon," said Keith Dickson, who will direct the program.
This gap in triathlon training has put the United States at a big disadvantage compared to countries such as Australia, Great Britain, Spain and Germany, which all have or have had robust junior programs that have helped these countries become triathlon powerhouses on the Olympic stage.
Great Britain's Alistair and Jonathan Brownlee, two of the medal favorites at the London 2012 Olympics, for example, are products of a junior program in their home country.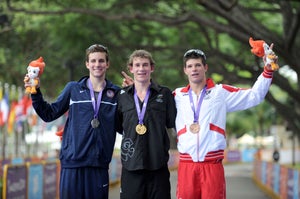 The program's inaugural class will consist of 2010 Youth Olympic Games medalists Kevin McDowell and Kelly Whitley, who are both graduating early from high school this year, freshman Johanna Gartman of Chattanooga, Tenn., sophomore transfer Ryan Bice from the University of Colorado-Boulder, and junior transfer Chris Wiatr from Lake Forest College. They will all enroll in school in August.
The program could grow to include as many as 20 athletes, according to a press release.
Program director Dickson founded the Illinois-based Multisport Madness Triathlon Team, a junior triathlon team that is probably most famous for helping to develop Lukas Verzbicas, a running and triathlon boy wonder who is a two-time winner of the Foot Locker Cross Country Championships and who was fourth in the junior race of 2010 ITU Dextro Energy Triathlon Grand Final in Budapest, Hungary.
Verzbicas, who recently broke the U.S. national record for the 2-mile by five seconds with an 8:29, has already committed to a running scholarship at the University of Oregon.
Whitley and McDowell, who finished ahead of Verzbicas in Budapest, are also products of the Multisport Madness Triathlon Team.
The Elite Triathlon Academy's ultimate goal is to develop athletes who have the potential to win medals at highest stages of triathlon, including the 2016 Olympics in Rio de Janeiro and the 2020 Olympics. So far, the United States has only one Olympic medal to its name, a bronze, won by Susan Williams at the 2004 Athens Olympics.
The program will operate under the idea that triathlon is a team sport, said Dickson.
"It is the main reason why I'm doing this," Dickson said. "I was a big believer in the team concept when I started. I believe triathlon is a team sport. The kids that are coming are products of the team environment. They've been on a team and they support each other, and they're big believers in the team concept."
Looking at triathlon as a team sport—similar to how cyclists look at the Tour de France as a team sport—is nothing new in the triathlon world. But triathlon as a team sport is something new in terms of how the USA Triathlon runs its elite teams and training programs.
Simon Whitfield of Canada famously used a team approach to win a silver medal at the 2008 Beijing Olympics—the second Olympic medal of his career after his gold at the 2000 Sydney Olympics. Whitfield has often said that he would have never won the silver medal without the help of his team, maintaining that it wasn't just the race-day support he received from Canadian domestique Colin Jenkins, but also the day-to-day support of the squad that he trained with in Victoria, British Columbia, for several years prior to Beijing.
Adopting a similar approach could mean big things for the USA Triathlon in years to come.