Two-Day Ironman 70.3 Worlds a Unanimous Hit
Professional and age-group men and women alike positively sound off on Ironman's split field debut.
Photo: Competitive Image / @CompImagePhoto
Heading out the door? Read this article on the new Outside+ app available now on iOS devices for members! Download the app.
Professional and age-group men and women alike positively sound off on Ironman's split-field debut at the 2017 Ironman 70.3 World Championship in Tennessee.
The consensus following the split-field debut at the Ironman 70.3 World Championship was that the two-day event in Chattanooga, Tenn., was a success.
Ultimately, 1,475 women competed on Saturday and 2,428 men competed on Sunday. The two biggest challenges of this format are the obvious logistical ones of doubling the race days and the need to have somewhat equal numbers competing on each day. Professional women were offered equal spots to the men (and more women actually accepted their slots) and 200 additional slots were allocated to top performing female age-group triathletes, based on the 2016 Ironman 70.3 Age Group Ranking (AGR).
Both professional and age-group men and women alike were overwhelmingly positive when asked by Triathlete to give their thoughts on the gender-specific races held on Saturday and Sunday over a challenging half-Ironman course (1.2-mile (1.93km) swim, 56-mile (90.1km) bike, 13.1-mile (21km) run under idyllic conditions.
Emma Pallant (GBR), Pro Female – Second Place
"It was extremely successful having the split races. I was out this morning cheering on the guys and will go back out in a sec for the run! I just think it makes it a much fairer race too, which is the most important thing."
Laura Philipp (GER), Pro Female – Third Place
"This was absolutely awesome. You felt that everyone was concentrating on the women on that day and that made it feel really, really special. I wish there will be more events like this.
"I also noticed that there were more men cheering for us on the course—usually you see more women out there. It was an amazing atmosphere, and both Ironman and the City of Chattanooga did a really good job."

Javier Gomez (ESP), Pro Male – Champion
"I think it's great. I am more used to that because it happens in ITU racing, but it's more spectacular having their own space for women and more fair being able to race the whole race without the pros and age groupers that can affect the result of the race.
"It's great for them to have the full attention and then for us to have the full attention the next day. I know it's a bit more work for everyone, and all the volunteers did a great job, but for the athletes and the spectators I think it's brilliant."
Ben Kanute (USA), Pro Male – Second Place
"I think Javier covered everything there. In my eyes, you get two great races to watch, more fans, more excitement and two more days of enjoying Chattanooga. I think you are going to find positive reviews from everyone at this table." [Kanute commented at the post-race press conference.]
Tim Don (GBR), Pro Male – Third Place
"Got me pumped up watching the women's race. It's awesome they had their own day totally with no interference from any age groupers and thank goodness Laura (Philipp) didn't catch us and [race winner Daniela Ryf] didn't catch us as well.
"Overall it was a fantastic weekend and it really makes me proud to be third in the world in such a great sport."
Melissa Hauschildt (AUS), Pro Female – Two-Time Ironman 70.3 World Champion
"It was very cool to be able to watch the men race @ironmantri #im703wc #chattanooga on Sunday. I'm definitely all for the two day racing," she posted on Instagram.
'The Bold and the Beautiful' star and Women for Tri board member Katherine Kelly Lang
"Most feedback was very positive on the split days. Plus women pros had more media time and more women were able to race," Lang tweeted. "Loved it! Not so crowded and just felt more comfortable and relaxed overall."
Jayme Bograd (USA) – Female 35-39 Age Group
"I love it. The camaraderie of the women was amazing. You didn't fell like you were being overwhelmed by the men. I like women-only races and hope to see them flourish."
Morgan Ormsby (USA) – Female 18-24 Age Group
"I've done a bunch of 70.3s, so I know what to expect. But I've never done an all-women's race, so it's really cool to have that experience and not have to deal with all the guys.
I'm a faster swimmer, so sometimes the guys will be behind me on the swim but then they will pass on the bike, and they are oftentimes more aggressive than the women and I'm hoping I don't get hit."
Jamie Ash (USA) – Female 30-34 Age Group
"I am a fast swimmer and I get passed on the bike a lot and it's frustrating when the men rock by on the bike and then sit up. To actually have the whole course and not have to worry about age-group men was phenomenal."
Eric Glow (USA) – Male 35-39 Age Group
"Plus it was awesome to see the first person across the line was a woman, and a great showcase of how strong of a field it could be with just women racing," said veteran triathlete Eric Glow from Peoria, Ill., who has more 13 Ironman and just as many 70.3s under his belt. "Plus, anytime you can have less people on the course and be more spread out it's more enjoyable."
Martin Bravo (ARG) – Male 40-44 Age Group
"I think its better this way. We don't disturb the women's race this way. It's very open and I would love to see this happen more frequently."
Andrew Keenan (USA) – Male 18-24 Age Group
"It's pretty cool that all the girls got to race together and all the guys got to race together. I think it's better for the girls than the guys necessarily and think it may solve some drafting issues. But it was cool being out there yesterday cheering on the girls."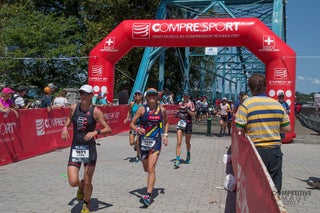 So with such an unanimous response from the competitors, will Ironman continue to offer split-field racing? According to Ironman chief operating officer Shane Facteau, the short answer is "yes."
"We are really happy with how things have gone, certainly when you make what is a pretty dramatic change there is always potential for something to go wrong, but based on particularly on the women and their happiness of having their own day of racing, it's been a huge hit and we are really excited and we are certainly going to continue this model," Facteau told Triathlete. "It's been the plan all along, but to get it under our belt, and feeling comfortable having done it, and as we look forward to the 70.3 World Championship in South Africa next year we are excited to see where we can take this."