Top Off-Road Triathletes Ready To Race XTERRA Worlds
More than 70 of the fastest XTERRA racers on earth will line up this Sunday for the $100,000 showdown in Maui.
Heading out the door? Read this article on the new Outside+ app available now on iOS devices for members! Download the app.
More than 70 of the fastest XTERRA racers on earth will line up this Sunday for the $100,000 showdown in Maui. Read the previews from XTERRA below:
Men's Preview
For the men the hype starts with Josiah Middaugh, the reigning XTERRA world champion. This year he won five majors and the XTERRA Pan Am Tour title in a photo-finish thriller against Kiwi Braden Currie.
Despite his recent success, the 16-year veteran of the sport says he still has more to prove.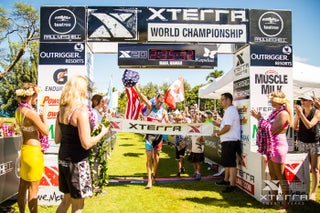 "XTERRA Worlds in Maui last year was without a doubt the highlight of my career … but hopefully not the pinnacle," he says. "I still have a few things left to prove in this sport and since I was able to 'crack the code' once, it gives me confidence that I can do it again."
To repeat, Middaugh will have to be amazing because the list of contenders is long and strong. It includes the aforementioned Currie, everyone in the top six from last year, champions from the XTERRA European Tour (Ruben Ruzafa) and Asia-Pacific Tour (Ben Allen), long-distance stars Ben Hoffman and Sebastian Kienle, current and former Olympians including Courtney Atkinson, Leonardo Chacon, Francisco Serrano, and Michi Weiss, off-road specialists Brad Weiss, Roger Serrano, Rom Akerson, and Karsten Madsen and a wealth of young guns (25-or under) led by Mauricio Mendez, Felipe Barraza, Kieran McPherson and Sam Long.  Together this group accounted for 25 of the 30 major championship titles on the World Tour this year.
"Looking at the start list always gets me excited, but I know after so many of these races not to focus too much energy on any one person," said Middaugh. "XTERRA is a race against the course and your race resume doesn't help you here. The race will show who is best on this course on that one day and that's all I need to worry about. I always tell myself that I don't need to do something extraordinary here, rather put in the performance that I am trained for and capable of. If I do that, someone else will have to do something extraordinary to beat me."
Women's Preview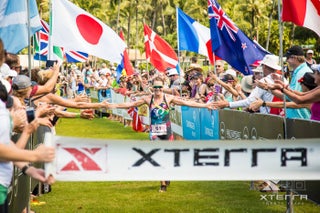 Flora Duffy, the reigning and two-time XTERRA world champion, just beat Olympic gold-medalist Gwen Jorgensen on her way to capturing the ITU World Triathlon Series Championship.
Barbara Riveros, a two-time runner-up in Maui, unfortunately was forced not to travel to Maui after a bike crash left her with a fracture in her foot. Lesley Paterson, a two-time world champ herself, could just be the grittiest triathlete on the planet.
"Those three women have taken the elite women's field to a whole new level these past few years," said XTERRA World Tour managing director Dave Nicholas. "They're not just fast, they're fearless and they're fighters."
Seven of the top eight women from last year's XTERRA World Championship are back in Maui, excluding only Emma Garrard (third last year) who is pregnant with her second child.
Myriam Guillot-Boisset, an adventure racing world champ, was fourth last year in Maui and took home two majors this year. Lizzie Orchard, who was fifth last year, won three races and the XTERRA Asia-Pacific Tour title this year.
Helena Erbenova won five races on the XTERRA European Tour this season and Michelle Flipo won the big ones at XTERRA Switzerland and the XTERRA European Championship in Germany.
Suzie Snyder dominated the XTERRA Pan America Tour with five wins, Carina Wasle added the XTERRA La Reunion title to her trophy shelf, Jacqui Slack won in Malaysia, and Julie Baker pulled out a win in her rookie pro season at XTERRA Beaver Creek.
Just like in the men's field, this group accounted for 25 of the 30 major championship titles on the World Tour this year.
Outrigger Resorts Double Chase
The Outrigger Resorts Double award is given annually to the pro and amateur man and woman with the fastest combined XTERRA World Championship and Ironman Hawaii Championship time. Elites are awarded $2,500 and the top amateur man and woman win a four-night stay at a Maui Outrigger Resort.
Two of the top four men at the Ironman World Championship—Sebastian Kienle from Germany who finished second and Ben Hoffman from the U.S. who was fourth—are set to square off again next Sunday at the XTERRA World Championship for the Outrigger Resorts Double title.
Hoffman won the Double last year and Kienle won it in 2012. This year Kienle finished Kona in 8:10:02, and Hoffman was less than three minutes behind him in 8:13:00.
"Should be a good battle with Sebi for the double this year," said Hoffman. "Spoke to him at the awards banquet and he is looking forward to it as well. Hopefully the legs will come around in time!"
Last year Hoffman finished 10th overall at XTERRA and took the double with a combined time of 11:55:18. The last time Kienle raced in Maui in 2012 he finished 14th overall and took the double crown with a time of 11:03:38.
See the complete elite start lists below. 
Men
Bib (2015 Pos) – Name (NAT)
1 (1) – Josiah Middaugh (USA)
2 (2) – Braden Currie (NZL)
3 (3) – Ruben Ruzafa (ESP)
4 (4) – Mauricio Mendez (MEX)
5 (5) – Courtney Atkinson (AUS)
6 (6) – Francisco Serrano (MEX)
7 (8) – Rom Akerson (CRC)
8 (10) – Ben Hoffman (USA)
9 (14) – Ben Allen (AUS)
10 (19) – Will Ross (USA)
11 (20) – Branden Rakita (USA)
12 (26) – Noah Wright (USA)
14 (28) – Cameron Paul (NZL)
15 – Rodrigo Acevedo (COL)
16 – Victor Arenas (COL)
17 – Felipe Barraza (CHI)
18 – Anders Bregnhoj (DEN)
19 – Julien Buffe (FRA)
20 – Francois Carloni (FRA)
21 – Leonardo Chacon (CRC)
22 – Kaon Cho (KOR)
23 – Mattia De Paoli (ITA)
24 – JP Donovan (USA)
25 – Chris Ganter (USA)
26 – Jason Hsieh (HKG)
27 – Alex Hunt (AUS)
28 – Ryan Ignatz (USA)
29 – Sebastian Kienle (GER)
30 – Ian King (USA)
31 – Sam Long (USA)
32 – Brian MacIlvain (USA)
33 – Karsten Madsen (CAN)
34 – Diogo Malagon (BRA)
36 – Kieran McPherson (NZL)
37 – Lucas Mendez (ARG)
38 – Joe Miller (PHI)
39 – Felipe Moletta (BRA)
40 – Maximiliano Morales (ARG)
41 – Sebastian Norberg (SWE)
42 – Takahiro Ogasawara (JPN)
43 – Sam Osborne (NZL)
44 – Anthony Pannier (FRA)
45 – Alex Roberts (NZL)
46 – Roger Serrano (ESP)
47 – Karl Shaw (GBR)
48 – Juscelino Vasconcelos (BRA)
49 – Brad Weiss (RSA)
50 – Michi Weiss (AUT)
51 – Jari Palonen (SWE)
52 – Ryan Petry (USA)
Women
Bib (2015 Pos) – Name (NAT)
61 (1) – Flora Duffy (BER)
62 (2) – Lesley Paterson (GBR)
63 (4) – Myriam Guillot-Boisset (FRA)
64 (5) – Lizzie Orchard (NZL)
65 (6) – Carina Wasle (AUT)
66 (7) – Helena Erbenova (CZE)
67 (8) – Jacqui Slack (GBR)
68 (12) – Maia Ignatz (USA)
69 (13) – Kara LaPoint (USA)
70 – Julie Baker (USA)
71 – Mieko Carey (JPN)
72 – Katharine Carter (CAN)
73 – Caroline Colonna (USA)
74 – Michelle Flipo (MEX)
75 – Melania Giraldi (BRA)
76 – Sarah Graves (USA)
77 – Isabella Ribeiro (BRA)
78 – Morgane Riou (FRA)
80 – Suzie Snyder (USA)
81 – Jennifer Todd (USA)
82 – Joanna Brown (CAN)