The Big Island Toteboard: Why I owe Timo an Apology
Heading out the door? Read this article on the new Outside+ app available now on iOS devices for members! Download the app.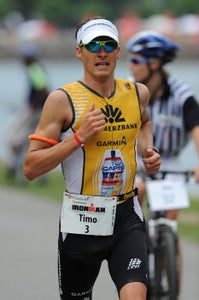 In my first two installments of this series, I didn't give much love to Germany's Timo Bracht. He sort of slipped my mind. After his performance at Ironman Germany last week, that won't happen again. In a discussion of who has the best chances to take this year's men's race in Kona, Bracht needs to be included–preferably early on in that conversation. Yes, Frankfurt is a pretty fast race, but a sub 8-hour Ironman is a remarkable acheivement on any course. His 7:59:15 finish put him one minute ahead of Spaniard Eneko Llanos (#3 on the board) and four minutes in front of Macca (#2 on the board).
I was equally as impressed with Bracht's countryman, Andreas Raelert. The former ITUer has some serious endurance. He finished mere seconds behind Macca in only his second Ironman race. I think both of the recent ITU-turned-Ironman guys (Raelert and Denmark's Rasmus Henning) could podium if everything goes right for them.
While Bracht's race in Frankfurt caught my eye, it wasn't enough for him to crack the top five on the board:
Craig Alexander (AUS) – 3:1
Chris McCormack (AUS) – 6:1
Eneko Llanos (ESP) – 7:1
Andy Potts (USA) – 15:1
Rutger Beke (BEL) – 18:1
Timo Bracht (GER) – 20:1
Terenzo Bozzone (NZL) – 22:1
Andreas Raelert (GER) – 24:1
Rasmus Henning (DEN) – 24:1
Normann Stadler (GER) – 25:1
First Guys Out: Ronnie Schildknecht (SUI), Chris Lieto (USA), Marino Vanhoenecker Cam Brown (NZL), Faris Al-Sultan (GER), Eduardo Sturla (ARG)