The Big Island Toteboard: Is Chrissie Beatable?
Heading out the door? Read this article on the new Outside+ app available now on iOS devices for members! Download the app.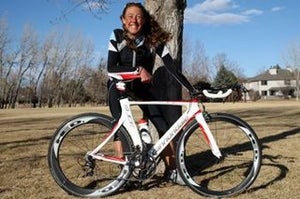 I find it somewhat ironic that an event that has the a motto of "anything is possible" also has a champion who is seemingly impossible to beat.
As big as the gap between Chrissie Wellington and all the rest might seem, I'm not ready to start writing a story on the Brit's third consecutive Kona title just yet. There are a lot of really, really fast women out there. Like women who can break nine hours for 140.6 miles and others who are poised for a big break-through performance. Remember, everyone would've called you crazy if you hedged your bets on Chrissie before the 2007 running of Kona. Now, many will call you crazy if you wager on anyone but Wellington.
Here are our picks for ladies who may be ready for a breakout (and an upset) this year and a few reasons why they may prove that anything is possible:
Linsey Corbin (USA) : Corbin had a huge breakout race last year, and it doesn't seem like she has reached the limit of her potential just yet. Corbin trains like a bat out of hell, especially when it comes time to ride. She's one of the only people who can push the middle leg as hard as Wellington, and if Corbin posts a solid marathon in Kona, she'll at least keep the defending champ looking over her shoulder frequently.
Yvonne Van Vlerken (NED): Say what you want about the course at Roth, the fact remains that this Dutchwoman has completed 140.6 miles faster than any other woman in the history of 140.6-mile triathlons (she won the Quelle Roth Challenge in 8:45:48 last year). She's the second-best woman in the world on the bike and run, and she's really not a far cry from Chrissie on either of those legs. If Van Vlerken can shave a significant chunk of time off of her 1:06 swim from a year ago, she'll be in contention.
Gina Ferguson (NZL): This 28-year-old Kiwi has already done the impossible once this year: She beat Joanna Lawn in Taupo. She's among the best in the world in the swim and run, and she seems to get stronger at the bike at each of the numerous Ironman events she races. An athlete with no true weakness is always a threat.
Virginia Berastegui (ESP): The 33-year-old Spaniard quitely ran her way into sixth overall in Kona last year, and then proved that was no fluke with a huge win at Wildflower this May. Like Chrissie, she makes the marathon look easy and can run with the best of them.
Erika Csomor (HUN): The former duathlete has taken to the water with relative ease and now has the complete package. She's certainly not as strong of a rider as Wellington, Van Vlerken or Corbin, but she can scream on the run and she seems to be pretty well in the heat.
Here's how these ladies rank on this week's Toteboard:
Chrissie Wellington (GBR) – 5:4
Yvonne Van Vlerken (NED) – 12:1
Sandra Wallenhorst (GER) – 15:1
Linsey Corbin (USA) – 16:1
Erika Csomor (HUN) – 16:1
Virgina Berasategui (ESP) – 18:1
Belinda Granger (AUS) – 25:1
Gina Fergusson (NZL) – 26:1
Bella Bayliss (GBR) – 32:1
Joanna Lawn (NZL) – 40:1
First 5 Out: Sam McGlone (CAN), Kate Major (AUS), Dede Griesbauer (USA), Rebekah Keat (AUS), Natascha Badmann (SUI)
Who knows–maybe there's another Chrissie-like talent out there. Then again, maybe Chrissie will distance herself even further from the pack this October.