Ten Questions: 2010 Ironman Austria Champion Eva Dollinger
I didn't train so much on the bike when I raced at the short distance. Now I have to!
Heading out the door? Read this article on the new Outside+ app available now on iOS devices for members! Download the app.
Updated: Catch up with Eva in this video interview.
Name: Eva Dollinger
Birth date: 4/10/1978
Hometown: Angath (Austria)
Triathlon Team/Sponsors: Erdinger ALKOHOLFREI, TIROLER Versicherung, Playitas (Sport resort), Specialized, Sailfish, ON–Runningshoes1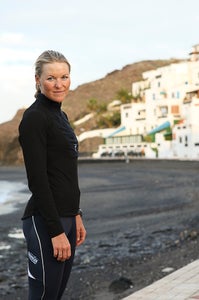 1. Weekly hours of swimming, biking, and running (end of February)?
Five hours swimming, 25 hours biking, five hours running.
2. First event of 2011?
Ironman South Africa, April 10, 2011.
3. 2011 race calendar?
I will do four Ironmans: IM South Africa, IM Texas [May 21, 2011], IM Austira [July 3, 2011], and hopefully IM World Championships in Kona [October 8, 2011].
4. What was the biggest change you made to your training when you transitioned from Olympic distance to Ironman?
The bike training. I didn't train so much on the bike when I raced at the short distance. Now I have to!
5. Favorite race:
IM Klagenfurt (Austria). It is my home race and everyone knows me. Thousands of people cheer you on; there's someone to cheer for you at every kilometer of the marathon. Klagenfurt is a wonderful place.
6. Fastest Ironman-distance time?
Nine hours, seventeen minutes, in Klagenfurt, 2010.
7. Best race-related advice you've received:
"If you feel bad during an Ironman race, and you think about giving up, it's time to eat something!"
8. One tip for someone who will do their first Ironman in 2011:
Eat your normal food (try it during an intense training session) and control your speed in the mountains! And the most important: Enjoy the race!
9. Name three athletes who inspire you:
Haile Gebrselassie, Alexander Popov, Wladimir Klitschko.
10. What do you think of the WTC points system?
When I raced at the Olympic Distance I was used to counting points (to qualify for the Olympic Games). After I changed to the long distance, I was happy that I didn't have to count points anymore. I liked the old qualification system. Now we have to count points and I think it's very important to choose the right races. I think many athletes will be tired in Kona!
Click here to see the video.