Strong Women's Field Forming For Inaugural Abu Dhabi International Triathlon
Heading out the door? Read this article on the new Outside+ app available now on iOS devices for members! Download the app.
The Abu Dhabi International Triathlon has revealed an impressive women's lineup for the inaugural race to take place March 13, 2010. Confirmed athletes include Great Britain's Julie Dibens, the Netherlands' Yvonne Van Vlerken, Great Britain's Leanda Cave, Canada's Samantha McGlone, the United States' Hillary Biscay, New Zealand's Joanna Lawn, Canada's Tereza Macel and Spain's Virginia Barasategui. With such a strong lineup featuring athletes who specialize in a variety of distances, the unique course made up of 3km swim, 200km bike and 20km run makes this race unpredictable. Additionally, the mid-March race date means that athletes will likely be at varying levels of fitness and could make for an interesting outcome.
See the complete press release below:
The Abu Dhabi International Triathlon is excited to announce what will be one of the best women's fields in long course Triathlon in 2010. At the forefront of this thrilling prospect will be current Ironman 70.3 and Xterra Triathlon World Champion Julie Dibens of Great Britain.
Dibens, who is renowned as one of the fasted triathletes on the planet, has four world titles (2009 Ironman 70.3 and Xterra 2009, 2008, 2007) to her name but will have some strong competition in the Abu Dhabi Tourism Authority (ADTA) organised event. Yvonne Van Vlerken, (2008 Ironman World Championship runner up and past Ironman world record holder), Leanda Cave (past Olympic and long distance World Champion) and past Ironman 70.3 World Champion Sam McGlone are amongst 20 other professional women currently registered for the inaugural event and all are aiming for victory.
The current lineup includes: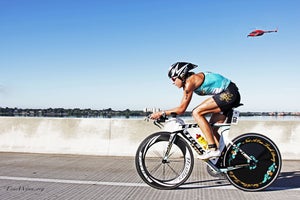 · Julie Dibens (GB) Current 70.3 and Xterra World Champion
· Yvonne Van Vlerken (NL) 2nd at 2008 Ironman World Championships, multiple Ironman winner and holder of 3rd fastest "Ironman-Distance" time in history
· Leanda Cave (GB) Past ITU Olympic Distance World Champion, Past ITU Long Distance World Champion and 3rd at 2007 Ironman 70.3 World Championships and multiple Ironman 70.3 winner
· Sam McGlone (CDN) 2006 Ironman 70.3 World Champion and winner 2009 Ironman Arizona
· Hillary Biscay (USA) 10 top three's at Ironman events in the last two years
· Jo Lawn (NZ) 6 time winner Ironman New Zealand
· Tereza Marcel (CDN) 4th at 2009 Ironman World Championships and multiple Ironman winner
· Virginia Barasategui (ESP) 3rd at 2009 Ironman World Championships
On racing, Julie Dibens commented, "I am super excited about making the trip to Abu Dhabi in March. It is a great opportunity for me to step up in distance and try to learn a lot about myself. With such a great organisation behind the race and a great prize purse, it is set to attract a great field of top pro males and females. I'm excited to travel to a part of the world that I have never been to before, and hope that my body is ready to deliver the goods on the day."
Dibens' excitement is also shared by Van Vlerken who said, "I can't wait, I'm really looking forward to racing at the Abu Dhabi International Triathlon, which is in such breath-taking surroundings. The race-distances, the course-design and the professionalism of the organisation are promising to make this race a hotspot in the events calendar. The world will see triathlon at its best and I am thrilled that Abu Dhabi is adding Triathlon to the list of successful world-class events. Authorities in Abu Dhabi are famous for their passion and dedication as well as professionalism and will show once more how sport can live up to its full potential: for athletes, for spectators and for media!"
Leanda Cave and Hillary Biscay added comment on the event;
Cave said, "I'm thrilled to be racing this new triathlon in Abu Dhabi! The distance is fantastic for me: 3km/200km/20km. It's no secret that I am a swim/bike specialist, and this plays perfectly to my strengths. Second is the location…it's very exciting to be racing in an exotic location like the United Arab Emirates and finally, the generous prize purse! This will attract some great competition and that's when I race at my best."
Biscay said, "I am so excited and honoured to be part of a first-year race of this calibre; the Abu Dhabi Triathlon is doing a great thing for our sport and for long-distance racing by upping the stakes and putting on a first-class event. Our sport needs more races like this! I am really looking forward to racing in a new part of the world and to be lining up next to the best in the world too. This race's unique distances and top-notch field are going to make for a very exciting race; I've been training hard all winter and am looking forward to seeing how I measure up!"
On the women's field John Hazan, Event Director, Abu Dhabi International Triathlon commented, "I can hardly wait for race day to watch the action unfold; very rarely do you get such a talented pool of athletes together in one place. It is a true reflection of the impact the race has already made in such a short time."
An announcement will be made in a week's time on the current top men registered for the event.
In addition to the professional race, places are still available for the first ADIT event charged at US$180 and US$123 for the long and short distances respectively. To date over 400 amateur and professional athletes are registered from over 25 countries.