Stoltz, Van Huyssteen Set To Defend Buffelspoort Crowns
Reigning champions Conrad Stoltz and Carla Van Huyssteen will both be gunning for gold when they return to Buffelspoort Dam on Saturday.
Heading out the door? Read this article on the new Outside+ app available now on iOS devices for members! Download the app.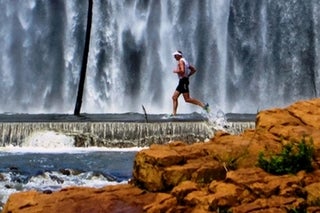 Reigning individual men's and women's champions, Conrad Stoltz and Carla Van Huyssteen will both be gunning for gold when they return to Buffelspoort Dam (North West Province, South Africa) to take on the Xterra Buffelspoort next Saturday, Jan. 28.
Read the race preview from Xterra below:
The picture of Stoltz' running in front of the Dam at last year's race shown above (courtesy Oakpics.com) captures the spirit of this event.
According to Stoltz, he was pleasantly surprised by the huge field of athletes that took part at Xterra Buffelspoort in 2011. "It was heart warming to see Xterra growing so quickly in South Africa. Xterra Buffelspoort 2011 was my first local Xterra other than Xterra Grabouw. I came straight from my holiday on my parents' farm, so I wasn't that well prepared, since there is no swimming pool in Lydenburg. I did, however, manage to get wet a few times in a nearby dam. I rode the bike course blind (not having seen it before) which is always a little unsettling, but fortunately I had good legs and made 6 or 7 minutes on Dan Hugo. The run course was quite scenic around the dam wall area and I was happy to start the season off with a win. Xterra Buffelspoort's mountain bike course is mostly flat to undulating, so high speeds abound which makes for some fun cornering in a few places. The run course is 2 laps, and quite hilly. Some stairs up and down the dam wall with some boulder climbing thrown in. There are also a few river crossings to cool you down and make sure your shoes stay heavy. I love racing and will always look for an excuse to race," says Stoltz.
Van Huyssteen will be celebrating her third appearance at Xterra Buffelspoort. "I am expecting a hard day out as always. The route was really challenging last year, with every aspect delivering its own technical, but exciting parts. The 2011 run discipline was spectacular, running across the dam wall and climbing up the big waist high stairs was hard, but super. The start of the mountain bike discipline is quite technical, so if you are a good technical rider you can definitely gain a bit of time there. The rocky area, steep short climbs and rocky downs can make or break you. The run was tough as nails. You start off fast on a flattish section, adrenalin pumping over the wall and up the stairs. The slog up the other side of the hill is hard. Just when you think you can't go any further you're welcomed by a bit of single track or a downhill that gives you hope again! Every discipline has a tough part, the back straight of the one lap swim is always tough, the lameness in my legs the first 20 minutes and the sandy drags on the bike and the hills of the run all add up to a serious ouch! My Xterra schedule for the year will include Xterra Grabouw in February, this is a definite highlight. I am also hoping to race the European Series again starting with Xterra Sardinia in May and then Xterra France, Czech, Germany and finally Xterra Switzerland in September. I would also love to go to the Xterra World Champs in Maui this year," said Van Huyssteen.