Spirig Takes Race Three Of ITU World Championship Series In Madrid
Heading out the door? Read this article on the new Outside+ app available now on iOS devices for members! Download the app.
Switzerland continues to roll through the 2010 Dextro Energy Triathlon ITU World Championship Series season, as veteran Nicola Spirig ran away with round three of the Series in Madrid today. Spirig pulled away from French youngster Emmie Charayron and Britain's Helen Jenkins in the final 400 meters to win with a time of 2:06:00. Charayron finished four seconds back, with Jenkins rounding out the podium another four seconds behind.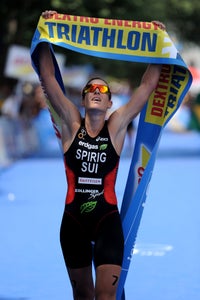 That makes it two wins in a row for the Swiss women, as teammate Daniela Ryf won the second round of the Series in Seoul four weeks ago.
"It's amazing to have such a great Swiss team, and it's great for me as I have just finished up my studies. It was just a great day," said Spirig, who recently finished her law degree.
Sixty-seven women took to the lake at Madrid's Casa de Campo Park to kick off the race, marking the eighth year in a row that Madrid has hosted an ITU event. American Sarah Haskins moved to the front right at the start of the swim and began to string out the field behind her. Staying right with Haskins were France's Jessica Harrison and Jenkins. Harrison took over the lead role during the second of two 750-meter swim laps, as a lead group of 20 women pulled away from the rest of the pack. Harrison and Haskins exited the water first, in 19:30, with the rest of the front group only a few seconds behind.
A group of nine women tried to breakaway as they hit the 400-meter long climb out of transition, but the group was caught by the chasers on the descent, forming a lead bunch of 18 women at the end of lap one of eight. By the end of the first lap, the lead group, which contained all of the pre-race favourites, had an advantage of about 20 seconds on a chase pack of 21 athletes. The two groups came together on lap five, forming a bunch of almost 40 women, who rode the remaining three laps together.
As the temperature hit a mid-day high of 32 degrees (Celsius), Spirig flew out out of transition, bringing five other women with her, including Haskins, Mariko Adachi (JPN), Jenkins, Emmie Charayron (FRA) and Riveros Diaz.
"I always try to have a fast transition and today that worked to my advantage," said Spirig. "I wanted to make sure that the group couldn't stay together at the start of the run."
Spirig remained in control as the top six women headed into the bell lap, putting on a huge surge to breakaway from everyone except for Charayron and Jenkins, who both managed to keep pace until the final stretch. Spirig was the first to kick, immediately opening up a gap of about 10 meters on the other two athletes and strode toward the finish with no one else in sight. The Swiss star broke the tape in 2:06:00, four seconds ahead of Charayron, the 2009 Junior World Champion.
"I am so happy right now. I can't find the words to express my feelings," Charayron said. "I worked very hard in the winter to get to this point and to have a result like this is just amazing."
Jenkins, who finished third at the Series Grand Final last year, rounded out the podium today with the biggest result of her season thus far.
"It was pretty hot out there today, but I felt great on the bike," Jenkins said. "I've blown up on the run in the last couple of races, so I just kept telling myself to hang in there on the run, but I just couldn't stay with Nicola. She was too good today.
With her sixth-place finish, 22-year-old Chilean Barbara Riveros Diaz remains in the lead in the world rankings heading into round four of the Series in Hamburg next month.
"I'm very happy to see Nicola win," Riveros Diaz said. "She had an absolutely amazing race. That was the best I had today and I just couldn't keep up with her."
Portugal's Vanessa Fernandes, who has won on this course six times, finished tenth in her first Series race of 2010. The United States' Sarah Haskins has been one of the most consistent women of the series. With today's fifth place finish, Haskins has moved up to fourth place in the ITU World Championship Series rankings.
Dextro Energy Triathlon ITU World Championship Madrid
Madrid, Spain – June 5, 2010
1.5km swim, 40km bike, 10km run
Elite Women Results
1. Nicola Spirig (SUI) 2:06:00
2. Emmie Charayron (FRA) 2:06:04 (+:04)
3. Helen Jenkins (GBR) 2:06:08 (+:08)
4. Mariko Adachi (JPN) 2:06:32 (+:32)
5. Sarah Haskins (USA) 2:06:48 (+:48
6. Barbara Riveros Diaz (CHI) 2:07:05 (+1:05)
7. Anja Dittmer (GER) 2:07:37 (+1:37)
8. Liz Blatchford (GBR) 2:07:39 (+1:39)
9. Ainhoa Murua (ESP) 2:07:40 (+1:40)
10. Vanessa Fernandes (POR) 2:08:07 (+2:07)
Dextro Energy Triathlon ITU World Championship Series Rankings (after race 3 of 7)
1. Barbara Riveros Diaz (CHI) 2082
2. Mariko Adachi (JPN) 1767
3. Daniela Ryf (SUI) 1543
4. Sarah Haskins (USA) 1447
5. Nicola Spirig (SUI) 1433
Recap provided by Triathlon.org.