Shoemaker Sprints Home To Maiden Win In Hamburg
Heading out the door? Read this article on the new Outside+ app available now on iOS devices for members! Download the app.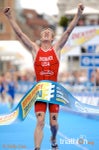 2008 Olympian outpaces elite field in World Championship Series event.
Jarrod Shoemaker (Sudbury, Mass.) from the United States clocked his first win of the Dextro Energy Triathlon – ITU World Championship Series as he surged away from a strong field during the run to cross the line in 1:44:06, eight seconds ahead of Australia's Brad Kahlefeldt. The home crowd had plenty to support with Steffen Justus coming home as the top German in fourth and Maik Petzold moving to the top of the Dextro Energy Triathlon – ITU World Championship Rankings following a sixth place finish. The full race from Hamburg is available to watch on demand at Triathlon.org/tv.
The opening 1500m swim saw three packs form early on as Petzold tried to escape with Canada's Paul Tichelaar and Aurelian Raphael from France at the head of the race. His efforts were short lived as the chasers reeled the trio back in on the second of the eight 5k laps.
Disaster struck the 2007 ITU triathlon world champion, Daniel Unger, who had taken victory in Hamburg two years ago and also won last year's Hamburg ITU Triathlon World Cup. A puncture on the second bike lap left him riding alone and losing time following a wheel change, however he chose to battle on buoyed on by home support.
Halfway through the cycle another breakaway involving Tichelaar was successful in pushing off the front of the main pack as Mark Fretta from the United States, Dominik Berger from Austria and Christian Prochnow from Germany managed to open up a gap. The four worked hard and shared the effort to carve out a 1:20 minute lead coming in to second transition.
Prochnow quickly hit the front as the excited crowd considered the possibility of a German winner, however it wasn't to be. Further behind the Beijing Olympic medallists of Jan Frodeno from Germany, Simon Whitfield from Canada and New Zealand's Bevan Docherty spearheaded the chase, but they couldn't stop Shoemaker who surged at 2km and pulled away.
Shoemaker caught and passed Prochnow at the 5km mark and was able to stay strong in the closing stages, despite being put under pressure by Kahlefeldt. Further behind the leading pair, European Triathlon Championship bronze medallist, Alexander Brukhankov from Russia, took third, just ahead of Justus and Docherty.
"I had a lot of fun out there today," said Shoemaker. "It was an unbelievable race, and I just wanted to come out and do well. I actually wasn't planning on racing in Hamburg but two weeks ago at the last round in Kitzbühel I dropped out in the cold conditions and then decided to come up here. I really had to work in the swim, but felt great on the bike and then just opened up on the run. This race is the race other races look up to, and with such an awesome crowd and 9000 age group triathletes competing in the morning it's a special place. I decided that today I would just run all out, I've sat in the pack too much this year so to pull off the win is great!"
"I was so sick of coming second in sprint finishes after Tongyeong and the Hy-Vee Elite Cup that I wanted to take it on today," commented Brad Kahlefeldt. "It was going well but Jarrod [Shoemaker] came over the top of me and pushed on very hard. On the final lap I was concerned with the guys catching me up from behind but I pushed on. I knew with one kilometre to go that I couldn't catch Jarrod, but I gave it everything, so I'll reluctantly have to settle for another second place."
Dextro Energy Triathlon – ITU World Championship Rankings After Race Five of Eight
1. Maik Petzold (GER) 2493pts
2. Alistair Brownlee (GBR) 2400pts
3. Javier Gomez (ESP) 2368pts
4. Brad Kahlefeldt (AUS) 2276pts
5. Jarrod Shoemaker (USA) 2145pts
Hamburg DC Dextro Energy Triathlon – ITU World Championship
1.5km swim, 40km bike, 10km run
Elite Men – Official Results
Gold – Jarrod Shoemaker (USA) 1:44:06
Silver – Brad Kahlefeldt (AUS) +0:08
Bronze – Alexander Brukhankov (RUS) +0:10
4th – Steffen Justus (GER) +0:15
5th – Bevan Docherty (NZL) +0:19
6th – Maik Petzold (GER) +0:23
7th – Kris Gemmell (NZL) +0:23
8th – Dmitry Polyansky (RUS) +35
9th – Simon Whitfield (CAN) +43
10th –  Jan Frodeno (GER) +49
Provided by Triathlon.org.