Schildknecht, Jacobs Post Course Records At Ironman Florida
Shildknecht and Jacobs won today at Ironman Florida, both breaking course records.
Heading out the door? Read this article on the new Outside+ app available now on iOS devices for members! Download the app.
For athletes who have the grit and determination to train right up into November, Ironman Florida has been a favorite race since 1999. Starting on the beautiful white sand of Panama City Beach, Ironman Florida is celebrating its lucky 13 this year with 2,911 competitors.
Written by: Erin Beresini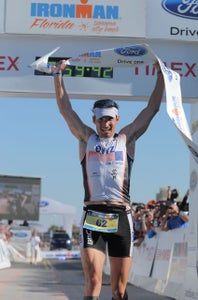 On the men's side, super biker and four-time Ironman Brazil champ, Eduardo Sturla, was a favorite, along with five-time Ironman Switzerland champ, Ronnie Schildknecht. Schildknecht came to IMFL to avenge his Kona performance, where he pulled out of the race after 5K of running. On the women's side, last year's IMFL Champ and this year's IM Wisconsin champ, Jessica Jacobs, came to defend her title. Fighting her for it was Sofie Goos, the 2009 IMFL champ who, like Schildknecht, showed up ready to make up for a disappointing Kona race, where Goos pulled out on the bike with back problems. SPOILER: Schildknecht and Jacobs won today, both breaking course records. Read on to see how the races played out.
Men's Race
Temps hovered in the 50s as the athletes prepared for the plunge into the ocean, with a forecast for sunshine and a high of 74 degrees. At 6:50, the men sprinted into the flat water where John Flanagan, member of the US Open Water National team, was expected to dominate the two-loop course. And dominate he did, exiting the water in 44:36, 3:27 ahead of the next pro male swimmer. After coming out of the water in seventh place, Schildknecht took off on the bike, eventually hammering his way (with some help from a tailwind) to first, leading the men in to T2 with Sturla about nine minutes back. Schildknechtran like a cheetah, posting 6-minute miles and pulling away from the rest of the men. Word started to spread that if Schildknechtt kept up his blistering fast pace, he'd finish in sub-8 hours, recording the fastest IM time ever on American soil. He slowed down a bit in the last few miles, leaving everyone to wonder if he would do it, but then kicked it in for a 7:59:42. It was also good enough for a new course record, earned exactly 10 years after he ran his first IM at this event. His splits: 51:18; 4:19:55; 2:43:47. Maxim Kriat came in second, and Justin Daerr came in third. Sturla finished sixth.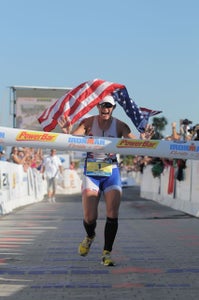 Women's Race
Hawaiian superstar and Kona age-group record holder, Bree Wee, led the women out of the water, keeping her lead through T1 and onto the bike. Goos was ready to chase her down, taking off on her bike in second place, with Jacobs exiting the water in sixth. Goos dominated the bike until about mile 60, where she started to struggle and gave her lead up to Wee, who entered T2 in first. But it would still be anyone's race, as Wee is not known for her run. Jacobs came out of T2 ready to run Wee down, and that's exactly what she did. It looked like Jacobs could set a new course record if she could hold onto her pace of high 6:30s. And she did it! Jacobs finished in 8:55:10, becoming the 13th fastest woman in history at the IM distance at the 13th running of IM Florida. Her splits: 1:02:03; 4:53:42; 2:53:26. Mackenzie Madison and Sofie Goos finished second and third, respectively.
Ironman Florida
Panama City Beach, Fla. – Nov. 5, 2011
2.4-mile swim, 112-mile bike, 26.2-mile run

Men
1. Ronnie Schildknecht (SUI) 7:59:42
2. Maxim Kriat (UKR) 8:10:43
3. Justin Daerr (USA) 8:18:02
4. Mads Vittrup (DEN) 8:21:31
5. Frank Vytrisal (GER) 8:21:48
Women
1. Jessica Jacobs (USA) 8:55:10
2. Mackenzie Madison (USA) 9:10:21
3. Sofie Goos (BEL) 9:22:21
4. Kim Loeffler (USA) 9:29:07
5. Stephanie Jones (USA) 9:33:45