Samuels Takes Women's Title In Mooloolaba
Nicky Samuels of New Zealand used a daring breakaway on the bike to snap up her first career ITU Triathlon World Cup title today in Mooloolaba.
Heading out the door? Read this article on the new Outside+ app available now on iOS devices for members! Download the app.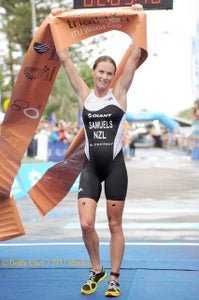 Nicky Samuels of New Zealand used a daring breakaway on the bike to snap up her first career ITU Triathlon World Cup title today in Mooloolaba. Two-time reigning World Champion Emma Moffatt came from behind and ran into second place. Barbara Riveros Diaz of Chile came across for third, despite having to serve two time penalties.
"Daniela went (on the bike) and I thought she's a strong cyclist, I should go with her and we just pulled away from there. We worked well together and that's the key when you're away," said Samuels.
Tough conditions greeted 64 women for the start of the race, including strong winds, rain and challenging surf forcing the women to battle with choppy sets of waves. After the one-lap swim, Moffatt and Liz Blatchford led the women out of the water and into transition.
But early in the seven-lap, 40km bike course, Samuels and Swiss Daniela Ryf broke away from the pack, leaving the likes of Moffatt, Lisa Norden, Paula Findlay, Riveros Diaz, Sarah Groff, Kerry Lang and Blatchford behind. What was initially a seven-second lead soon ballooned to more than 90 seconds with after five laps. Ryf and Samuels worked exceptionally well together to build the lead while the chase pack continued to lose ground.
The leaders ended the second transition and hit the four-lap run course with a healthy two-minute lead. On the first lap of the hilly 10km run, Samuels made a move and opened up a slim five-second lead on Ryf. Both Moffatt and Riveros also dug in and began to chip away at the lead, trailing by 90 seconds after the first lap. Findlay and Blatchford were running a further ten seconds behind. Also making up serious ground early in the run were last year's champion Vendula Frintova and Lauren Campbell, the Canadian Olympian who missed all of last year with injury.
At the midway point of the run, Samuels was running strong and looked to have the win wrapped up, owning a lead of 37 seconds over Ryf. Moffatt and Riveros Diaz continued to push ahead and soon reeled in Ryf to take second and third place. Their next target was Samuels but the Kiwi was still going strong and wasn't about to be caught.
"To tell you the truth I wasn't too confident I'd be able to hold the lead," said Samuels after the race. "Then I thought I had a good head start and couldn't ask for anything more. Once I had it on the third lap I thought I should be able to hold this."
Despite a two-time world champion bearing down her, Samuels held onto the lead right through to the finish line, stopping the clock at 2 hour, 3 minutes and 13 seconds. Moffatt came back strong on the run for the silver, finishing 20 seconds behind. Riveros Diaz was forced to stop to serve a pair of time penalties late in the run but still managed to take bronze, a further 23 seconds behind Moffatt.
"It's a tough course and I don't really it gets much tougher than this so it's a great way to start the year," said Moffatt.
Findlay out-sprinted Frintova for fourth place, ten seconds back of Riveros. Ryf, who had been ill recently, finished up in sixth position.
Mooloolaba ITU Triathlon World Cup – Women's Race
March 27, 2011 – Mooloolaba, Queensland, Australia
1.5km swim, 40km bike, 10km run
1. Nicky Samuels (NZL) 2:03:13
2. Emma Moffatt (AUS) 2:03:33
3. Barbara Riveros-Diaz (CHI) 2:03:56
4. Paula Findlay (CAN) 2:04:06
5. Vendula Frintova (CZE) 2:04:06
Race recap provided by ITU.