Rev3 Partners With Half Full Triathlon
The Ulman Cancer Fund For Young Adults and Revolution3 Triathlon have announced a new partnership.
Heading out the door? Read this article on the new Outside+ app available now on iOS devices for members! Download the app.
The Ulman Cancer Fund For Young Adults and Revolution3 Triathlon have announced a new partnership, which includes making the Half Full Triathlon part of the Rev3 Series.
See the complete press release below: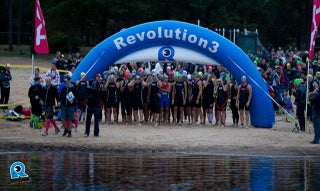 The Ulman Cancer Fund for Young Adults (UCF) and Revolution3 (Rev3) Triathlon today announced a new, multifaceted partnership that establishes UCF's Team Fight as the official national charity beneficiary of the Rev3 Triathlon Series. In addition, Rev3 has agreed to become an official partner of UCF's annual Half Full Triathlon, donating its time and resources to help promote and produce the event. Half Full Triathlon will become an official race in the Rev3 Triathlon Series.
The event, which takes place annually in October at Centennial Park in Howard County, Md., will now be known as the Half Full Triathlon produced by Rev3. Rev3 owns and produces nine triathlons in locations from Costa Rica to Portland, Ore., and is known for making triathlons a more interactive, enjoyable experience for spectators by providing fun activities for children and family members during the race. The race is scheduled for Oct. 7, 2012.
"We are overwhelmed by Rev3's generosity and their efforts to promote the mission and goals of the Ulman Cancer Fund for Young Adults," said Brian Satola, race director of the Half Full Triathlon and Chief Operating Officer of UCF. "With Rev3's support, we will be able to grow the Half Full Triathlon into a world class event while maintaining our commitment to Howard County. It will also allow us to dedicate more time, resources, and energy to supporting young adults with cancer."
The agreement marks the culmination of a three-year relationship between the organizations. Rev3 began working with UCF in 2009 in an advisory capacity for the creation of Half Full. In 2010 and 2011, Rev3 increased its involvement by providing limited pro-bono logistical and production support for the race. In 2012 and beyond, Rev3 will become an official partner, helping to produce and promote the race at no cost to UCF.
Overall, UCF officials estimate that the donation of time and resources from Rev3 could amount to $250,000 or more annually.
According to Charlie Patten, president of Rev3, formally partnering with UCF and donating the company's time and services just felt like the right thing to do. Patten said he believes Rev3 can help increase participation in the Half Full from current levels of 700-800 to over 1,200 in 2012.
"We understand and support the important work of the Ulman Cancer Fund," Patten said. "That is why we are giving them the benefit of our race production expertise. By allowing UCF to not worry about the production logistics of Half Full, we help them help a greater number of young people affected by cancer. It's just a wonderful opportunity for us to give back to the community."
"Our organization exists to help improve the lives of young adults affected by cancer," said UCF Executive Director Brock Yetso. "Rev3's involvement in Half Full will allow us to focus more directly on the heart of our mission: to provide direct patient navigation services to young adults and families facing cancer and to create opportunities for individuals to become active in the fight against cancer. Everything about this partnership helps us better serve those in need. We can't thank Rev3 enough."