Potts, Rollison Win Vineman 70.3
The 21st annual Vineman 70.3 featured a $50,000 prize purse with $8,500 of the cash going to both the first place man and woman.
Heading out the door? Read this article on the new Outside+ app available now on iOS devices for members! Download the app.
The 21st annual Vineman 70.3 featured a $50,000 prize purse with $8,500 of the cash going to both the first place man and woman.
Written by: Erin Beresini
Add that prize purse to a scenic course through California's world-famous wine country, and you've got a race few triathletes can resist, including the pros. Andy Potts took the win—and set a new course record—in an exciting finish against Paul Matthews. The women's race got a course record as well, with Melissa Rollison setting a new record of 4:09:00.

Click here to see finish-line interviews with the pros.
Men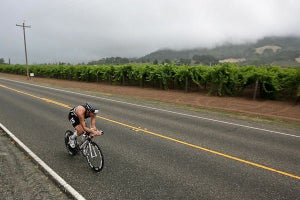 Andy Potts was first out of the water with Graham O'Grady, John Dahlz and Kyle Leto only seconds behind. Last year's Vineman champ, Chris Lieto, made his way from a 10th place swim to the front of the race by mile 48 of the bike, taking the lead away from Paul Matthews, but Matthews wouldn't let Lieto go without a fight. By mile three of the run, he was running on Lieto's heels. By mile seven, Matthews was out front with Andy Potts slipping into second place ahead of a fading Lieto. By mile 11, Potts took the lead from Matthews and there was speculation about the course record being broken. Matthews ran with Potts through the last few miles and it almost came down to a sprint finish, but Potts was able to open up a gap in the last mile and finished with a new course record of 3:45:58 with Matthews just 26 seconds behind in second. Joe Gambles, the 2009 Vineman 70.3 champ, rounded out the podium. (*Note: Chris Lieto broke the bike record, which he previously held, riding a 2:03:26 today.)
Women
Tenille Hoogland came out of the water practically shoulder to shoulder with Leanda Cave and Meredith Kessler, last week's Rev3 Portland champion. By mile 28 of the bike, Cave put a gap on Hoogland and Kessler and stayed in front right through T2. But Melissa Rollison wouldn't let Cave get away that easily and came out of T2 ready to chase her down. By the halfway point, Rollison put a gap of over a minute on Cave, with Kessler trailing over four minutes behind the leader. Rollison held her lead straight through the second half of the run, charging along toward a course-record breaking win in 4:09 flat. Cave came in over six minutes behind, with 2010 Ironmon World Champ, Mirinda Carfrae coming in third.
TOP MEN
1. Andy Potts 3:45:58
2. Paul Matthews 3:46:27
3. Joe Gambles 3:47:04
4. Graham O'Grady 3:48:56
5. Kyle Leto 3:50:05
6. Timothy O'Donnell 3:50:36
7. Chris Lieto 3:51:07
8. Matty Reed 3:52:30
9. Matt Lieto 3:52:31
10. Jesse Thomas 3:53:51
TOP WOMEN
1. Melissa Rollison 4:09:00
2. Leanda Cave 4:15:14
3. Mirinda Carfrae 4:17:49
4. Meredith Kessler 4:18:24
5. Rachel Challis 4:21:33
6. Tenille Hoogland 4:23:00
7. Rachel McBride 4:23:38
8. Melanie McQuaid 4:26:08
9. Charisa Wernick 4:27:11
10. Julia Grant 4:29:12