Potts, Carfrae Each Take Third Titles At Ironman 70.3 California
Andy Potts and Mirinda Carfrae took their third Oceanside wins at the 12th running of the Rohto Ironman 70.3 California. The pro men's and women's fields were extremely competitive from start to finish.
Heading out the door? Read this article on the new Outside+ app available now on iOS devices for members! Download the app.
Andy Potts and Mirinda Carfrae took their third Oceanside wins (Potts won in 2007 and 2008, Carfrae won in 2009 and 2010) at the 12th running of the Rohto Ironman 70.3 California. The pro men's and women's fields were extremely competitive from start to finish.
Approximately 2,251 professional and age-groupers raced today under a gray, cloudy sky in the 1.2-mile swim, 56-mile bike and 13.1-mile run race.
Click here for more coverage from the 2011 Ironman 70.3 California triathlon.
Men's Race
After a pro men's start at 6:40 a.m., it was former collegiate swimmer Andy Potts first out of the water in 22:36 (he swam 21:57 in Oceanside in 2008, when he finished second). He exited the calm waters of Oceanside Harbor about 1:40 ahead of the pack that included Kyle Leto, Rasmus Henning, Matty Reed, Ben Hoffman and Michael Weiss.
Potts kept his 90-second lead over the chase pack of eight men through five miles into the bike, holding a gap of about 60 seconds by mile 11.5. By mile 25, Potts was still more than a minute up on Paul Ambrose, Leto, Reed and Henning. By mile 30, the main chase group, which also included Kevin Everett, John Dahlz and Estonian Kirill Kotshegarov, drew to about 50 seconds behind Potts. Leto got a flat just after mile 40. Potts' lead had dropped to about 44 seconds by mile 41.
Michael Weiss of Austria was the first into T2, with a 2:11:54 bike split, with a group of about 10 men including Matt Lieto, Potts, Reed, Bjorn Andersson, Henning, Schildknecht and Maik Twelsiek right behind him. By mile 5, Henning, Potts, Weiss and Schildknecht were running together with Reed about 10 seconds behind, and the next runner, Jordan Rapp, about 2:15 behind.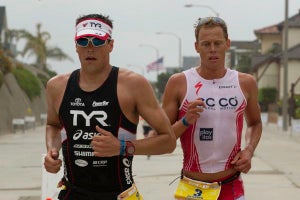 Just past mile 8, Potts and Henning stuck together about 34 seconds ahead of Weiss and Schildknecht. Reed dropped out during the run, and the sun started breaking through the clouds for the last few miles of the men's race. The duel between Potts and Henning continued nearly all the way to the finish line, with Potts digging deep to find his ITU speed and take his third win in Oceanside in 3:55:49.
"I wanted it to come down to the final chute, and use the crowd's energy and represent America and come to the line first," Potts said after crossing the finish line. "And that was tough racing–70.3 miles of just awesome, awesome racing. Cali is the start of my year, and it's been a successful start. I'm thrilled."
Henning cruised in for second in 3:56:07.
"On the run, I felt good. It sort of reminded me of a good old ITU race, five people running shoulder-to-shoulder," remarked Henning.
Weiss took the final podium spot.
Women's Race
In the women's race, it was American Dede Greisbauer first out of the water in 25:48 with Kelly Williamson, fresh off wins at Rev3 Costa Rica and Ironman 70.3 San Juan, on her heels. About a minute later, Canadian Heather Wurtele, reigning Ironman world champion Mirinda Carfrae and Canadian Magali Tisseyre were heading into T1.
By mile 5 of the bike, Tisseyre had taken the lead with Greisbauer, Carfrae and Williamson within 30 seconds of her, and three-time Xterra world champion Melanie McQuaid only a minute-and-a-half down. By mile 30, Tisseyre had a two-minute lead over McQuaid, and less than three minutes over Wurtele, Carfrae and Greisbauer. By mile 41, Tisseyre continued to maintain the lead, just 0:54 ahead of McQuaid, and two minutes ahead of Jackson and Wurtele.
It was McQuaid first into T2 with Tisseyre 20 seconds back and Jackson, with the women's fastest bike split of 2:29:56, about 50 seconds back, followed by Wurtele. Carfrae started the run 4:45 behind the leader, with Williamson, Greisbauer, Kate Major and Linsey Corbin into T2 not far behind. Early into the half-marathon, McQuaid narrowly held a lead over Tisseyre, Jackson and Wurtele. Carfrae remained four minutes behind, but was gaining about 20-25 seconds per mile.
Tisseyre briefly took over the top spot before being passed by Jackson at mile 8. As Jackson continued to look strong, it became evident that it would be a close finish between the American and a fast-running Carfrae. Despite competing at Ironman New Zealand only four weeks prior, Carfrae found the necessary speed to outpace Jackson and took her third-straight Ironman 70.3 California title in 4:26:18.
"I felt unbelievable for the first 10K [of the run] and the first lap, but then I started to struggle a little bit, but at that point, I was 1:45 off the lead, and each mile, I tried to take back a few seconds," said Carfrae. "I didn't think I was going to make it today. Those girls were pretty far up front, and Heather Jackson was racing so well."
Jackson finished just 10 seconds after Carfrae to earn second.
"I don't think I was that prepared for that close of a finish," Jackson explained after the race. "In all my runs, my treadmill runs, I actually picture Rinny behind me, so I was just like, 'This is exactly like training. Focus, just focus."'
Tisseyre earned third.
Rohto Ironman 70.3 California
Oceanside, Calif. – April 2, 2011
1.2-mile swim, 56-mile bike, 13.1-mile run
Men
1. Andy Potts (USA) 3:55:49
2. Rasmus Henning (DEN) 3:56:07
3. Michael Weiss (AUT) 3:56:29
4. Ronnie Schildknecht (CHE) 3:56: 57
5. Jordan Rapp (USA) 4:00:29
Women
1. Mirinda Carfrae (AUS) 4:26:18
2. Heather Jackson (USA) 4:26:28
3. Magali Tisseyre (CAN) 4:27:22
4. Heather Wurtele (CAN) 4:28:25
5. Kelly Williamson (USA) 4:29:27