Potts And Samuels Take Titles At Escape From Alcatraz Triathlon
Top names such as Andy Potts, Craig Alexander and Leanda Cave took to the waters. Taking the titles for 2011 were American Andy Potts and New Zealander Nicky Samuels.
Heading out the door? Read this article on the new Outside+ app available now on iOS devices for members! Download the app.
The famous Escape from Alcatraz Triathlon took place June 5, 2011. More than 2,000 athletes from 40 countries descended upon San Francisco this weekend for this historic race. Since 1980, this race has remained virtually unchanged and every year top professional athletes and age-groupers brave the frigid water temperatures and significant waves in the Bay to participate in one of the most well-known triathlons in existence. This year was no exception as top names such as Andy Potts, Craig Alexander and Leanda Cave took to the waters. Taking the titles for 2011 were American Andy Potts and New Zealander Nicky Samuels. Potts is having a successful year with wins at Oceanside 70.3 and most recently at the Capital of Texas Triathlon. This is his fourth win at the Escape from Alcatraz Triathlon, having taken the titles in 2007-2009. Samuels is one of New Zealand's top triathletes and placed first in the Mooloolaba ITU Triathlon World Cup and the Kinloch ITU Sprint Triathlon Oceania Cup earlier this year.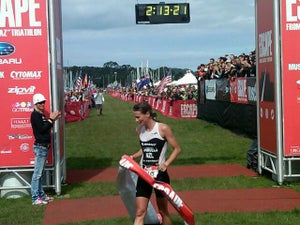 Triathletes were ferried out to the Bay on the San Francisco Belle for a 7:30am start. They had to jump into the 52-degree water and swim 1.5 miles back to the shores of the St. Francis Yacht Club—all participants were unloaded from the boat in less than six minutes. The current was stronger than average this year, sending several athletes off course. The top swimmer of the day was Dustin McLarty and lead almost the entire swim; however, stopping to take off his wetsuit allowed Potts to pass him in T1. Potts had a swim time of 22:31, with McLarty just ahead at 22:29. For the women, as expected, Sara McLarty had a sizeable lead coming in from the chilly swim with a time of 23:47.
After making their way back to the shore at the Marina Green Beach, triathletes ran half a mile to transition. They then mounted their bikes at the Marina Green for an 18-mile ride. The course involved a climb to Lincoln Blvd. and another climb up the hill at the Palace of the Legion of Honor. Triathletes also biked through Golden Gate Park and made their way back into transition for the run. Potts maintained his massive lead throughout the bike course, racing into T2 two minutes ahead of his nearest competitors. Bevan Docherty and Matt Chrabot, both strong Olympic distance competitors, were into T2 second and third, respectively. On the women's side, Samuels also had a substantial lead of two minutes coming into T2. Becky Lavelle was in second, followed by Leanda Cave—last year's winner who was trying to replicate that title this year—in third.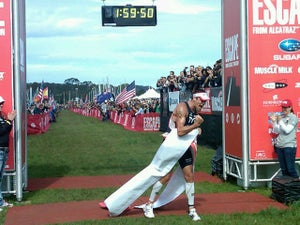 The eight-mile run course traversed through a portion of Baker Beach. Athletes pounded their way through deep sand and up 400 steps on the Equinox Sand Ladder and passed under the Golden Gate Bridge and back to the Marina Green. Potts held his lead, even dropping the lead biker at one point on the beach. He crossed the finish line in first in just under two hours at 1:59:45. Docherty and Chrabot ran shoulder to shoulder chasing down that podium finish. The hard work paid off, as they finished second and third just six seconds apart. "Since May and June came around, I have been excited to race. On the Belle this morning, I could smell and feel the energy. Rather than look down at the water at the start, I like to look up and see two levels of athletes. We're all crazy," Potts said after he finished. For the women, Samuels held her lead throughout the run and crossed the finish line first with a time of 2:13:13, four minutes ahead of second place Leanda Cave. Cave was able to pass Lavelle, 2006's winner, on the run. Lavelle placed third, which rounded out the podium. "I always wanted to do this race. It's a great opportunity to be here. It was an exciting course; it was a tough bike and tough run. I'd love to come back," said Samuels of her win.
Escape from Alcatraz Triathlon
June 5, 2011
Swim: 1.5 miles, Bike: 18 miles, Run: 8 miles
Results:
Men:
Andy Potts, 1:59:45
Bevan Docherty, 2:00:19
Matt Chrabot, 2:00:25
Jesse Thomas, 2:03:34
Brian Fleishmann, 2:06:12
Women:
Nicky Samuels, 2:13:13
Leanda Cave, 2:17:34
Becky Lavelle, 2:19:21
Lindsey Jerdonek, 2:22:20
Jenna Parker, 2:25:39