USAT Super Sprint Series Las Vegas
Athletes finished a 300-meter swim in a portable pool before completing an 8-kilometer bike and 2.5-kilometer run.
Heading out the door? Read this article on the new Outside+ app available now on iOS devices for members! Download the app.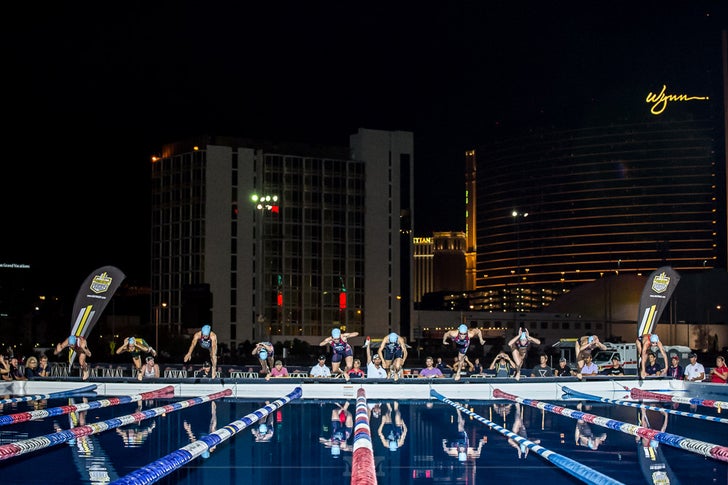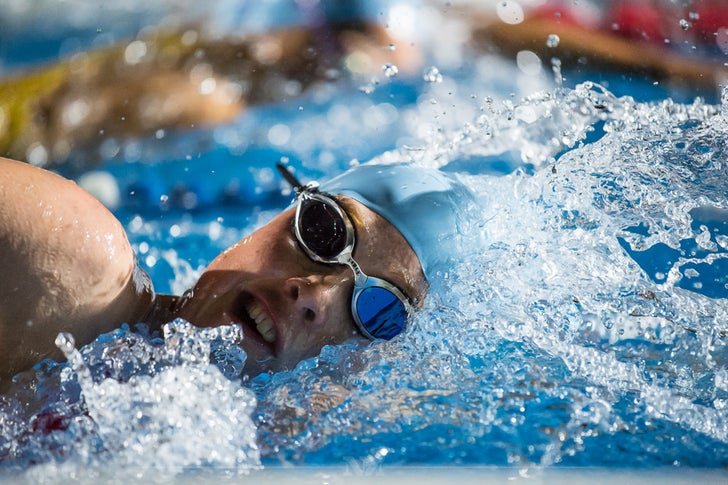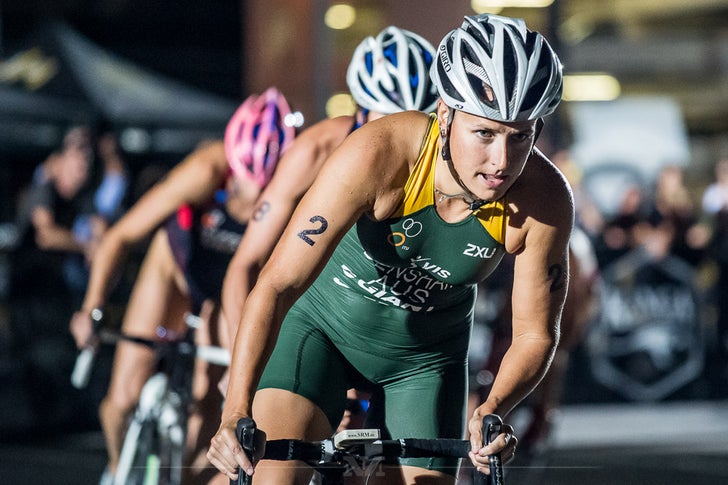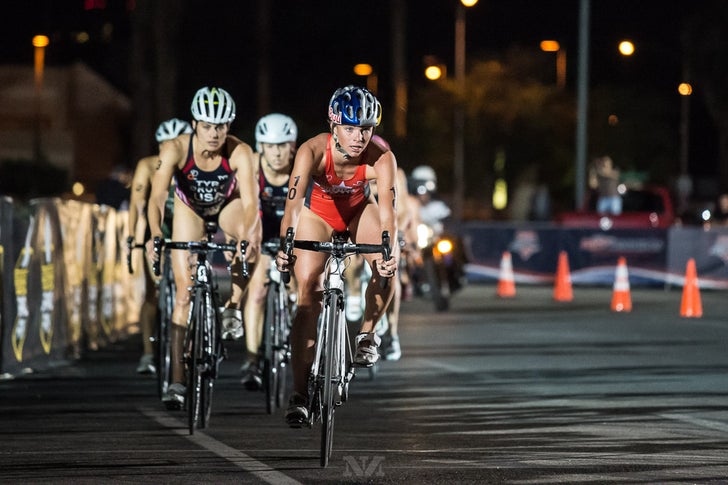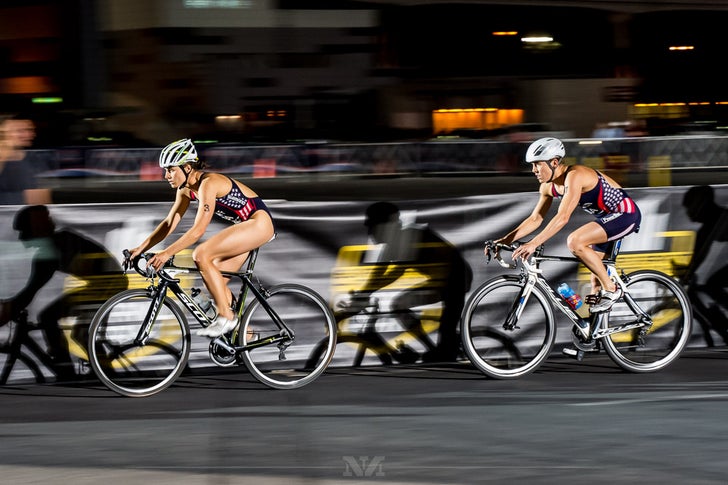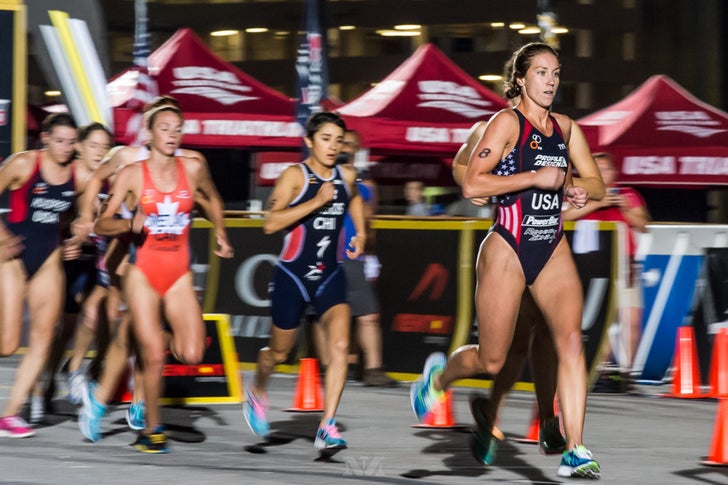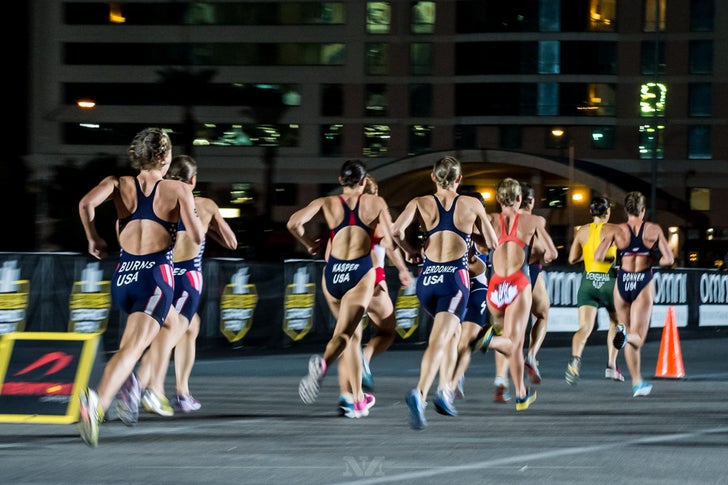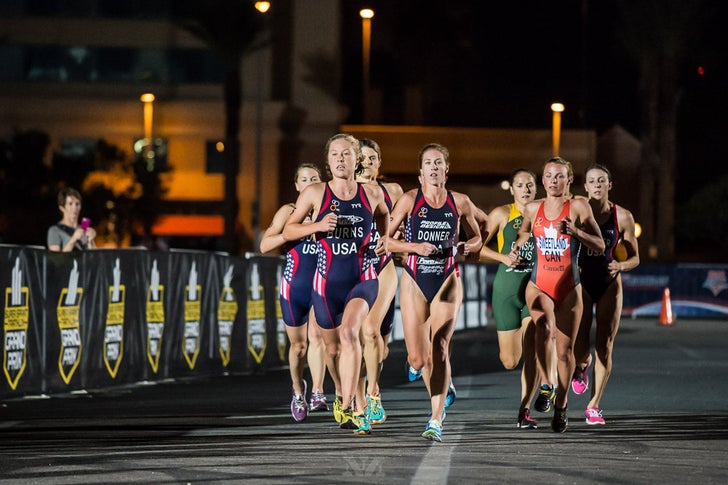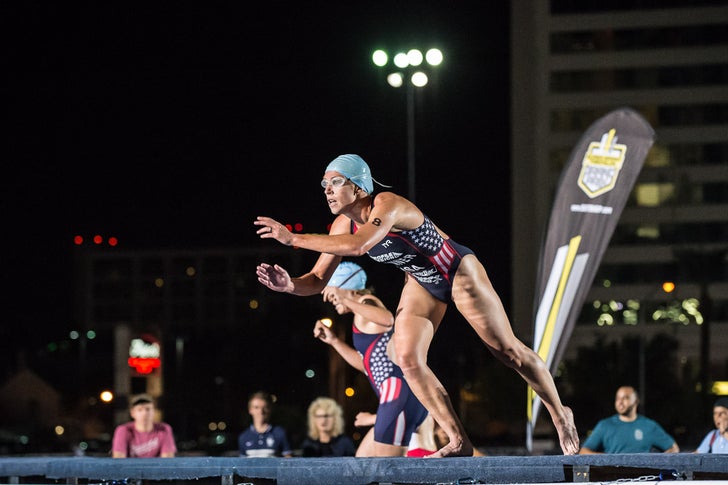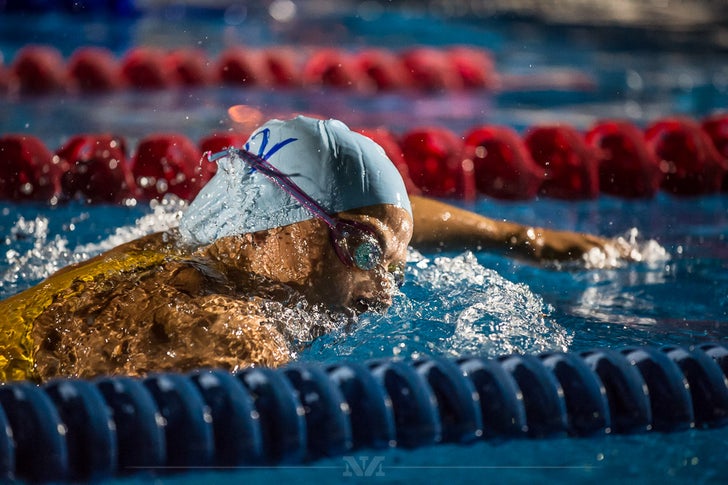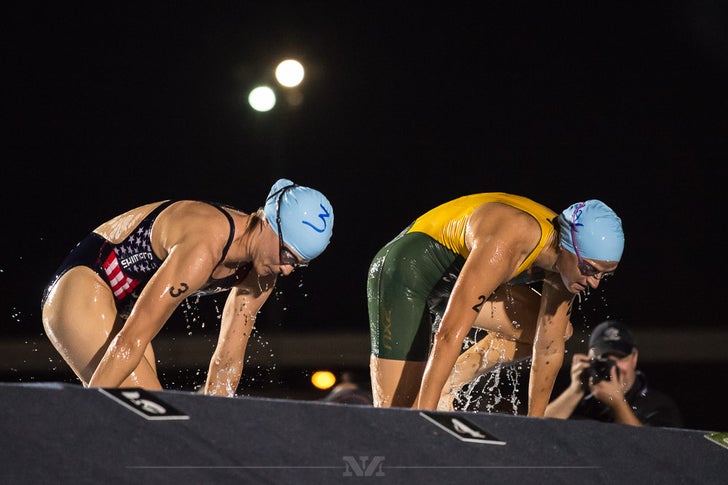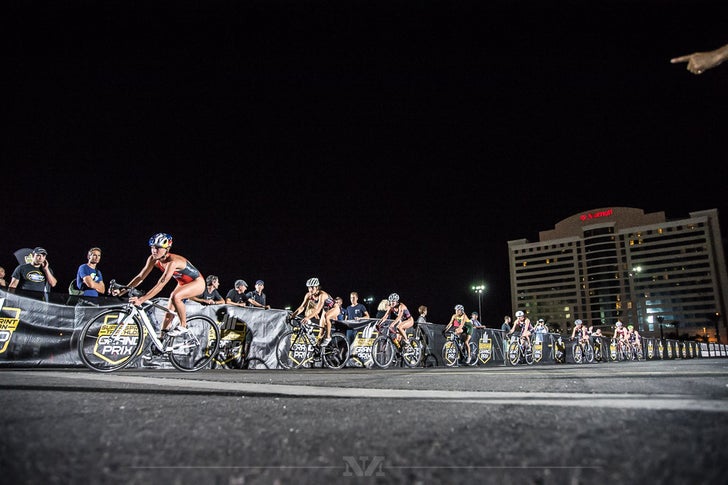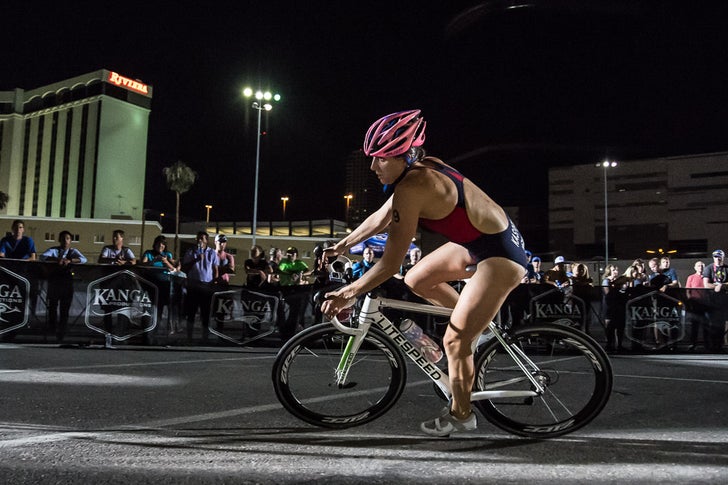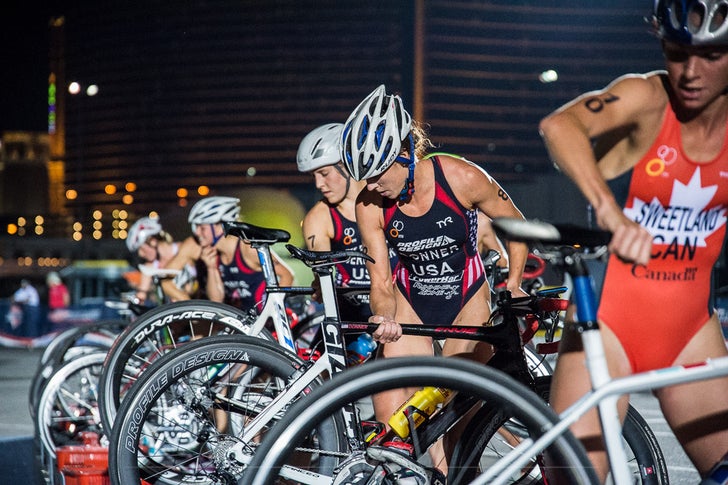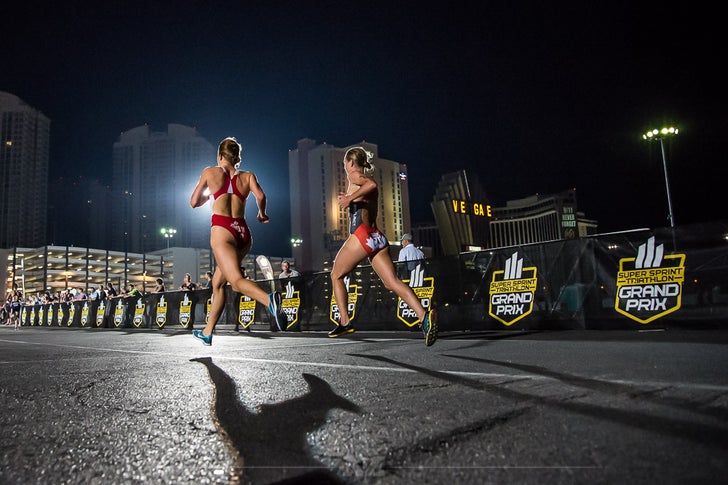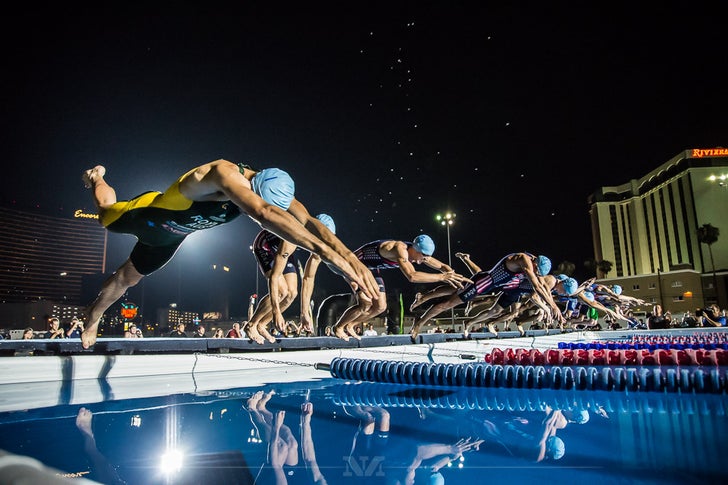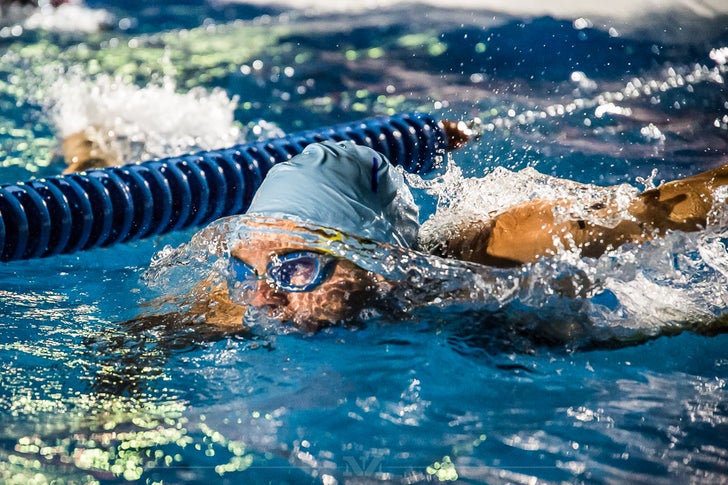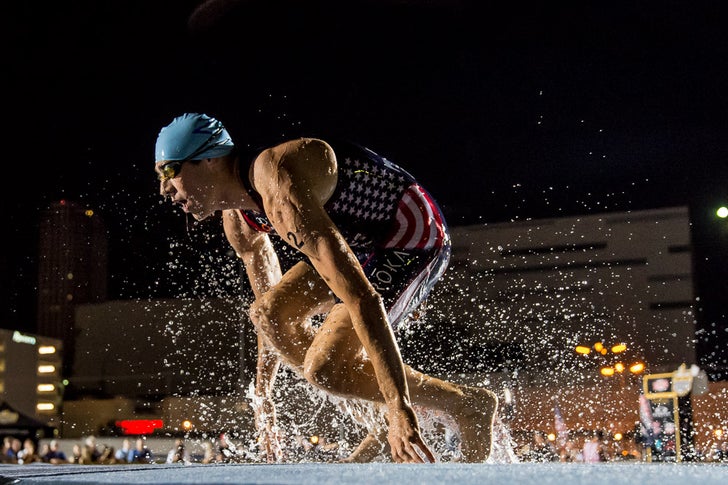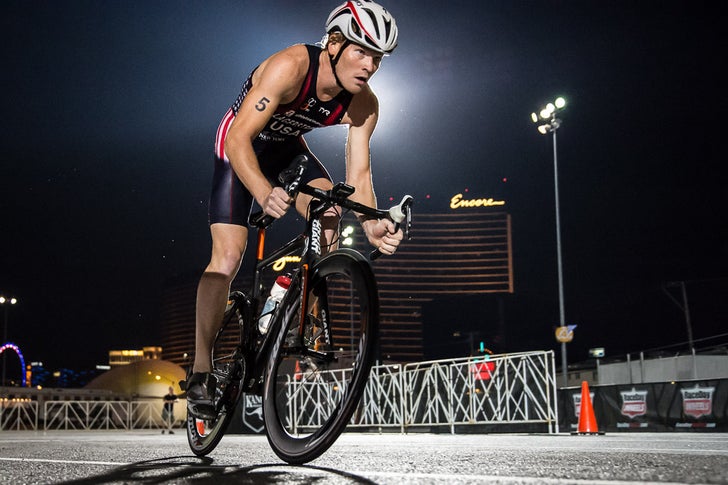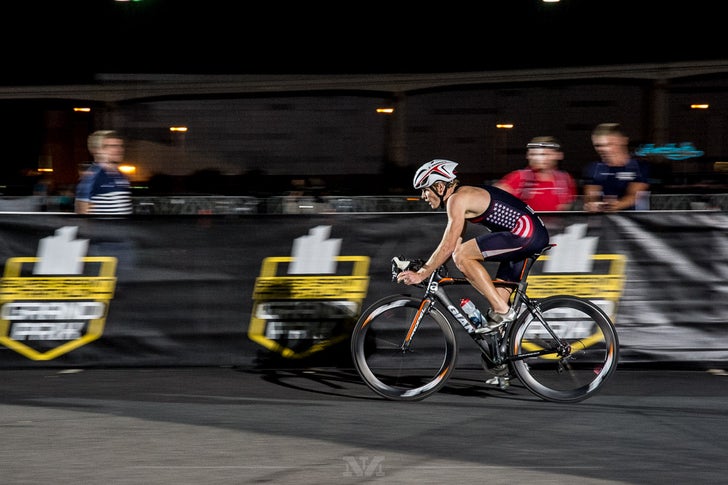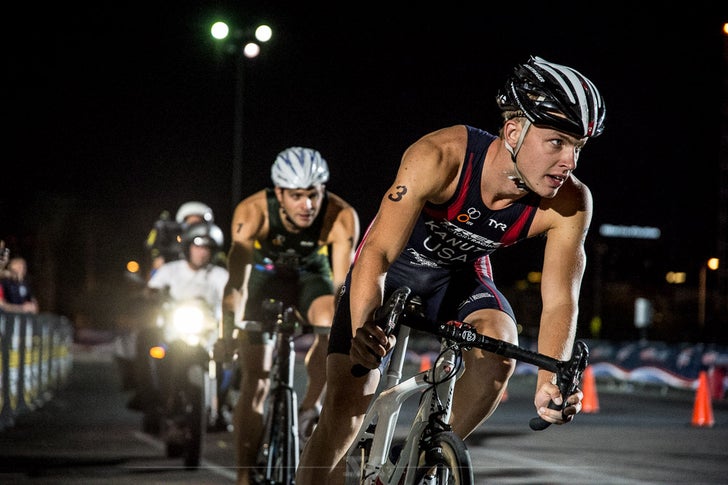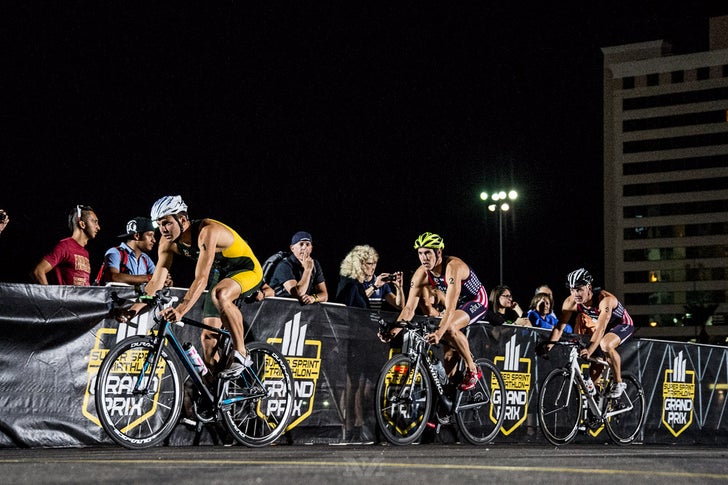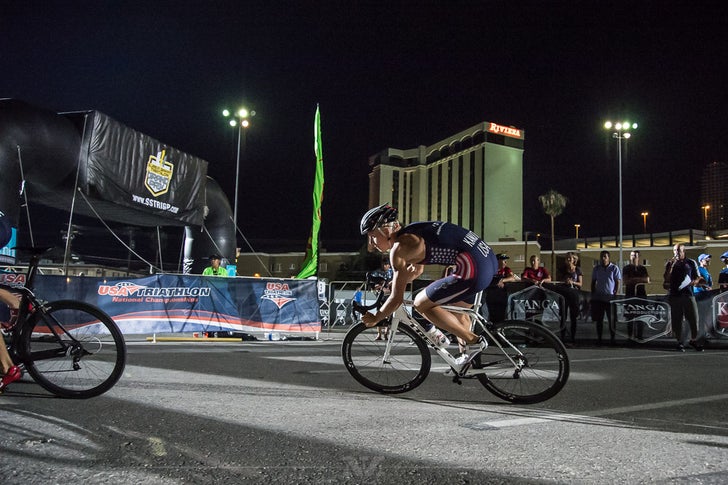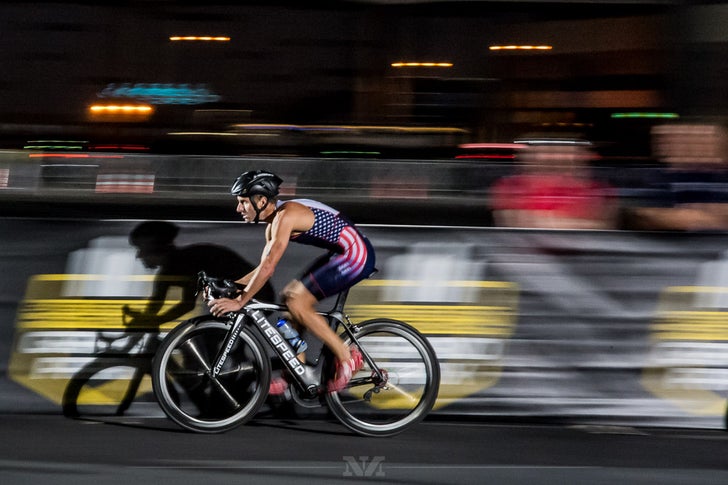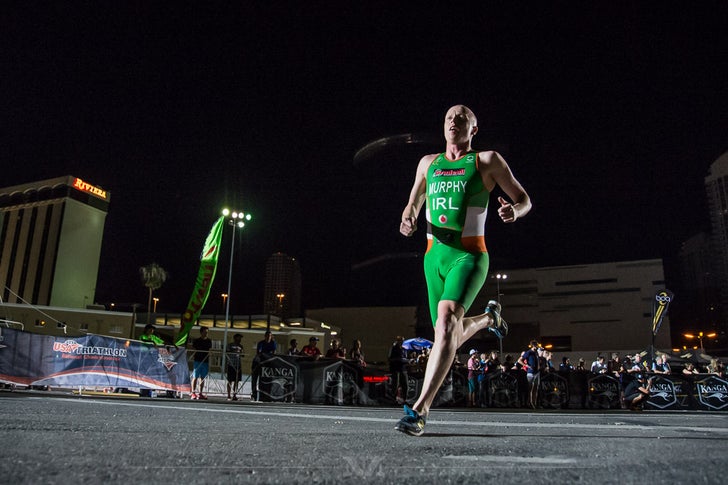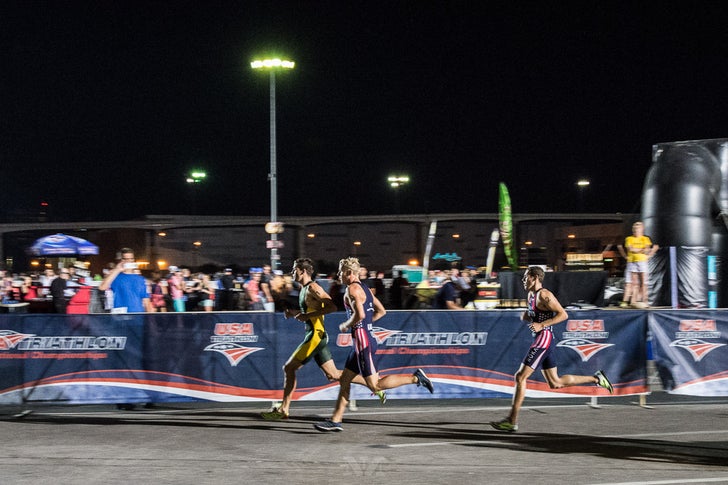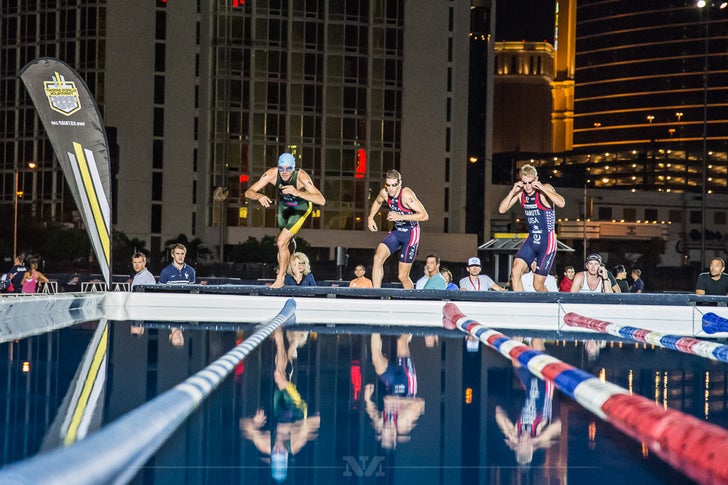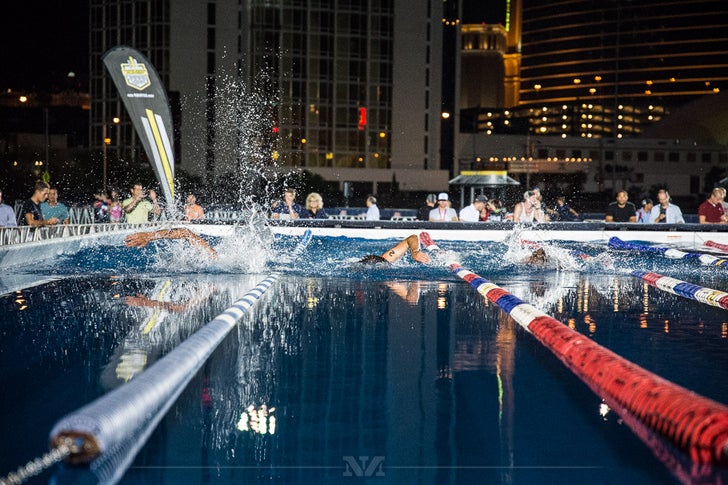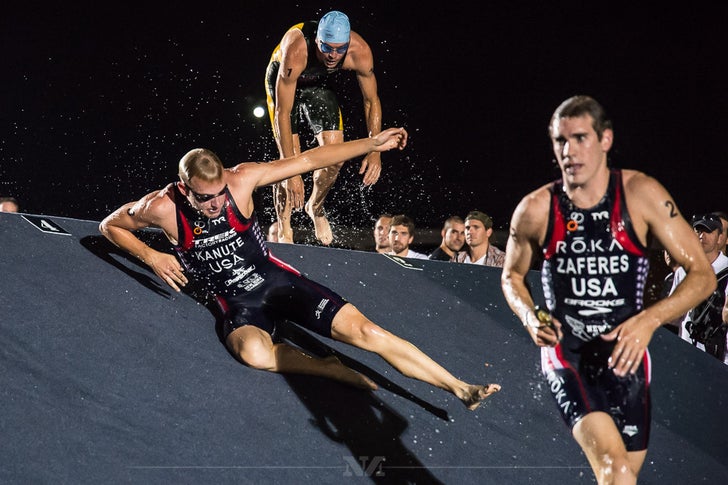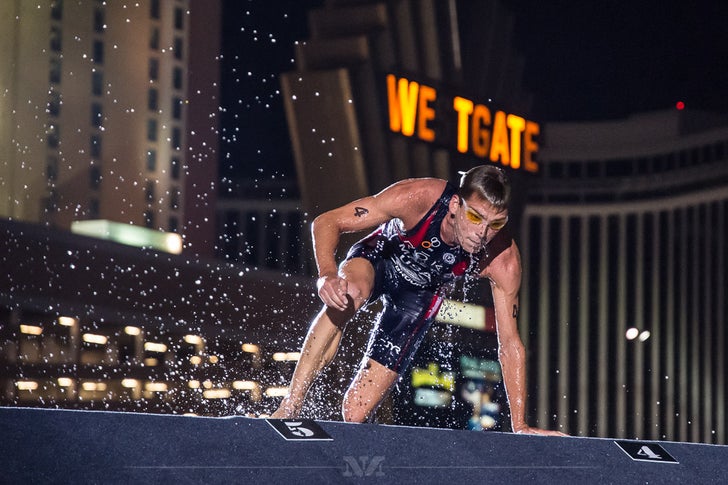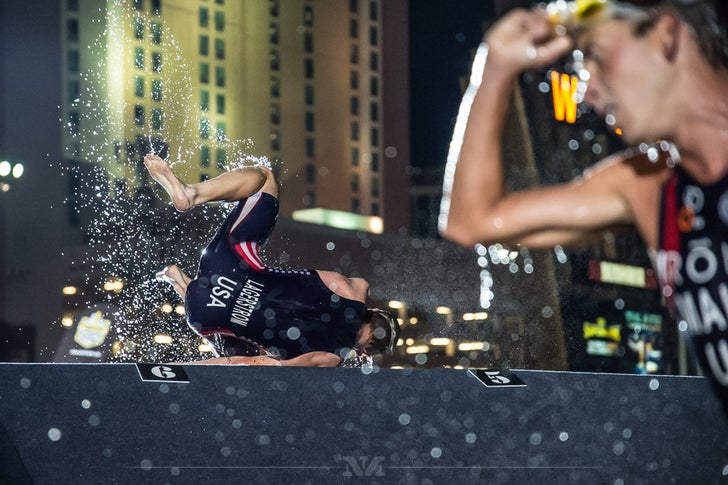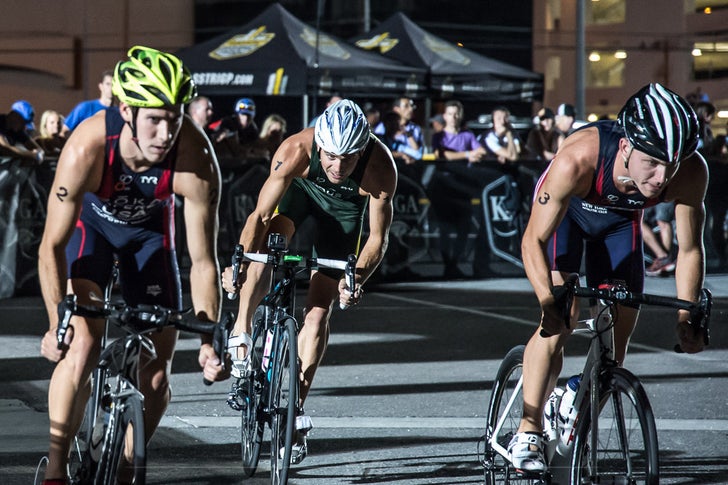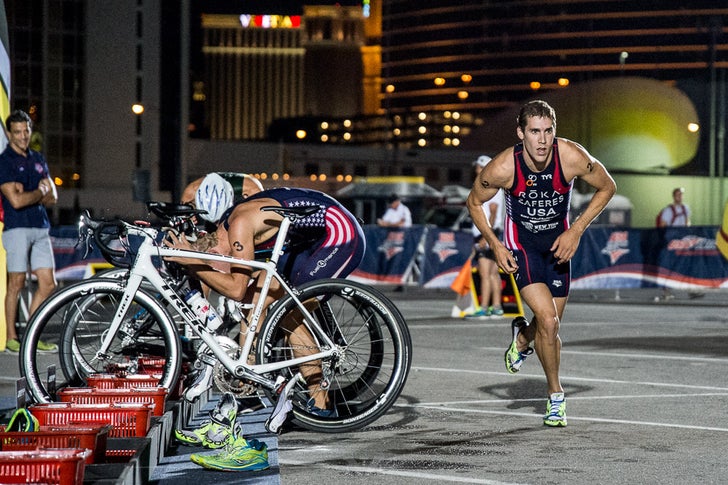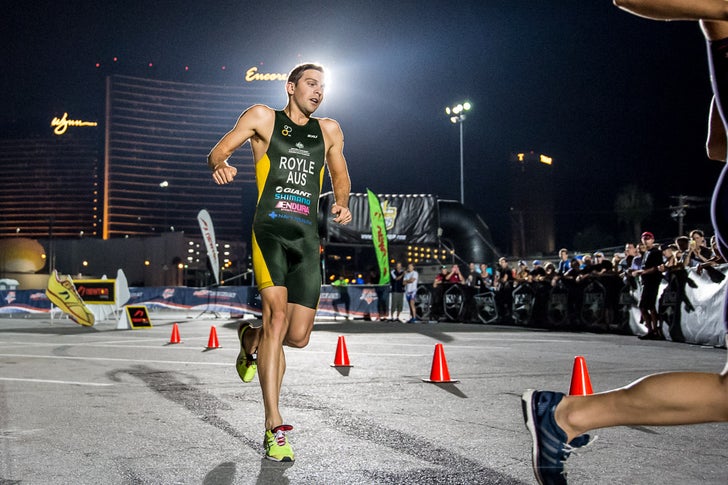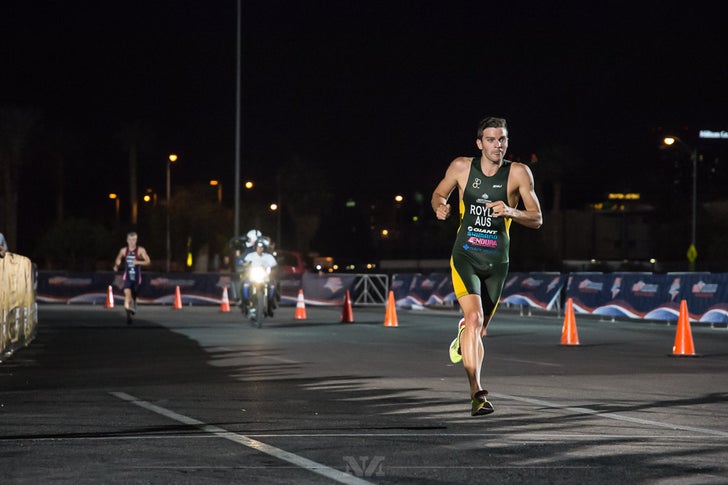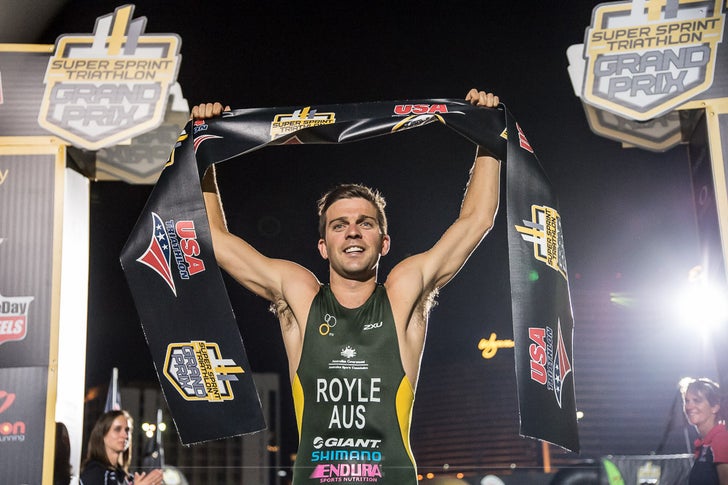 Photos: Nils Nilsen
The USA Triathlon Super Sprint Grand Prix returned to Las Vegas on Thursday, Sept. 11, with a number of the world's best triathletes competing under the lights and on national television for a share of the $70,000 prize purse at the Las Vegas Convention Center. Ultimately it was American Chelsea Burns and Australian Aaron Royle taking the victories.
Athletes finished a 300-meter swim in a portable pool before completing an 8-kilometer bike and 2.5-kilometer run (all two times), with qualifying heats preceding the A and B finals. A $62,000 prize purse was shared equally between the overall male and female fields, with the top-15 finishers being rewarded in each division. There was also a $7,500 prize purse shared among the top-three men's and women's U.S. athletes as part of the USA Triathlon Elite Sprint National Championships.
This year's event boasted a dense field of talent that included five Olympians on the women's side—Australian Erin Densham, Canadian Paula Findlay, American Sarah Groff, Chilean Barbara Riveros and Canadian Kristen Sweetland. For the majority of the race, all 10 contenders stayed close together, due in part to the talent level as well as the tactical bike course filled with multiple 180-degree turns. It wasn't until the second 5K bike that the group started to break up, but mostly reformed heading into the start of the last run. Towards the end of the last 2K, Burns and Densham took charge in front of the field and ended with an all-out sprint to the line. Burns crossed first, followed by Densham and American Erin Jones.
The men's race had more distinctive packs from the beginning, led by a trio of Royle and Americans Ben Kanute and Tommy Zaferes, who worked together throughout, trading the lead on the bike every half lap in attempt to put in some time on the dominant runners in the field (particularly sub-4 minute milers Sean Jefferson and Alan Webb). Royle, who is ranked 10 on the ITU World Triathlon Series, ultimately had the legs to take the win, followed closely by Kanute and Zaferes.
The event will be broadcast nationwide on Universal Sports Network on Oct. 1 at 8 p.m. ET.
2014 USA Triathlon Super Sprint Series Las Vegas
Super Sprint Triathlon Grand Prix
300m swim, 5k bike, 2k run (x2)
Women's A Final
1. Chelsea Burns (Seattle, Wash.), 40:43.79
2. Erin Densham (AUS), 40:43.81
3. Erin Jones (Colorado Springs, Colo.), 40:54.42
4. Kaitlin Donner (Satellite Beach, Fla.), 40:56.06
5. Sarah Groff (Hanover, N.H.), 41:04.43
6. Paula Findlay (CAN), 41:07.01
7. Kirsten Sweetland (CAN), 41:11.85
8. Lindsey Jerdonek (Sagamore Hills, Ohio), 41:19.03
9. Barbara Riveros (CHI), 41:35.46
10. Kirsten Kasper (Marietta, Ga.), 41:42.53
Men's A Final
1. Aaron Royle (AUS), 36:59.71
2. Ben Kanute (Tucson, Ariz.), 37:09.21
3. Tommy Zaferes (Soquel, Calif.), 37:14.41
4. Eric Lagerstrom (Gresham, Ore.), 37:59.40
5. Joe Maloy (Wildwood Crest, N.J.), 38:10.46
6. Conor Murphy (IRL), 38:27.88
7. Sean Jefferson (Palisades, Calif.), 38:31.77
8. Alex Libin (Colorado Springs, Colo.), 38:35.78
9. Alan Webb (Beaverton, Ore.), 38:58.47
10. Jarrod Shoemaker (Clermont, Fla.) – Flat tire ended race early