Perfect ITU World Championship Series Continues For Brownlee With Victory In London
Heading out the door? Read this article on the new Outside+ app available now on iOS devices for members! Download the app.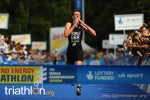 For a man of just 21 years of age, Great Britain's Alistair Brownlee showed remarkable confidence and a cool head as he won his fourth consecutive Dextro Energy Triathlon – ITU World Championship Series race in London.
Hyde Park, the designated triathlon venue for the 2012 London Olympic Games, hosted the event as competitors swam in the Serpentine before biking and running around local roads under the watchful eye of thousands of spectators.
Brownlee utilised his usual tactic of racing from the front and he helped to form a small breakaway of 12 during the opening 1500 metre swim. Ivan Vasiliev lead out of the water with both Alistair and younger brother Johnny, on his feet. The group worked well together to stay almost a minute ahead of the large chase pack of 40 plus riders until the 30 kilometre mark when 2008 world champion, Javier Gomez hit the pavement and was forced to retire from the race with road rash. After the incident the lead group slowed down and the chasers swallowed them up heading into the final lap. A visibly upset Brownlee was not impressed to see the chase group catch on as some of the sport's top runners including Steffen Justus, Kris Gemmell and Brad Kahlefeldt were included.
Forty-seven men came into second transition together, the largest bike pack seen this year, and both Laurent Vidal and Kahlefeldt collided and hit the floor. Vidal was able to continue but Kahlefeldt was stretched out of the transition zone writhing in agony with a suspected foot injury.
Despite his frustrations and a poor transition it was Brownlee who quickly closed down the early leaders and accelerated away. Although a small group was able to stay with him over the first six kilometres, it was not long until the series leader was on his own. The seemingly unstoppable Brownlee once again blew away the field to claim his fourth Dextro Energy Triathlon – ITU World Championship Series race this season with a closing 28:52 run split to cross the line in 1:41:50.
Germany's Steffen Justus took his first step onto the podium with second place with Kris Gemmell from New Zealand outsprinting Sebastian Rank from Germany for third with the French pairing of Vidal and David Hauss in fifth and sixth respectively.
"I can't quite believe it, I never expected at the start of the season to get a win in Madrid, Washington or Kitzbühel or here," explained Brownlee. "I've had a lot of luck on my side, [Javier] Gomez crashing today definitely helped, but you've got to make the most of it and I think I have. It's been a great run of results and I hope it continues.
"I heard a big crash behind me and looked round but couldn't see who it was, then Johnny [Brownlee, Alistair's brother] rode up to me and said it was Gomez. I thought because there was a group catching us up that he might be able to get back in the race and catch back up, so I didn't know he was out of the race until I was on the run. You've just got to concentrate on who is in the race and think about beating them instead."
"I never thought I could get on the podium," admitted Justus. "My ranking is eleventh and so my ambitions are always to come in the top ten. There seems to be a triathlon boom in Germany right now, we're all having a great year with Maik Petzold, Jan Frodeno and Daniel Unger. Let's see what we can do at the Grand Final."
"It hasn't been too bad a season," said Gemmell. "It's nice to be on an upwards curve. I tried to manage the last two races with some heavy training, so it's good that it's come off here in London. I train with Steffen Justus and Sebastien Rank every summer in Germany so it was good fun battling it out in the home straight. It wasn't the prettiest look in the world, but it was a good result."
With his win, Brownlee solidifies his lead in the Dextro Energy Triathlon – ITU World Championship Series rankings, maxing out his points total leading into the Grand Final on the Gold Coast of Australia in four weeks time. Steffen Justus moves into third with his second place finish and Gomez falls out of the top three.
London Dextro Energy Triathlon – ITU World Championship Series
1.5km swim, 40km bike, 10km run
Elite Men – Official Results
Gold – Alistair Brownlee (GBR) 01:41:50
Silver – Steffen Justus (GER) 01:41:58 +:08
Bronze – Kris Gemmell (NZL) 01:42:01 +:11
4th – Sebastian Rank (GER) 01:42:01 +:11
5th – Laurent Vidal (FRA) 01:42:16 +:26
6th – David Hauss (FRA) 01:42:17 +:27
7th – Courtney Atkinson (AUS) 01:42:24 +:34
8th – Tony Moulai (FRA) 01:42:29 +:39
9th – Tim Don (GBR) 01:42:31 +:41
10th –Jonathan Zipf (GER) 01:42:32 +:42

Dextro Energy Triathlon – ITU World Championship Series
Official Rankings
1st – Alistair Brownlee (GBR) – 3,200 pts
2nd – Maik Petzold (GER) – 2,493
3rd – Steffen Justus (GER) – 2,388
4th – Javier Gomez (ESP) – 2,368
5th – Brad Kahlefeldt (AUS) – 2,276
Press Release courtesy of Triathlon.org.