One Big Weekend In Ireland: Attending The Éireman Triathlon Festival
Heading out the door? Read this article on the new Outside+ app available now on iOS devices for members! Download the app.

Triathlete senior editor is on his way to the inaugural Éireman Triathlon Festival in Courtown, Ireland. Catch a quick preview of the weekend's festivities.
Sunday marks a big day in Irish sports history. Yes, yes, I'm sure you've all heard that Lance Armstrong makes the start of the Tour of Ireland in Dublin this weekend. But by chance, it's also the same weekend where Pettitt's SuperValu Éireman—the Irish equivalent of Wildflower—makes its debut in Southeastern Ireland, just south of Dublin.
Triathlete will be on hand to report on the race and the weekend (which, like Wildflower, will have a full compliment of events including an Ironman-distance race, a half-Ironman distance event, an Olympic-distance event, and a sprint—all on the same day).
Taking off that big of a bite in a debut event leads one to ask: Is Ireland ready to hit the big-time in triathlon with Eireman? Is there any endurance sport history in Ireland beyond, well…. hurling?
Back in my formative years, I had a chance to join Irish cycling legend Sean Kelly on (and I am not making this up) an evening of drinking in Tucson, Arizona. Present for a cycling camp, it was a night to remember—although I forgot much of it thanks to the heavy imbibing. After a night of chatting cycling with the friendly Irishman (which is always the reception when you proffer up a pint or two to a guy who won Paris-Roubaix, Milan-San Remo and the Vuelta a Espana), I was able to take in some great stories about his and country mate Stephen Roche's escapades in the '80s. The country's cycling history is rich and deep.
But how about triathlon? Specialized global tri manager Bobby Behan (the big, BIG Irishman looking after Chris McCormack, T.J. Tollakson and Terenzo Bozonne) was long ago a member of the Irish national squad as an ITU pro, and has said it's a good culture. This July, Irishman Brian Keane won an ITU European Cup event in Athlone, Ireland. We're excited not solely for this particular race debut, but for the chance to get a firsthand look at the health of the sport of triathlon in Ireland.
For a first-year event to draw over 700 out of the gate as event organizer Eoin Ryan tells me is a big deal wherever you are. And to host all range of distances on the same day, on a beautiful closed course? There's only one race director we've seen pull this off with success; TriCalifornia's Terry Davis. Like Wildflower, Ryan figures he has a beautiful course on his hands that could make this very Wildflower-esque. " I'm either totally crazy or I've found a nugget of a course with the 'wow' factor," Ryan says. "Thankfully it's the latter and I look forward to welcoming people. It has not been easy to bring this race to life. It's consumed one year of my life and taken a mammoth team effort to get us to this point.
Sunday, it comes to life.
Courtown, in County Wexford just over an hour south of Dublin, is the venue for Sunday's race. From what I understand, it's a fast, fast course. It's also got the likelihood of being a wet, wet course. After all, despite it being summer, it is Ireland. Locals will take a sunny day, but always figure in the probability for inclement weather. "Conditions will have an influence," Ryan said, "but if the conditions are triathlon favorable, a few records could be broken not to mention the Irish long distance record of nine hours three minutes."
As a lad of Irish descendants (my mother's maiden name is McLaughlin), I am extremely excited about this assignment, and although I do know the country's rich history (the Irish have always been feisty fighters), I don't know much about the current culture—but will quickly learn.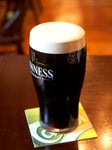 I know one thing: Ireland lay claim to one of the most complex beers in the world coming, that being Guinness out of Dublin. And you can be sure I'll be experiencing its dark goodness in the days to come. Be sure to check in with reporting from Courtown on what we're expecting to be a fun (and maybe wet) Wildflower-style weekend.