Norden Victorious In Women's Race At Yokohama
Heading out the door? Read this article on the new Outside+ app available now on iOS devices for members! Download the app.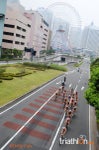 Sweden's Norden is one step closer to Dextro Energy Triathlon – ITU World Championship Series Gold with a win in Yokohama.
Having finished in second position three times in the 2009 Dextro Energy Triathlon – ITU World Championship Series, Lisa Norden from Sweden won the Yokohama race in Japan to move within touching distance of series leader Emma Moffatt from Australia.
The 24 year old came out on top in a thrilling three woman sprint with a time of 1 hour 55 minutes and 56 seconds. In second place, in a reversal of the result from earlier in the season in Madrid, was Andrea Hewitt of New Zealand, five seconds back and just ahead of home favourite Juri Ide as temperatures soared to over 40 degrees celsius with high humidity.
"I wanted to step up to day and I showed I have the ability to be on the top of the podium. When I started the season I didn't intend to be a contender. This season was about getting experience and competing with the big girls, but now I can go to the Gold Coast and put in a big training block. Moffatt is a world class triathlete and she will be hard to beat."
A group of four exited the water, including Annabel Luxford from Australia and Britain's Liz Blatchford, together and hit the technical bike course; and although they would try to breakaway early in the race, they were caught on the third of eight laps by the chase group of 15. Even with almost all of the top contenders in this lead group the tempo was still high as a fast approaching Nicola Spirig, winner of the London leg of the Dextro Energy Triathlon – ITU World Championship Series event last weekend was making ground. Despite exiting the water 80 seconds down, Spirig would time trial the entire opening 30 kilometres on her own in a dominant display of cycling strength and catch the leaders for the final two laps. With the heat of the day growing, the group were content to leave things for the 10-kilometre run.
The run started slowly with a large group of the top ten contenders all staying together, testing each other's legs. It was not until the five kilometre mark that the pace quickened and streaks of daylight showed between competitors. At the front Norden, Hewitt and Ide moved ahead and despite some surges in the final few kilometres all three stayed side by side. With 400 metres to go Norden made her charge for the line, dropping both Hewitt and Ide. Looking back with 20 metres to go, Norden could see she was alone and smiled to the crowd. Hewitt managed to just beat Ide for second with a smart change of pace.
"I've lost two sprint finishers this year, to Hewitt in Madrid and Spirig in London, so I tried to put a couple of surges in during the last lap and got our group down to three," explained Norden. "They were breathing pretty hard so I decided to put the hammer down to see what happened."
"I was so far out there on the run that I was just hanging on all the way to the end. It was a long sprint and I think it worked in Lisa's favour," replied Hewitt.
With her win Norden moves to within 120 points of series leader Emma Moffatt heading into the Dextro Energy Triathlon – ITU World Championship Series Grand Final in three weeks time on Australia's Gold Coast. If Norden wins the final race of the series then Moffatt must finish second to deny the Swede the biggest prize in triathlon.
Norden is a former member of the ITU Sport Development Team which assists athletes and coaches from developing and emerging nations. In 2007 she was crowned as ITU Under 23 Triathlon World Champion in Hamburg, Germany.
Yokohama Dextro Energy Triathlon – ITU World Championship Series
1.5km swim, 40km bike, 10km run
Elite Women – Official Results
Gold – Lisa Norden (SWE) 01:55:56
Silver – Andrea Hewitt (NZL) 01:56:00 +:04
Bronze – Juri Ide (JPN) 01:56:03 +:07
4th – Liz Blatchford (GBR) 01:56:23 +:27
5th – Annabel Luxford (AUS) 01:56:30 +:34
6th – Kiyomi Niwata (JPN) 01:56:31 +:35
7th – Elizabeth May (LUX) 01:56:45 +:49
8th – Kirsten Sweetland (CAN) 01:56:51 +:55
9th – Sarah Haskins (USA) 01:56:57 +1:01
10th – Nicola Spirig (SUI) 01:57:03 +1:07

Dextro Energy Triathlon – ITU World Championship Series
Official Rankings
1st – Emma Moffatt (AUS) 3,140 pts
2nd – Lisa Norden (SWE) 3,020
3rd – Andrea Hewitt (NZL) 2,766
4th – Daniela Ryf (SUI) 2,374
5th – Sarah Haskins (USA) 2,189
Provided by Triathlon.org