Norden Takes Women's Title At Hy-Vee, Carfrae Impresses In Second
Thirty top female pros came to Des Moines, Iowa to race the fifth annual Hy-Vee Triathlon on Sunday.
Heading out the door? Read this article on the new Outside+ app available now on iOS devices for members! Download the app.
Thirty top female pros came to Des Moines, Iowa to race the fifth annual Hy-Vee Triathlon on Sunday, including inaugural Hy-Vee champion, Laura Bennett, and American Sarah Groff, who already qualified to represent the U.S. at the 2012 Olympic games. In the end, ITU standout Lisa Norden of Sweden walked away with the win and the large prize purse.
Written by: Erin Beresini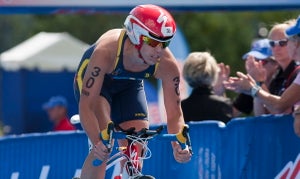 This year, the race was the U.S. Championship in the World Triathlon Corporation's new 5i50 series of Olympic distance, non-drafting races, so each of those pros was gunning for the massive first place prize purse of $151,500. To make things even more interesting, both the men's and women's races included 10 primes of $5150 for the first racer to complete each loop of the course (three swim primes, four bike, three run), elevating the total prize purse to $1,109,000.
The women took off at 1:30 p.m. Central time, long after the morning's age group race ended. Sara McLarty dominated the swim, fighting a strong current in the 73.4 degree Des Moines River to win all three $5150 primes. It was a Sara trifecta exiting the swim with Sarah Haskins coming out in second and Sarah Groff, just behind. Haskins took control immediately on the bike course, staying out front to capture three of the four primes on the windy, four-lap course. Australia's Nikki Butterfield passed Haskins to edge out the U.S. star for the fourth bike prime. Sweden's Lisa Norden and Switzerland's Nicola Spirig and stayed close behind throughout the bike, ready to battle it out on the run. Haskins quickly regained her position at the front of her competitors on the run, winning all three run primes. But with only a few minutes of running to go in one of the most exciting race finishes we've seen in a long time, Norden attacked for the win. Australian super runner and reigning Ironman world champion Mirinda Carfrae nabbed second place and $75,000. Haskins had to settle for third adding $50,000 to her $30,900 in primes.

Click here to read a recap of the men's race.
Hy-Vee Triathlon – Elite Cup
Des Moines, Iowa – Sept. 4, 2011
1.5K swim, 40K bike, 10K run
Women
1. Lisa Norden (SWE) 1:59:12
2. Mirinda Carfrae (AUS) 1:59:20
3. Sarah Haskins (USA) 1:59:29
4. Nikki Butterfield (AUS) 1:59:38
5. Laura Bennett (USA) 1:59:50