Mathias Hecht and Heather Wurtele Win Ironman St. George
Heading out the door? Read this article on the new Outside+ app available now on iOS devices for members! Download the app.
Swiss triathlete Mathias Hecht and Canadian Heather Wurtele took the titles at the 2011 Ironman St. George.
By Jennifer Purdie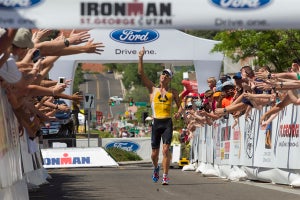 Swiss Mathias Hecht and Canadian Heather Wurtele won the titles at the 2011 Ironman St. George, which took place on Saturday, May 7. This Ironman is arguably the most challenging long-course triathlons in existence. Its notorious reputation for having a tough bike and run course mixed with strong winds makes it one of the few 140.6 races with spots still available days before the race.
In the professional field, the first three men out of the water were Chris Hauth, 50:43; Max Biessman, 52:37; and Jonathan Wojcik, 53:00. For the women, Sarah Goldberg led the pack in her home state with a split of 54:53. Following Goldberg out of the water were Jessica Smith, 55:20 and Betty Janelle Smyrna just five seconds behind with a swim time of 55:25.
Heading out onto the hilly bike course, in the first 20 miles, Hecht and Paul Ambrose broke away with the chase pack about three minutes back. In the women's field, Jodie Swallow looked strong. In the first 20 miles, her lead had stabilized over the chase pack. Behind her were Meredith Kessler, who was two and a half minutes back, and Heather Wurtele, who was almost six minutes back. Wurtele was last year's champion in this race, but found herself having to pedal hard to keep up with the powerful cycling of Swallow.
We've got pictures from the Ironman St. George triathlon!
Training for an Ironman or Challenge Series triathlon? See how the pros do it in this video.

Near the halfway point, Maik Twelsiek had the lead bike, followed by Ambrose and Hecht. Over on the women's side, Swallow continued her biking dominance with Kessler and Wurtele still in the number two and three positions.
At mile 66, Ben Cotter and Chris Olson moved into first and second, with Hauth 1:45 back. On the women's side, at 100 miles, Wurtele managed to surpass Kessler and rode into second place.
Last year's champion Michael Weiss pulled out due to cramping on the bike. He is now aiming for Ironman Lake Placid.
First into T2 were Twelsiek, 5:30:30; Hecht, 5:33:35; and Ben Hoffman, who placed second in Ironman St. George last year, with a time of 5:35:50. The three men held those same positions out of T2 and onto the run.
Swallow maintained her lead and was first into T2 with a time of 6:10:15, followed by Wurtele who was over five minutes back at 6:15:43, and Kessler with a time of 6:17:11.
In the marathon, the men trailed behind Twelsiek, but Hecht made a move to take the lead after mile 15. Swallow called it a day possibly due to a foot injury she has been dealing with throughout the winter. This left Wurtele out in front with Kessler, who was walking within the first 10K, in second.
Crossing the finish line first for the men was Hecht with a new course record by eight minutes. In second was Twelsiek, followed by TJ Tollakson. For the women, Wurtele held onto a substantial lead in the run and came in first for her second consecutive win in Ironman St. George and a course record. Kessler struggled and had to make her way over to medical and pulled out. Coming in second and third were Jackie Arendt and Uli Bromme, respectively.
Ironman St. George
St. George, Utah—May 7, 2011
2.4 mile swim, 112 mile bike, 26.2 mile run
Men's Results
1. Mathias Hecht, 8:32:03
2. Maik Twelsiek, 8:33:46
3. TJ Tollakson, 8:40:20
4. Ben Hoffman, 8:41:39
5. Mike Aigroz, 8:42:06
Women's Results
1. Heather Wurtele, 9:30:33
2. Jackie Arendt, 10:06:36
3. Uli Bromme, 10:10:48
4. Jessica Smith, 10:20:45
5. Liis Toomingas, 10:36:36