Luis Wins Gold, Mola Gets World Title in Gold Coast
Spain's Mario Mola earned his third ITU World Championship title in a row.
Heading out the door? Read this article on the new Outside+ app available now on iOS devices for members! Download the app.
Vincent Luis capped a brilliant day for France on the Gold Coast on Sunday afternoon, following the team's U23-Junior Mixed Relay World title with a WTS gold of his own on a blowy afternoon. Mario Mola's own place in the sport's history books was solidified as he crossed the line in second place looking typically assured on route to securing a remarkable third world championship title. South Africa's Richard Murray crossed the line for a hard-earned bronze, while Jacob Birtwhistle's seventh place saw him take Series bronze.
Read the recap from Triathlon.org below:
"I have a lot of feelings," said Mola after the race. "It has been a great season and finishing with a second place behind my training partner—it was a great race. I'll try to make it four in a row next year and it's in my hands to come back next year and be better."
Luis was delighted with his second WTS Grand Final gold in as many years, a result that also saw him take second in the 2018 overall series, saying; "I didn't expect that. I felt good in the run and I thought 'Why not attack? I'm third in the world, I have nothing to lose.' Plus, if I have to finish second to anyone, I'm happy it is Mario."
The choppy waters made for difficult swim conditions, but Luis spearheaded the lead group at the halfway point, ever-present Richard Varga tucked in behind him with South Africa's Henri Schoeman and Jonathan Brownlee in close pursuit.
The front trio looked that way through the first transition and onto the Gold Coast highway for the 40km, 8-lap ride. Schoeman, Norway's Kristian Blummenfelt, Luis and Brownlee pushing hard with France's Dorian Coninx and Belgium's Marten Van Riel, until Luis' back wheel left him and he and van Riel hit the tarmac.
Quickly back up and riding, the only damage done was to the rhythm and momentum of that lead group, Van Riel then deciding to try and push out alone at the 20km mark, opening up an 11-second lead one lap later. He was soon caught, but then pushed on again, this time with Blummenfelt in tow, the pair driving forward with everything they had to try and earn some light ahead of the likes of Mola ahead of the run.
On the final lap it was Van Riel and Blummenfelt out front by 35 seconds while Mola joined Luis and Richard Murray who were jockeying for second place in the series with Birtwhistle, part of a train of more than 30 athletes mere seconds behind.
Then, with just over 1km to go and all the hard work of carving out that gap done, Van Riel suffered the heartache of a chain drop and Blummenfelt was into T2 solo with the prospect of a mentally difficult individual run ahead as he donned his trademark white headband.
Van Riel came into T2 now 28 seconds behind him but was lifted by the crowd. Just a few seconds back came the combined talents of Murray, Luis, Brownlee, Mola and Birtwhistle among a host of others.
Blummenfelt's lead was shaved back by half by the time he came through to complete the first lap, followed 17 seconds behind by Henri Schoeman and Mario Mola.
At the u-turn with 6.5km to go, Blummenflet could clearly see the red suit of Mola bearing down on him and it wasn't long before the inevitable next chapter played out. With 5km left of the run, Mola and Luis were right with the Norwegian. South Africa's Murray and Schoeman and Pierre le Corre of France were also n touch while Vincent Luis had his eye firmly on second place in the overall 2018 standings, Birtwhistle chasing further back alongside Jonathan Brownlee.
It was Luis who took the bell, Murray and Mola right alongside him, and with 2.5km to go the Frenchman dropped them both. The Spaniard inevitably gave chase but Luis had timed his move to perfection, soaring through to the line with Mola crossing 13 seconds behind followed by Murray. Pierre le Corre outsprinted Blummenfelt down the chute for fourth, Birtwhistle's seventh place ensuring him third in the overall standings and a frustrated Van Riel came in 9th.
Asked how he felt repeating compatriot Javier Gomez's hat-trick of world titles, Mola said; "Javier is an inspiration to me my whole career, someone I always look up to and who has set the path for all Spanish athletes, but I never imagined having three titles. I have to thank my coach for the last five or six years and my girlfriend – they have been there and created a perfect environment to keep me happy and going forward."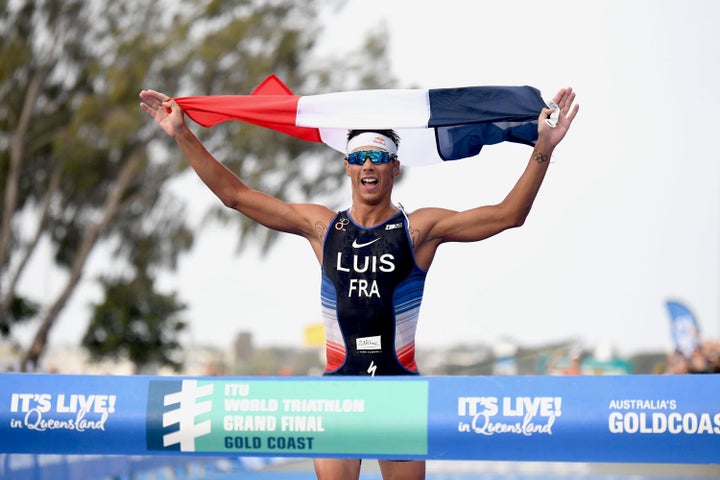 Vincent Luis added afterwards; "I was a bit up and down around the Rio Olympics but I have a good balance now of all the things you need to put together before a race and to stay fresh. Mario is really consistent, he has won more WTS in three months than I have my whole life! If anyone had to beat me, I'm happy it is him."
Richard Murray was delighted with his Grand Final bronze and his year as a whole. "The first World Series Olympic distance win this year, I proposed to my girlfriend and she said yes. That is awesome and finishing the season on the podium I couldn't be happier. I wanted third overall in the year, that was my goal at the start of the season and I was short 40 or 50 points, so it's a bit of a bittersweet ending but overall, after the way I came out of the water, I am pretty happy with third."
Australia's Jacob Birtwhistle was equally enjoying his moment on the Series podium, saying; "I had no idea what was going on but I was doing everything I could. Me and Jonny had a good little battle, and I knew every point counted, so I'm really happy with today and couldn't have done any more. It was tough. It was one of my better swims but the bike was full on and took it out of the legs. The goal for the year was the Series podium, so I'm really happy to be getting up there with Mario and Vincent."
2018 ITU WTS Gold Coast Grand Final – Men's Race
Gold Coast, Australia – Sept. 16, 2018
1.5K swim, 40K bike, 10K run
1. Vincent Luis (FRA) 1:44:34
2. Mario Mola (ESP) 1:44:48
3. Richard Murray (RSA) 1:44:56
4. Pierre Le Corre (FRA) 1:45:01
5. Kristian Blummenfelt (NOR) 1:45:04
2018 ITU World Triathlon Series Final Rankings
1. Mario Mola (ESP)
2. Vincent Luis (FRA)
3. Jacob Birtwhistle (AUS)
4. Richard Murray (RSA)
5. Kristian Blummenfelt (NOR)