Large Pro Field Lined Up For Challenge Wanaka
Saturday's Challenge Wanaka, the sixth running of the New Zealand race, will feature its largest pro field yet.
Heading out the door? Read this article on the new Outside+ app available now on iOS devices for members! Download the app.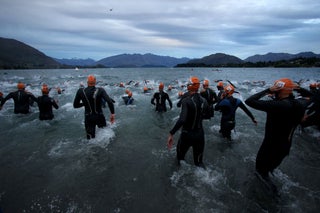 Saturday's Challenge Wanaka, the sixth running of the New Zealand race, will feature its largest pro field yet. Highlighted by former Wanaka champions Jamie Whyte and Gina Crawford, the pro field spoke to the media at a press conference Thursday morning. Dubbed the "most scenic iron-distance race in the world," the race is also known for its challenging course. The early-season race looks to be a battle between the Kiwis and the Aussies.
Men's Race
In the men's race, New Zealand's Jamie Whyte is returning to defend his title. A relative newcomer to the long-course scene, Whyte had a podium finish at Challenge Vichy and finished fourth at Challenge Cairns last year. "Things have been going great," he said. "This race is my big race for the summer. … Training has been spot on."
Aussie Courtney Ogden, the runner-up last year, has built a strong reputation with multiple iron-distance titles. He's coming off an injury that in December caused him to finish Ironman Western Australia in a time of 11:50. "It's one of the hardest courses on the circuit—Challenge and Ironman," he said. "I'm looking forward to getting out there and getting the job done."
Bryan Rhodes, aka "Rhodesy," is an experienced long-course racer with four iron-distance titles to his credit. Look for Rhodes to be a strong swim-biker on Saturday, staying toward the front through T2. Rhodes is familiar with the course, having competed the last two years in the relay format. "I'd always planned to do the race as an individual," he said. "It works out pretty well in my schedule."
Team TBB athlete Aaron Farlow of Australia really only started racing iron-distance races in 2011, during which time he won Ironman UK. This will be his first time to race Challenge Wanaka. "I'm just looking to build on that this year," he said.
New Zealander Kieran Doe, a multiple iron-distance and 70.3 champion, might have lost a little sleep this week with the birth of his first child. He was also injured in a bike crash about three weeks ago, which gave him a concussion and a fractured bone in his hand. As another strong swim-biker, he'll probably be toward the front with Rhodes heading into T2. "You can set the race up in the swim and bike, but it's got to be won on the run," he said.
Other top men's athletes are Danish athlete Jimmy Johnsen, who has won Challenge Barcelona and finished second at Challenge Copenhagen; Keegan Williams, a Kiwi athlete who has podiumed at this race before; prolific long-course racer Petr Vabrousek of the Czech Republic; American Team TBB athlete Scott DeFilippis; and 2008 Wanaka champion Marc Pschebizin of Germany.
PHOTOS: 2011 Challenge Wanaka Triathlon
Women's Race
Highlighting the women's field is three-time Wanaka champion and course record holder Gina Crawford of New Zealand. This will be her fourth time to race Challenge Wanaka but first iron-distance race after giving birth to her son about six months ago. Since having the baby, her training time has dropped from about 30 to 35 hours a week to 20 hours a week, emphasizing quality over quantity. "Wanaka in particular is sort of like my home race, and it's also a beautiful place to come," she said. "The course is really honest—you can just get out there and focus on your own abilities."
Last year's runner-up, Simone Maier, is a Wanaka local and will have the advantage of being the hometown favorite.
Aussie Christie Sym was third last year and hopes to improve upon that finish. She's optimistic this year, though she only had surgery eight weeks ago to remove her gallbladder, which was determined to be the cause of illness she'd been battling. "I might not be as fit as I want to be, but I'm healthy," she said.
Aussie Nicole Ward is a former Australian long course champion, has had podium finishes at half and full iron-distance triathlons and is known for her strong run splits. Also racing will be Aussie Jodi Scott.