Kienle, Crowley Post Fast Times at Ironman European Championships
Germany's Sebastian Kienle and Australia's Sarah Crowley punched their Kona tickets with victories in Frankfurt.
Heading out the door? Read this article on the new Outside+ app available now on iOS devices for members! Download the app.
Germany's Sebastian Kienle and Australia's Sarah Crowley posted impressive wins today in Frankfurt, Germany. The victories come with automatic Kona qualification, but neither athlete was in need of a spot. Crowley earned her qualification with a victory earlier this year at the Ironman Asia-Pacific Championships, and as a recent Kona champion Kienle simply needed to cross the finish line to validate. Both athletes will be ones to watch this October in Kona. 
The Sebastian Kienle train is rolling, and it shows no signs of stopping. The German pro handily took his third Ironman European Championship title on a hot and fast day of racing in Frankfurt. His 50:11 swim, 4:02:22 bike and 2:45:09 run combined for a jaw-dropping 7:41:42, his fifth sub-8 hour performance of his career and was just over a minute slower than the fastest Ironman ever recorded. In Blistering-fast bike and run splits were also the theme of the day in the women's professional race, as Aussie Sarah Crowley flew through Frankfurt in a sub-9 hour performance to take her second regional championship title in as many months. Crowley, who won the Ironman Asia-Pacific Championship in Cairns only 4 weeks ago, showed no signs of fatigue as she checked off a 56:17 swim, 4:40:34 bike and 3:05:12 run to take another top podium spot.
Men's Race
The fast bike and run splits were spurred by several carrots dangling in front of Kienle during the swim—20 of them, to be precise. After exiting the water in 21st place, almost five minutes down from swim leader Lukaz Wojt's (GER) 45:44, Kienle made quick work of picking off the men's pro field one by one: Marko Albert (EST), James Cunnama (RSA), Patrick Lange (GER). But someone else was doing the same: German Andi Boecherer, who exited the swim in seventh place and had quickly made his way to the front.
At mile 44, Kienle had closed the gap to Boecherer to 1:34; and by mile 55 it was only 50 seconds. At mile 95, only two seconds separated the German uberbikers. Could Boecherer hold him off? The two were neck and neck for the final miles of the bike, entering T2 only 9 seconds apart. Boecherer took his marginal lead on the run course with gusto, but it wasn't enough—in only the first meters of the run, Kienle took the front position and never looked back. Over the course of 26.2 miles, Kienle built a lead of more than 4 minutes over Boecherer, who finished second in 7:46:07. Patrik Nillson of Sweden had the fastest run of the day, clocking a 2:40:58 marathon to run his way from 10th place off the bike to the third podium spot.
Women's Race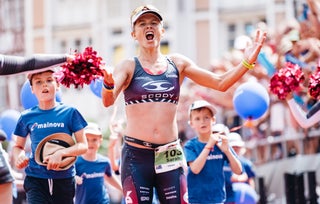 Like Kienle, Crowley had to make up for a major deficit on the swim, exiting the water more than seven minutes down from women's swim leader Lucy Charles (GBR). The task seemed daunting at first, as Charles hammered her way through the 112-mile course without any sign of letting up, but Crowley exercised patience, entering T2 in second place, 3:51 seconds behind Charles.
Crowley continued to reel in Charles on the run, closing the gap to 2:34 by mile 6, then 36 seconds at the halfway point. At mile 15, Crowley took a definitive lead, surging past Charles and building a cushion of almost 4 minutes in the remaining miles to break the tape in 8:47:58. Charles, in second place, recorded an overall time of 8:51:50, while Alexandra Tondeur of Belgium ran a day-best marathon of 3:04:47 to clinch third place in 8:59:55.
2017 Ironman European Championship
Frankfurt, Germany – July 9, 2017
2.4-mile swim, 112-mile bike, 26.2-mile run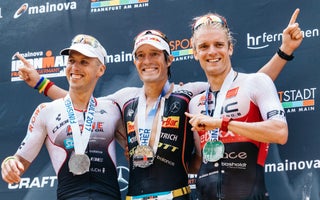 Men
1. Sebastian Kienle (GER) 7:41:42
2. Andi Boecherer (GER) 7:46:07
3. Patrik Nilsson (SWE) 7:50:16
4. James Cunnama (RSA) 7:51:02
5. Ivan Tutukin (RUS) 7:51:56
Women
1. Sarah Crowley (AUS)
2. Lucy Charles (GBR) 8:51:50
3. Alexandra Tondeur (BEL) 8:59:55
4. Liz Lyles (USA) 9:01:59
5. Michaela Herlbauer (AUT) 9:05:09
For full results, visit Ironman.com.