Kienle, Charles Highlight 35th Challenge Roth Start List
Expect a fast day of racing on Sunday.
Photo: Competitive Image / @CompImagePhoto
Heading out the door? Read this article on the new Outside+ app available now on iOS devices for members! Download the app.
With their Ironman World Championship qualification spots solidified, top iron-distance athletes Sebastian Kienle (GER) and Lucy Charles (GBR) are each taking a detour from their respective Kona preparations to toe the line at the 35th running of Challenge Roth in Germany.
Kienle, who celebrates his 34th birthday six days after the event, last raced in Roth in 2010 and 2011. Both times he went sub-eight hours (2010: 7:59:06; 2011: 7:57:06), but on both occasions it was "only" enough for second place. In 2010, he was runner-up to Rasmus Henning and a year later to Andreas Raelert, who set the new world record. After several years away, Kienle returns to Roth with one thing driving him: "I haven't yet won in Roth and so I am here to fight for that win."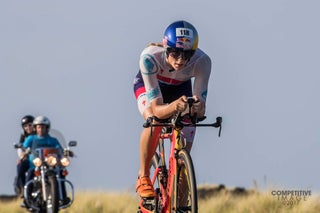 At just 24-years-old, Charles caused quite a stir in Kona. After exiting the water first, she held the lead for most of the bike and was only overtaken by eventual winner, Daniela Ryf, toward the end of the bike. The strong swimmer, who has only been racing as a pro since 2016, is a solid all-around athlete and will be the favorite headed into Sunday's race.
Both athletes will face top-notch fields, with several professionals taking on the Roth race for the first time. Most will likely be looking for PR-worthy performances, thanks to a course that is known as being the fastest iron-distance option on the planet. A few will be looking for the opportunity to break the current 140.6-mile world records, but it won't be easy. The women's record, set by Chrissie Wellington in Roth in 2011, sits at 8:18:13. The men's record is more recent, with Jan Frodeno posting the 7:35:39 in Roth in 2016.
See the complete start list below: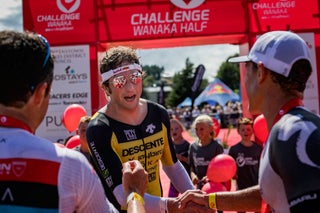 Men
1 Sebastian Kienle (GER)
2 Joe Skipper (GBR)
3 Andreas Dreitz (GER)
4 James Cunnama (RSA)
5 Cameron Wurf (AUS)
6 Luke Bell (AUS)
7 Jesse Thomas (USA)
8 Roman Deisenhofer (GER)
9 Michael Göhner (GER)
10 Markus Hörmann (GER)
11 Jan Raphael (GER)
12 Sebastian Neef (GER)
13 Lukas Krämer (GER)
14 Evert Scheltinga (NED)
15 Fraser Cartmell (GBR)
16 Doug Maclean (USA)
17 Marc Unger (GER)
18 Christian Altstadt (GER)
19 Sebastian Mahr (GER)
20 Patrick Jaberg (GER)
21 Niclas Bock (GER)
22 Charles Martin (FRA)
23 Younghwan Oh (KOR)
24 Rick Steffen (GER)
25 Alfred Rahm (GER)
27 Reece Barclay (GBR)
28 Bruno Pasqualini (ITA)
30 Tjardo Visser (NED)
32 Paul Schuster (GER)
33 Luis Ohde (BRA)
46 Marcus Wöllner (GER)
47 Bryan Mccrystal (IRL)
48 Thomas Naasz (NED)
90 Rafael Lopez Ordoñez (ESP)
97 Sven Riederer (SUI)
98 David Dellow (AUS)
99 Ivan Rana (ESP)
Women
101 Lucy Charles (GBR)
102 Laura Siddall (GBR)
103 Yvonne Van Vlerken (NED)
104 Kaisa Sali (FIN)
107 Daniela Sämmler (GER)
109 Sofie Goos (BEL)
110 Lucie Zelenkova (CZE)
111 Alicia Kaye (USA)
113 Sarissa De Vries (NED)
114 Olga Kowalska (POL)
116 Karen Steurs (BEL)
132 Bianca Steurer (AUT)