Jarrod Shoemaker Talks USA Sprint Champs & 2012 Olympic Preparation
Inside Triathlon senior editor Jennifer Purdie chatted with Jarrod Shoemaker about his sprint championship and his goals leading into the 2012 London Olympics.
Heading out the door? Read this article on the new Outside+ app available now on iOS devices for members! Download the app.
Triathlete Jarrod Shoemaker won the 2011 USA Triathlon Elite Sprint National Championship back on March 5. Shoemaker was also one of the event organizers for the event in Clermont, Fla., which also featured a draft-legal age group race. Inside Triathlon senior editor Jennifer Purdie chatted with him about his sprint championship and his goals leading into the 2012 London Olympics. Shoemaker also touches on the news that 2011 USA Triathlon Junior Triathlete of the Year athlete Kevin McDowell has been diagnosed with Hodgkin's Lymphoma.
Triathlete.com: 2011 USA Triathlon Elite Sprint National Championship was a very close race. Can you walk us through it?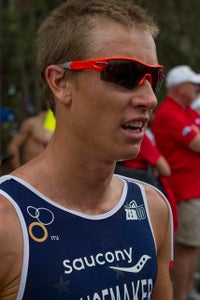 Shoemaker: The race was very close from start to finish. We knew the water level was low, but it made it a lot more fun of a race. The bike pack was huge and the pace was really high, which kept it very safe. The run was fast and furious; I knew there were a few good runners in the pack and I knew that it was going to come down to a fast, tactical race. Kaleb [VanOrt] and Greg [Rouault] are great runners and I knew it was going to come down to a sprint. I was hoping to catch them by surprise and be able to kick it in. Greg caught me about 75 meters from the finish and passed me. Overall it was actually a lot of fun and a really great race.

Triathlete.com: You were one of the event organizers. How do you think it went overall?
Shoemaker: Yes, this was my first time helping to organize a race. It was a lot of work, but I had a great time doing it and it was awesome to have a race just down the street from my training house. The age group draft-legal race went so smoothly; I think there were more crashes in the pro men's race than the age group races.
Triathlete.com: How was it competing in an event you helped organize?
Shoemaker: It actually wasn't that hard to compete in the same event. The race director that I work with, Bill Burnett, is a very detail-oriented organizer and once we had the vision all mapped out, it was easy for him and his Steamline Events crew to get everything set up. Well, maybe not easy because it takes A LOT of time to set up and take down a triathlon, but it was easy to make it look pretty.
Triathlete.com: You started out as a runner for Dartmouth College. What led you to make the switch to triathlons?
Shoemaker: I have always felt like I am an athlete and I did not want to waste my gift as an athlete. I love baseball and would love to play baseball, but once I decided that I was better off going to college as a runner, I excelled at that. I ran all three seasons for four years at Dartmouth and learned a lot during my time there about how to prepare as an athlete. Once I realized that I was a great runner but not an excellent runner, I decided that I wanted to give triathlon a shot, as I was a swimmer in high school.
Triathlete.com: You represented the U.S. at the 2008 Olympics in Beijing. Can you give us a brief description of what that experience was like?
Shoemaker: The Olympic experience is the pinnacle of sport. To walk into the Birds Nest and represent my country on that stage was amazing. I had an amazing time with all of the other athletes, talking with LeBron James, Dwayne Wade, Tyson Gay and many, many others. Everybody is excited to be there representing their countries. It really is a great experience.
Triathlete.com: It's early on in the season and you've already made an impressive start. What goals have you set for yourself this year and beyond?
Shoemaker: My goal is to keep my ranking where it should have been last year. Going into Budapest I was seventh overall and I failed to score any points in that race, all I needed was to finish 30th to 40th and I would have been in the top 10. I have been working on my weaknesses this winter and I really feel that I am ready to take that next jump. I want to be top five overall at the end of the year. This will set me up well leading into 2012. I experienced the Olympics in 2008 and learned a lot about what it took to be on that stage and how to prepare; I am ready to go on that stage and succeed. I have my plan to get me to that Olympic medal, as I am sure that many athletes do. Now I have to go out and execute it. That requires more than just me; it requires a full team and we have assembled a great team of coaches, therapists and physiologists that can help take me to that next level.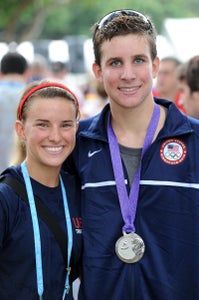 Triathlete.com: Anything else you'd like to add?
Shoemaker: Life takes crazy twists and turns and this past week I was shocked to find out that Kevin McDowell, the top USA junior triathlete, was diagnosed with Hodgkin's Lymphoma. He finished second at the Youth Olympics and third at the Budapest Junior World Championships. Kevin finished his first pro race in Clermont finishing 10th overall and was the fifth American. I have been lucky enough to train with him on several occasions and he is a great kid, great athlete and hard worker. His diagnosis for recovery is good, which is very encouraging. I can't wait to have him back racing next to us next year!
test
test
test
test
test
[sig:JenniferPurdie]
See also:
– Jarrod Shoemaker Gives Age Groupers A Draft-Legal Challenge
– Photo Gallery: 2011 USA Triathlon Elite Sprint National Champs
– Jenkins, Rouault Win Elite Sprint Race In Clermont