Ironman New Zealand: Pros Light-Hearted And Humble On Eve Of Historic Race
Overcast skies and spats of rain and wind have not darkened spirits as athletes prepare to race Ironman New Zealand this Saturday.
Heading out the door? Read this article on the new Outside+ app available now on iOS devices for members! Download the app.
Overcast skies and spats of rain and wind have not darkened spirits as athletes prepare to race Ironman New Zealand this Saturday.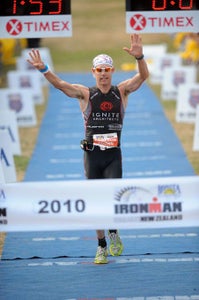 Written by: Holly Bennett

The mood was especially lighthearted at Friday's pre-race press conference, when the Czech Republic's Petr Vabrousek had his fellow pros in stitches as he described his reasons for racking up an unimaginable number of Ironman finishes – Saturday's race will be his 100th go at the distance.
"I'm a lazy person," claimed the rower-turned-triathlete. "You rest at least a week before an Ironman. Then you rest a week after. So as long as I'm doing an Ironman every three or four weeks, I only need to train maybe a week in between. And that I can handle."
New Zealander and 2010 second-place finisher Terenzo Bozzone earned a few laughs of his own, describing his preparation for going up against nine-time defending champion Cameron Brown. "I put a dart board on the back of my door with a picture of Cameron on it. I throw a few darts at it every night before I go to sleep."
There's an obvious shared respect and camaraderie between Bozzone and Brown, who appeared calm and confident on the eve of his attempted 10th title in his native New Zealand. "I have to be more careful with my training and recovery now," said the 38-year-old veteran, "But I've also had some of my best run splits in recent weeks."
The reigning Ironman New Zealand women's champion Jo Lawn, also faces a fierce rival in current Ironman World Champion Mirinda Carfrae. But the seven-time winner here and local favorite was clear on her focus for race day. "It's about racing Ironman and racing myself. I can't control what anyone else is going to do; all I can do is look after number one."
For her part, Carfrae seemed humbly eager to gain some long-distance lessons from a new course, this being her only attempt at a full Ironman outside of Kona. "I think it's going to be a really tough bike. The roads are rough out here – you have to really push down on every pedal stroke to keep moving forward. I don't know how much the rain and wind will take out of me, and what that will mean for the run. I'm not sure what to expect. I'm still learning about Ironman races."
The only certainty for tomorrow's race is that amidst the anticipated blustery weather will be a tight field of talented professionals each chasing victory for their own reasons. And within 24 hours, we'll crown our new Kiwi king and queen.