Characters of Kona: 35 Straight Hawaii Ironmans
Ken Glah's love affair with the Hawaii Ironman began back when Ronald Reagan was re-elected president—this year he'll be celebrating 35 straight years of racing on the Big Island.
Heading out the door? Read this article on the new Outside+ app available now on iOS devices for members! Download the app.
It was 1983—The Cosby Show debuts on NBC, Apple introduces the first personal computer, Michael Jordan enters the NBA draft, and Ken Glah finishes his first attempt at the Hawaii Ironman in Kona. While it would be three years until the then-20-year-old's name would appear at the pointy end of the Ironman World Championship, in the years since that first race, he's racked up ten top ten finishes, the U.S. has gone through six presidents, and Glah has raced every single Kona through it all. This Saturday will mark his 35th start, and—if everything goes right—his 35th finish.
Before we go any further into Glah's story, it's important to let the significance of 35 straight Kona appearances sink in: Imagine being not only fit enough, injury-free enough, financially stable enough, and free enough from life's random tragedies, but also still so invested, so in love with the sport of triathlon for 35 years that you still find the will to train and race at least two Ironman events each year for over three decades. That's not just consistency, that's ironclad commitment.
To wit: Think about how many things you've done in the last 35 years that could prevent you from racing a triathlon, let alone an iron-distance race, let alone two iron-distance races and one of them so well that you qualified for the world championships. For most of us it seems unfathomable—so single-minded in fact that it would require a dedication that borders on obsession; a mind that is possibly unreasonable and unbending and hard. But that is not the story about how Ken Glah has qualified for 35 Hawaii Ironmans.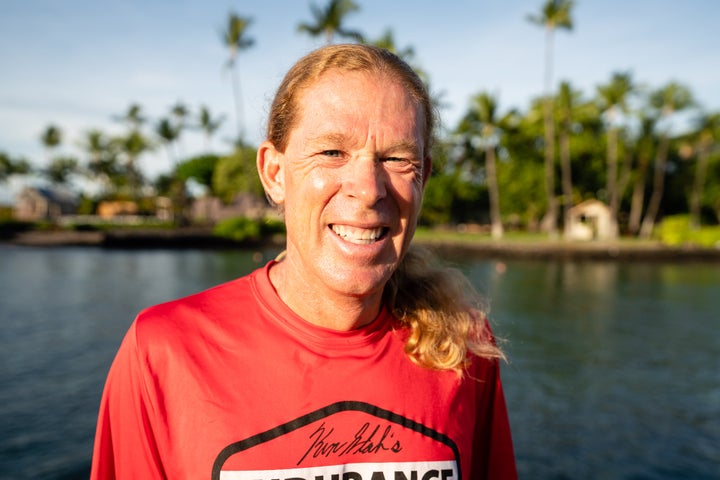 Glah started "looking at triathlons" as he puts it in the late '70s and early '80s—racing his first tri in 1982. In the mid- to late-'90s Glah became known for his excessive training methods: He would do four to five weeks each season with an average of 20,000 yards in the pool, 70 miles of running, and a whopping 500 miles of biking per week. Even Glah's excess could get excessive—he turned in 600 mile weeks for five weeks in the late '90s. He would do things like break titanium frames from his then-sponsor, Litespeed, who would then need to find creative ways to remove parts so corroded they were nearly welded to the bike, before repairing the seemingly indestructible frame material. Glah would do other things like get into an "altercation"—as he diplomatically puts it—with a driver that ended with him severely injuring his ribs, but he "still got the mileage in."
But it's actually the opposite of single-minded excess that carried Glah over the hump in the early '00s from someone who had done 17 or 20 or 22 Hawaii Ironmans to someone who had reached his current unthinkable streak. Since roughly 2002, when he started his tri-travel business, Endurance Sports Travel Company, Glah says he typically only does three to four weeks of training in the lead up to his qualifying race and the same as he approaches Kona. Injury that often comes with the slow progress of age hasn't stopped him from finishing every Kona in the '90s, the '00s, and so far in the '10s; if anything, Glah says his greatest enemy is inactivity—sitting down for too long, being still for hours at a time, driving a car too much. It's only then that he feels a little like most other 55-year-olds.
But still a lot about Ken Glah hasn't changed, even if the Kona he's visited since 1983 has. Glah has had a trademark gold earring in his left ear since 1988—the same exact one since 2002. Glah still has most of the long hair you see in classic pictures. And yet the home of the Hawaii Ironman has transformed around him. Glah remembers when the Big Island only had two lights outside of Hilo; he would bike with training partners down the Queen K on the white line because the shoulder wasn't rideable. Today the Queen K between the airport and town has a newly paved four lane highway with a median. Back when Glah was in the first decade of his streak, there were cows rustling in the bushes along Ali'i.
Despite the changes in society, his approach, his body, and the Hawaiian town he clearly loves to race in, not everything is different, he says. There's still some of that same excitement to be had in this long marriage to an ever-changing island and event. After all of the sage wisdom and experiential insight, he still echoes the same thing he probably would have said in almost any of his last three-plus decades: "It's a cool feeling, coming down Ali'i Drive, even after all these years."