2018 Ironman World Championship Pro Start List
Both of the 2017 champions will be back to defend their titles.
Photo: Sean M. Haffey/Getty Images
Heading out the door? Read this article on the new Outside+ app available now on iOS devices for members! Download the app.
The 2018 Ironman World Championship is less than two weeks away! The race is set for Saturday, Oct. 13 with 54 pro men kicking off the action at 6:35 a.m. and 39 pro women following at 6:40 a.m. The age-group men start at 7:05 a.m., with the age-group women concluding the starts at 7:20 a.m. In the men's race, Germany's Patrick Lange will face tough competition in pursuit of a title defense. The women's race is all about if anyone can be three-time defending Ironman world champion. See the complete pro start list below and check back to Triathlete.com for complete Ironman World Championship coverage.
Women
F1 Daniela Ryf (SUI)
F2 Lucy Charles (GBR)
F3 Sarah Crowley (AUS)
F4 Kaisa Sali (FIN)
F5 Susie Cheetham (GBR)
F7 Heather Jackson (USA)
F8 Kirsty Jahn (CAN)
F9 Sarah True (USA)
F11 Mirinda Carfrae (AUS)
F12 Mareen Hufe (GER)
F14 Carrie Lester (AUS)
F15 Laura Siddall (GBR)
F16 Jocelyn McCauley (USA)
F17 Sarah Piampiano (USA)
F18 Linsey Corbin (USA)
F19 Teresa Adam (NZL)
F20 Michelle Vesterby (DEN)
F21 Liz Blatchford (AUS)
F22 Lesley Smith (USA)
F23 Manon Genet (FRA)
F24 Jodie Robertson (USA)
F25 Corinne Abraham (GBR)
F26 Rachel McBride (CAN)
F27 Emma Pallant (GBR)
F28 Gurutze Frades (ESP)
F29 Helle Frederiksen (DEN)
F30 Lisa Huetthaler (AUT)
F31 Maja Stage Nielsen (DEN)
F32 Jen Annett (CAN)
F33 Tine Deckers (DEN)
F34 Meredith Kessler (USA)
F35 Anne Haug (GER)
F36 Lauren Brandon (USA)
F37 Melanie Burke (NZL)
F38 Asa Lundstrom (SWE)
F39 Beth McKenzie (USA)
F40 Katja Konschak (GER)
F41 Sara Svensk (SWE)
F42 Angela Naeth (CAN)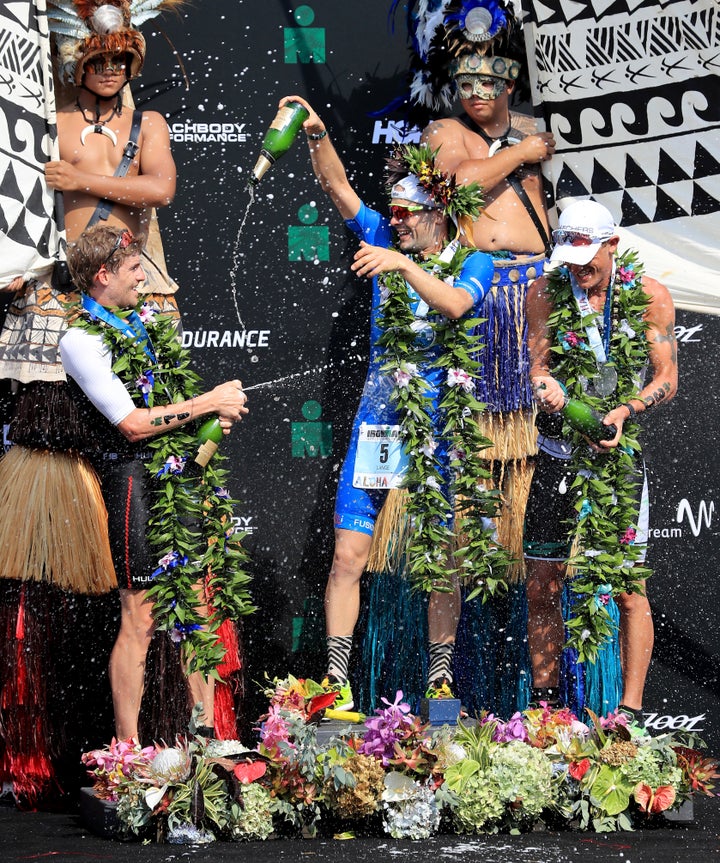 Men
M1 Patrick Lange (GER)
M2 Lionel Sanders (CAN)
M3 Sebastian Kienle (GER)
M4 Davd McNamee (GBR)
M6 James Cunnama (RSA)
M7 Javier Gomez Noya (ESP)
M8 Patrick Nilsson (SWE)
M9 Josh Amberger (AUS)
M10 Braden Currie (NZL)
M11 Frederik Van Lierde (BEL)
M12 Ivan Tutukin (RUS)
M14 Andy Potts (USA)
M15 Kyle Buckingham (RSA)
M16 Bart Aernouts (BEL)
M17 Brent McMahon (CAN)
M18 Ivan Rana (ESP)
M19 Cameron Wurf (AUS)
M20 Tim Van Berkel (AUS)
M21 Michael Weiss (AUT)
M22 Igor Amorelli (BRA)
M23 Matt Hanson (USA)
M24 Joe Skipper (GBR)
M25 Maurice Clavel (FRA)
M26 Jan Van Berkel (SUI)
M27 Anthony Costes (FRA)
M28 Philipp Koutny (SUI)
M29 Boris Stein (GER)
M30 Andrew Starkyowicz (USA)
M31 Luke McKenzie (AUS)
M32 Tyler Butterfield (BER)
M33 Will Clarke (GBR)
M34 Ben Hoffman (USA)
M35 Kevin Collington (USA)
M36 Marc Duelsen (GER)
M37 Jens Petersen-Bach (DEN)
M38 Cyril Viennot (FRA)
M39 Mike Phillips (NZL)
M40 Alessandro Degasperi (ITA)
M41 Ruedi Wild (SUI)
M42 Andreas Dreitz (GER)
M43 Tim O'Donnell (USA)
M44 Cameron Brown (NZL)
M45 Romain Guillaume (FRA)
M46 Denis Chevrot (FRA)
M47 Thiago Vinhal (BRA)
M48 David Plese (SLO)
M49 Matt Chrabot (USA)
M50 Giulio Molinari (ITA)
M51 Tim Reed (AUS)
M52 Ronnie Schildknecht (SUI)
M53 Callum Millward (NZL)
M54 Simon Cochrane (NZL)
M56 Nick Baldwin (SYC)
M57 Tim Don (GBR)
M58 Matt Russell (USA)