Ironman Coeur d'Alene Race Preview
Heading out the door? Read this article on the new Outside+ app available now on iOS devices for members! Download the app.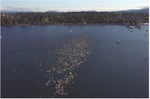 Written by: Jim Vance
Ironman Coeur d'Alene will take place on Sunday, June 21. This year's race features strong pro fields on both the men's and women's sides, with participants battling for the first major title of the season.
Looking at the entry list, it looks like it would be difficult to guess who might be among the favorites, but there is a historical pattern to the plot that plays out similarly in many elite Ironman races.
The first pattern is that half of the favorites for the top-10 will falter, whether its from mechanicals, injuries, poor fitness, or mistakes. The winner of the race will come down to who executes best on race day, maximizing their fitness and training with sound pacing and nutritional decisions.
The second pattern is that there are always one or two athletes who are relatively obscure and unknown, ready for a breakthrough race result. Last year at this race it was Heather Wurtele who proved to be the breakthrough athlete. Wurtele went to the front early on the bike and never surrendered the lead. On the men's side, Mike Neil of Canada had an amazing performance to finish fourth. We don't know who these athletes will be in 2009, but that is the exciting aspect of Ironman racing!
Because this race is relatively early in the season, it is difficult to predict which athletes are ready; some have been racing, while some have been hiding and waiting.
The 2009 men's field includes a trio of strong swimmers in James Bonney, Bryan Rhodes and Francisco Pontano. The three will likely emerge from the water early and try to stay up front. A contingent of strong cyclists and runners will give chase, namely TJ Tollakson and Maximilian Longree, while surprise performances could possibly come from Scott Curry and Zach Ruble, mixing it up with this group.
In the end, expect Pontano to have to hold off a fast-charging Longree on the run, with Bonney holding on for third. Also expect to see a lot of jockeying between positions on the run for the men's race, especially in the fourth through eighth places.
1.    Francisco Pontano
2.    Maximilian Longree
3.    James Bonney
4.    Bryan Rhodes
5.    Zach Ruble
In the women's race, Edith Niederfriniger could dominate this race from the start, with her strong swimming laying the foundation of her race plan. She will be chased by names like Kate Major, Katja Schumacher, Amanda Lovato, super-biker Tyler Stewart and defending champ Wurtele. Stewart's recent health issues might limit her ability to hang with the field, but she is the strongest cyclist on this tough bike course.
Much like the men's race, the finish should see Niederfriniger trying to hold off a fast-charging Major, with Wurtele fighting hard to defend her title in third. The breakthrough performance could come from local Spokane athlete, Haley Cooper.
1.    Edith Niederfriniger
2.    Kate Major
3.    Heather Wurtele
4.    Amanda Lovato
5.    Katja Schumacher
If the historical plot of Ironman racing holds true, the race dynamics on Sunday should play out very similar to the predictions above.
Jim Vance holds an elite license for USAT, and has multiple top 8 Ironman finishes to his credit, including 3rd at Ironman Florida in 2006. Questions or comments can be sent to jvance@trainingbible.com. You can also follow his writings and training advice at his coaching blog, CoachVance.blogspot.com.