Helen Jenkins Says She's Happy To Avoid Spotlight
Helen Jenkins is happy in the shadow of the Brownlee brothers.
Heading out the door? Read this article on the new Outside+ app available now on iOS devices for members! Download the app.
Helen Jenkins is happy in the shadow of the Brownlee brothers.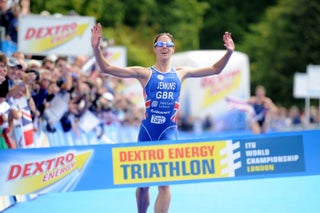 While Alistair and Jonny Brownlee rack up victories, headlines and hype around their potential for an Olympic one-two, British team-mate Jenkins holds the women's triathlon world title and has a strong chance of gold at London 2012.
She cannot rival the column inches the Brownlees generate, but she may yet beat them at cards.
The three occupy an outdoor table at a resort on Lanzarote's north coast, on a still December evening during two weeks of warm-weather training.
The game is Texas hold 'em. "Helen's a bit of an expert," warns Jonny Brownlee, to Jenkins' left as she deals.
"I know how to play. I just don't play very well though," she counters. "Jonny won last year."
"But Helen's been to Vegas," he points out. The poker faces are on.
Rarely do British triathlon's three finest products train and socialise together like this, away from races. Jenkins is based in Bridgend, which has been her home town from a young age, with coach and husband Marc. The Brownlees train in Yorkshire.
There is an easy familiarity between them, though. Alistair, the senior Brownlee at 23, discusses books he has read this season. Jonny, 21, excitedly reports to Jenkins, 27, that Football Manager is now available on a Mac.
The thought that all three of them could, should, have Olympic medals by this time next year feels remote.
"Coming out here is always a good kick-off to the season," says Jenkins, who will return to Lanzarote for a second time in early 2012, nearer to the start of the new season in April.
Read more: News.bbc.co.uk