Hat Trick For O'Donnell In Highly Competitive Boulder Peak Triathlon
Multi-sport stars were out in force at Sunday's Boulder Peak Triathlon, part of the newly established 5150 Triathlon Series and a qualifying event for the Hy-Vee 5150 U.S. Championship.
Heading out the door? Read this article on the new Outside+ app available now on iOS devices for members! Download the app.
Multi-sport stars were out in force at Sunday's Boulder Peak Triathlon, part of the newly established 5150 Triathlon Series and a qualifying event for the Hy-Vee 5150 U.S. Championship.
Written by: Holly Bennett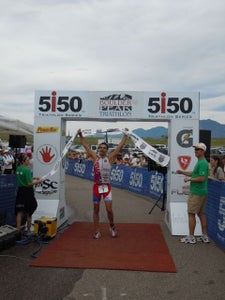 The race began with a 1.5k swim in the Boulder Reservoir, followed by a 42k bike through North Boulder County, highlighted by a taxing 15% grade climb up the notorious Old Stage Road, and ended with a 10k run alongside the reservoir. Professional athletes competed for a prize purse totaling $35,000, including a $1,000 bonus awarded to the first overall athlete – male or female, with the women allowed a 15-minute head start – across the line.
The men's field boasted a particularly competitive field, with two-time defending champion Timothy O'Donnell (USA) and well-known podium-toppers Joe Gambles (AUS), Greg Bennett (USA), Matt Reed (USA) and Paul Matthews (AUS) all vying for the number one position. First out of the water was Colorado Springs' Brian Fleischmann, followed closely by Boulder-based Australian Stephen Hackett and a pack including O'Donnell, Matthews and Reed. Matthews made swift work of the first stretch on the bike, yet O'Donnell gained the lead by the top of the Old Stage Road Climb. Matthews would not be shaken, however, as he pulled ahead again and carried the lead into T2. Matthews held a 10-second lead over O'Donnell through the first half of the 3-lap run, but O'Donnell fought steady and strong to close the gap, catching Matthews and eventually clinching the win by a 39-second margin in a time of 1:51:52.
"I came out of the water and felt so bad. I just didn't feel like I could access that extra speed and all the guys were running by me out of the water," said O'Donnell. "Then Barny [Paul Matthews] immediately got to the front of the bike. I caught up to him on Lee Hill Rd [at the base of the climb] and then I laid the hammer down going up Old Stage. I thought that would be the end of the race right there, but Barny is such a fighter. He caught back up to me on the descent and put a little more time on me toward the end. I was worried because he's been racing so well, but I just relied on the strength I've had with my long-course training, especially on that last lap of the run."
In regards to the battle of the sexes challenge, O'Donnell said, "Next year they need to bring Greg and Laura [Bennett] out, me and Rinny, and a bunch of other couples. Do an equalizer race with a time adjustment. We could have me and Rinny throwing elbows in a sprint finish – I would love that!"
Runner-up Matthews was thrilled with his performance, on the heels of a victory at the D.C. Triathlon on June 19th. "I've been here in Boulder for three weeks. The first week after D.C. I took off, so I've only had two weeks of training. I was stoked to get second. Now I'm just looking forward to 70.3 Worlds in September."
Athens Olympian Greg Bennett raced his way to a solid third place, one day following his third place finish at the Life Time Minneapolis Triathlon. When asked about the challenge of two consecutive race days in two different states, Bennett said, "I'm happy. Going back-to-back podiums is really great. As much as we pros enjoy the sport of triathlon, it's also our job. And no job is always easy and fun – there's a commitment level that sometimes you'd rather not do, but you need to. I want to do well at both series, I want to qualify for Hy-Vee, I want to build up toward September and do well in L.A. and Dallas at the end of the year, and at the same time I want to keep an Olympic dream alive. So there's a lot on my plate at the moment. But I love it."
In the women's race, Australian ITU star Annabel Luxford, in Boulder to visit BFF and reigning Ironman World Champion Mirinda Carfrae and to benefit from a solid high-altitude training block, raced to an impressive victory. Luxford led by a narrow margin out of the swim in a tight group with Boulder local and Bulumu Granola co-founder Jasmine Oeinck, American Amanda Stevens and Australian Pip Taylor. Luxford maintained her lead throughout the bike, onto the run and all the way to the finish, winning in a time of 2:08:28. She nearly won the overall $1,000 bonus as well, holding off the men until mile five of the run when she and O'Donnell raced neck in neck before he ultimately pulled ahead.
"The community here is really lovely. It's quite refreshing coming from ITU. People just want to help each other out," said the women's champion Luxford. "I think the bike was the best part for me. I was lucky given the type of course it was, having a hill. It's not as suited to time-trial racing, so I got lucky with that."
Equally impressive on the women's side was second place finisher Nikki Butterfield, newly returned to the triathlon race circuit a mere seven months after giving birth to daughter Savana Rose. Butterfield, an Australian native and one-time professional cyclist who now calls Boulder home, looked remarkably fit and fleet-footed throughout the 10k run.
"It was really hard," admitted Butterfield. "I need to do some work so I can do that same speed for less effort. I'm kind of going off my racing history. It's motivating though, just knowing so many people on the course. I never really got to slack off."
Rounding out the women's top three was American Annie Warner from Nine Mile Falls, WA, the 2011 New Orleans 5150 champion.
Also of note in Sunday's race was Montana State University Nordic ski team member Drew Scott, who claimed a decisive victory in the Elite Amateur Division. Scott is better known in Boulder as the son of Ironman legend and six-time world champion Dave Scott, who cheered proudly from the sidelines.
Boulder Peak Triathlon
Boulder, Colo. – July 10, 2011
1.5K swim, 42K bike, 10K run
Men
1. Timothy O'Donnell (USA) 1:51:52
2. Paul Matthews (AUS) 1:52:31
3. Greg Bennett (USA) 1:53:53
4. Santiago Ascenco (BRA) 1:55:15
5. Joe Gambles (AUS) 1:55:50
Women
1. Annabel Luxford (AUS) 2:08:28
2. Nikki Butterfield (AUS) 2:09:47
3. Annie Warner (USA) 2:10:36
4. Amanda Stevens (USA) 2:12:32
5. Megan Flanegan (USA) 2:12:54