Gwen Jorgensen Gears Up For Her Sophomore Season
Fresh off of a smoking hot rookie year, pro triathlete Gwen Jorgensen is gearing up for a big second season.
Heading out the door? Read this article on the new Outside+ app available now on iOS devices for members! Download the app.
Fresh off of a smoking hot rookie year, pro triathlete Gwen Jorgensen is gearing up for a big second season.
Written by: Sarah Wassner Flynn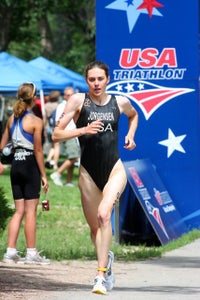 An NCAA All-American runner (she ran a 15:52:19 5K on the track while competing for the University of Wisconsin), Jorgenson displayed her brilliant foot speed in races like last July's San Francisco ITU Pan American Cup where she ran into third place with a 35:26 10K split, more than two minutes faster than the rest of the field. With another year of swimming and biking under her belt, Jorgensen's primed for more podiums—and ready to step into Olympic contention. We caught up with the 24-year-old last week at the Timex Performance Center in East Rutherford, NJ, where she was participating in the Timex Multisport Team's training camp.
Triathlete.com: You went from never racing a triathlon to a Pan- American champs runner-up in mere months. To what do you credit your instant success?
Jorgensen: Natural talent. I was a swimmer and runner throughout high school and then I competed in both sports at the University of Wisconsin. Being both a distance runner and a long-distance swimmer, everyone suggested that I become a triathlete. At the time, I was happy where I was at, but during my senior year, Barb Lindquist contacted me. She was looking for strong collegiate swimmers and runners for the USAT's Collegiate Recruitment Program, and I fit that bill. So I thought I'd give it a shot.
Triathlete.com: What was your road bike experience up until that point?
Jorgensen: Non-existent! It was a huge learning curve. Fortunately, I had some great teachers in my coaches Cindi Bannink and Tom Schuler. They have been amazing in teaching me to ride.
Triathlete.com: You live in Milwaukee—not exactly an ideal place to train as a triathlete. Do you think you'll eventually make the move to a warmer climate?
Jorgensen: I love everything about where I live—my job, my family, my apartment. I did go out and train recently at the Olympic Training Center in Chula Vista, which I'll probably do again to get some outdoor training in. Still, I always like coming back. I don't want to live anywhere else.
Triathlete.com: What is your job?
Jorgensen: I'm a CPA for Ernst and Young. I do mostly tax work. I recently started working part-time—around 22 to 30 hours—to accommodate my training and travel schedule for triathlon. Before that, I was working around 70 hours and training. I love being busy, but that was tough. The partner at my work is so supportive. He wants me to succeed just as much as I do, so he has been really understanding.
Triathlete.com: How do you manage even part-time work during heavy training blocks or a packed racing schedule?
Jorgensen: I can do work from anywhere. When there's downtime before races, I can just hang out, turn on my computer, and do some work. We don't really have anything else to do!
Triathlete.com: Speaking of racing, what was the most eye-opening experience you had during your first year as a pro?
Jorgensen: Every race was just incredible. Being able to race in a USA uniform and traveling around the world was incredible. And there's such camaraderie among the American team—the other women have helped me out so much, just giving me advice about the course and just being so supportive.
Triathlete.com: So where will you be racing this year?
Jorgensen: I'll be going to [USA Triathlon Elite Sprint National Championship] in Clermont on March 5, and then to the Mooloolaba ITU Triathlon World Cup on March 26. From then on, I'll  be focusing on ITU racing. There are no non-drafting races on my schedule, and Ironmans or 70.3s are not on the radar screen.
Triathlete.com: Is it safe to say you're gunning for a spot on the 2012 Olympic team?
Jorgensen: Honestly, I was never the type to have that Olympic dream as a little girl, so that's not my objective right now. My goal is to get to the starting line of the International Triathlon Union (ITU) London World Championship Series in August. Of course, I'd like to be one of the top two Americans there. But really, I just hope to continue to improve, have fun, and do the best I can.