Germans Win On Home Turf At Ironman European Championships
Heading out the door? Read this article on the new Outside+ app available now on iOS devices for members! Download the app.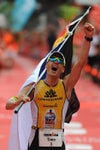 Germans Timo Bracht and Sandra Wallenhorst defeated tough fields at the Ironman European Championships from Frankfurt, Germany.
The fast course in Frankfurt, Germany produced fast times, and two German champions. The men's race brought back several of last year's top finishers, including 2008-champ Australian Chris McCormack, Spain's Eneko Llanos and Germany's Timo Bracht. Germany's Faris Al-Sultan also returned after a disappointing DNF last year. New competitors for the 2009 race were Switzerland's Mathias Hecht, German Ironman up-and-comer Andreas Raelert and Ironman 70.3 world champ Terenzo Bozzone of New Zealand. For the women, without last year's champ Great Britain's Chrissie Wellington in the lineup, pre-race hype focused on two athletes: The Netherlands' Yvonne Van Vlerken and Germany's Sandra Wallenhorst.
The race played out as anticipated for both the men and the women. On the men's side, several athletes remained in contention for the win through to the final miles of the race. For the women, Wallenhorst and Van Vlerken didn't disappoint as the two used similar racing styles to remain neck and neck to the finish.
The men's field featured a strong group of swimmers, with Raelert leading the men out of the water in a blazing time of 44:56. Behind Raelert, a large pack including Eneko Llanos, Hecht, Bozzone, Spain's Hektor Llanos and Al-Sultan all emerged within 10 seconds of the lead time. The last two winners of this race, Bracht and McCormack, quickly found themselves behind the leaders, entering T1 nearly two minutes down. Eneko Llanos quickly established himself as the leader on the bike. Raelert and Hecht decided to push the pace with Eneko Llanos, leaving the others to form a chase pack behind the three. Eventually, Hecht would fall back to the chase group, leaving Eneko Llanos and Raelert to battle for positioning heading into T2.
Eneko Llanos won the battle on the bike, heading onto the run with a two-minute lead. Raelert, McCormack and Bracht were next off the bike, and quickly worked to chase down Eneko Llanos. McCormack was the first to catch the Spaniard, but Enko Llanos wouldn't relinquish the lead, leaving the two to run together until McCormack suffered cramps. As McCormack faded, Bracht emerged as the leader and never looked back. Bracht's marathon of 2:43:06 was by far the fastest of the field, earning him the win and a new course record of 7:59:15. Llanos continued to run strong, earning second at 8:00:21. Despite the cramps, McCormack was able to narrowly take third with a time of 8:03:05.
In the women's race, Germany's Andrea Brede led the women into T1 with a swim time of 50:59. Next onto the bike were fellow German Nicole Leder and the Netherlands' Mirjam Weerd. The two pre-race favorites found themselves behind early, with Wallenhorst finishing the swim at 54:22, and Van Vlerken finishing at 56:18. The mediocre swim times turned out not to be an issue, as both athletes proved to be by far the strongest cyclists of the field. Wallenhorst and Van Vlerken entered T2 together with a five-minute lead over the chase pack. Wallenhorst had the faster transition, heading on the run with a 20-second lead. Van Vlerken went out hard, taking the lead at the six-kilometer mark. Wallenhorst remained patient, and eventually re-took the lead. Her marathon time of 3:05:33 earned her the victory and an overall time of 8:58:08. Van Vlerken held off a quick-approaching Leder for second at 9:02:18. Leder ran the fastest marathon of the women, earning third at 9:05:16.

Ironman European Championships
Frankfurt, Germany – July 5, 2009
2.4-mile swim, 112-mile bike, 26.2-mile run
Men
1. Timo Bracht (GER) 7:59:15
2. Eneko Llanos (ESP) 8:00:05
3. Chris McCormack (AUS) 8:02:49
4. Andreas Raelert (GER) 8:03:13
5. Mathias Hecht (SUI) 8:11:40
Women
1. Sandra Wallenhorst (GER) 08:58:08
2. Yvonne Van Vlerken (NED) 09:02:18
3. Nicole Leder (GER) 09:05:16
4. Andrea Brede (GER) 09:13:55
5. Tiina Boman (FIN) 09:34:22