A Family Channels Tragedy Into A Celebration Of Sport And Life
If the idea of racing in a foreign country—or simply doing a triathlon—has ever intimidated you, this all-women's event will welcome you with open arms.
Heading out the door? Read this article on the new Outside+ app available now on iOS devices for members! Download the app.
It was 1994 when Tamar Dvoskin of Israel decided to race her first triathlon after watching her older brother Oren compete. The then-19-year-old's foray into multi-sport came with one condition—she wouldn't do it without her mom, Susie.
Two months later, Susie and Tamar joined 50 other women to race the Israel Women's Triathlon. The duo felt something life changing happen the second they completed the challenge. "When we crossed the finish line, that's when our motto was born: Every woman a winner," Susie says. "It made no difference what place we came in or how fast or experienced we were. We immediately wanted to have that explosion of pride in ourselves again."
Tamar went off to the army (a mandate for Israeli citizens) but kept training and racing, competing in 10 triathlons over the course of two years. Her passion for the sport grew immensely, as did Susie's.
One day in 1996, Tamar went out for a solo bike ride near the family's home in Tel Aviv. Her brother and boyfriend had expressed concern about her safety on a busy route, but Tamar assured them she would call if she encountered any trouble. Unfortunately, their worst fears were realized.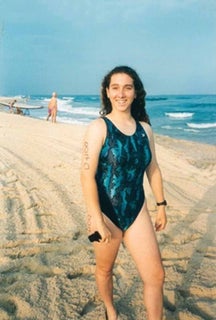 An erratic driver on his way home from partying hit and killed Tamar and then fled the scene. The driver was a drug user with a criminal history, and due to a combination of a poorly handled investigation by police and him burning the car, there wasn't enough evidence to convict him. He died a few months after the last court appearance and the Dvoskins decided it would not be constructive to continue with any legal procedure.
Twenty years later, Susie, now 69, chokes back tears as she relives her raw grief. "It's difficult to lose a daughter," she says.
The local triathlon community showed an outpouring of support in the aftermath of Tamar's death. The organizers of the Women's Triathlon asked Susie and her husband Danny if they wanted the triathlon to be held in Tamar's memory, which segued into the family eventually taking over the race. They saw it as a way to honor their daughter's legacy and empower more women through sport—an initiative that has become a shared mission. The participation numbers quickly grew to more than 100, and this year, more than 1000 women from ages 8–80 competed in the race.
"I believe a bit of Tamar is in every single woman who does the triathlon," Susie says. She and Danny travel around the country to speak to different training groups about how triathlon can lead to a healthy way of life. "It brings me a lot of energy, joy and happiness to have personal contact with women who are hesitant about doing the race [or in other life aspects]," Susie says. "We believe that women can become empowered through sport and that they then believe in themselves."
Susie herself is an inspiration to all of the women racing. For the past seven years, she has battled thyroid cancer with bravery, and has even competed in a half-Ironman with the disease. "Sports is what keeps me healthy," she says. "I always say, 'I'm healthy, but with cancer.'"
Her goal is to make their race welcoming to all types of athletes, which is why the event offers four distances plus a relay option (see "Race It!" below). Susie has the mentality that every woman counts and that where you finish does not matter. "Women are always so afraid of coming in last," Susie says. "But I was last in so many races. Coming in last is a place of honor, because I come in first to all the women who can't or don't dare to get themselves to the start line."
Race It!
Israel Women's Triathlon Herzliya in memory of Tamar Dvoskin
Girls' race (ages 8–13), super sprint, sprint and Olympic distances, all with relay options
May 27, 2017, Women-tri.com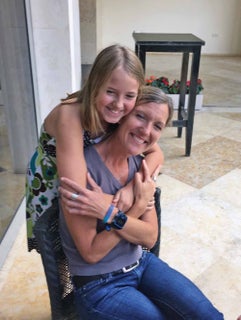 If the idea of racing in a foreign country—or simply doing a triathlon—has ever intimidated you, this all-women's event will welcome you with open arms. Held in the beautiful beach town of Herzliya 20 minutes north of Tel Aviv, the race starts in a protected section of the Mediterranean Sea and ventures onto a closed-off flat road for the bike course, then around a sailboat-filled harbor for the run. (Note: This year's swim turned into a knee-deep water run due to rough conditions.)
The vibe on race morning is the furthest thing from the intense atmosphere of a competitive triathlon. There is no fighting over transition space or aggressive elbow throwing in the water. The women, who are often racing with friends, are supportive of each other from start to finish. For a nation with strong religious history and plenty of cultural sensitivities, the triathlon is a unifying place where women of all abilities and backgrounds share a common goal.
Countless women with inspiring stories come from all over the country, including a group of 70 who train in the historically dangerous area of the Gaza Strip to a team of physically challenged athletes. Athletes such as Ilanit Yorman, who lost her leg due to cancer at age 9, have competed in multiple iterations of the race. "[Physically challenged athletes] are the most determined people in sport, because for us, sport is part of our rehabilitation of getting back to life," she says. "Triathlon makes me into a normal person—when I'm swimming, I'm swimming like everyone else."
Visit Israel
Consider traveling to this small country—it's the size of Delaware—to experience the rich history of Jerusalem, the edgy, beachfront vibe of Tel Aviv and the tranquil Mediterranean harbor town of Herzliya.
EAT
Located in an old railway station, Jerusalem's Hachatzer Restaurant specializes in colorful homemade salads and grilled meats from a Cordon Bleu-trained chef. Hecourtyard.rest-e.co.il
For a decadent gourmet meal, the marine-view Ritz Carlton Herzliya serves an all-kosher menu from its open kitchen, so you can watch the chefs concoct their inventive dishes. Ritzcarlton.com
TOUR
Jerusalem's Old City
You can walk around the Old City on your own, but a guided tour will give you the cultural context to truly appreciate the experience. A good place to start is Goisrael.com.
Tel Aviv markets
If bargaining for local treasures is your game, don't miss the Jaffa Flea Market; if you want a true sense of Israeli's culinary culture—think popular spices, specialty produce and tasty street food—go to the Carmel Market, the biggest of its kind.
Dead Sea
The famous super-salty sea that sits at the lowest elevation on earth (1400 feet below sea level!) is a bucket-list experience. It's a strange phenomenon to be effortlessly buoyant. Most visitors take mud from the bottom and cover their bodies for a DIY spa treatment. Just be warned: Don't get any of the Dead Sea's water in your eyes or mouth as it causes unbearable stinging.
STAY
Mt. Zion Jerusalem
Mountzion.co.il
The charming, maze-like quarters of this boutique hotel could only be found in a country with this much history. Outside of the panoramic-view rooms, three features stand out: the lap pool, authentic Turkish bath and lush gardens all over the property.
Herzliya Dan Accadia Hotel
Danhotels.com
Situated on the beach of Herzliya (and a short walk from the race start), the luxury hotel overlooks the Mediterranean and offers a seemingly endless breakfast buffet, two beautiful pools for a pre-race swim and a full spa.
Illanit Yurman and Iya Reiss are part of a group of physically challenged women who do the triathlon every year.