10 Fall Half-Iron-Distance Triathlons You Can Still Sign Up For
If you want to wrap up your season with a half-iron-distance tri, it's not too late to register for these 70.3-mile autumn races around the country. 
Heading out the door? Read this article on the new Outside+ app available now on iOS devices for members! Download the app.
Presenting 10 fall half-iron-distance triathlons across the U.S.:
Best in the West Half-Iron Triathlon
Sept. 7, 2019 | Sweet Home, Oregon
Bestinthewesttriathlon.com
Nestled in the foothills of the Cascade Mountain Range, this Western-themed tri (which includes a shotgun start, post-race barbecue and horse shoe awards) starts in the clear snow-fed water of Foster Reservoir. Following the one-loop swim (water temperature is expected to be around 72 degrees), athletes take on an out-and-back rolling bike course along the lake and river with more than 2,500 feet of elevation gain and a beautiful covered bridge at the turnaround. On the run of this fall half-iron-distance triathlon, you can keep tabs on your competitors while running the two-loop, "T"-shaped course, which follows the mostly shaded shoreline before finishing in a campground.
Ironman 70.3 Santa Cruz
Sept. 8, 2019 | Santa Cruz, Calif.
Ironman.com
The stunning views of the central Californian coastline throughout this race, formerly the Big Kahuna Triathlon until Ironman took it over in 2015, have helped to make this fall half-Ironman one of the longest-running triathlons in California. The swim starts adjacent to the famous Santa Cruz Beach Boardwalk and finishes at Cowell's Beach. The out-and-back bike course will take athletes along West Cliff Drive overlooking surf spots and beautiful ocean views before traveling north on Highway 1 and turning around near Pigeon Point Lighthouse. On the out-and-back run, athletes run along the West Cliff path around Natural Bridges State Park, to Wilder Ranch State Park and then back for a finish on beach sand near the boardwalk.
Pumpkinman Half Iron Triathlon
Sept. 8, 2019 | South Berwick, Maine
Pumpkinmantriathlon.com
The biggest appeal of this southern Maine fall half-iron-distance triathlon is a toss-up between its scenic New England course and its complimentary post-race Thanksgiving-style feast, which includes roast turkey, stuffing, gravy, mashed potatoes, cranberry sauce, apple crisp and—you guessed it—pumpkin pie. The complimentary meal is well-earned by the 550 athletes, who start the race from Spring Hill Lodge with a swim in Knights Pond. They then cover 56 beautiful miles of rolling hills along the paved Eastern Trail then a two-loop half-marathon along the same trail. Reward yourself with a slice of pumpkin pie, shared with friends and family (who can purchase dinner tickets and join you).
SavageMan Long Course
Sept. 15, 2019 | Deep Creek State Park, Md.
Kineticmultisports.com
While this race is technically only 70.0 miles (the bike course is 55.7 miles instead of 56), the bucket list–worthy challenge of the course and the gorgeous scenery surrounding it make it worth the trip to the Allegheny Mountains in western Maryland. The race starts in the crystal-clear Deep Creek Lake then transitions to a "truly savage" bike course, as the website states. Ride a challenging course on rural, paved roads along rivers and through forest and farmland to the famous Westernport Wall, a short but very steep (average 30 percent grade). Cowbell-ringing spectators will cheer you as you climb, and if you make it to the top without stepping down a foot, your name will be engraved on a personalized brick laid in the road. The race wraps up with a two-loop lakeside run that's almost entirely shaded and on a mix of gravel, trail and pavement.
Harvest Moon Long Course Triathlon
Sept. 15, 2019 | Boulder, Colo.
Withoutlimits.co
Now in its 20th year, this classic Colorado race caps out at 600 competitors, organizers say, so that it can maintain its fun yet competitive atmosphere—and selling out every year since 2010 proves it's a race worth trying. It starts with a wetsuit-friendly (expected water temp in the high 60s) swim in the pristine waters of Boulder Reservoir before a two-lap bike course on the rolling, rural roads of Boulder County. The race wraps up with a scenic, 100 percent packed dirt run around the reservoir and then a Slip 'n' Slide finish. Post-race, you'll enjoy the Wahoo's Fish Taco's buffet line.
Ironman 70.3 Atlantic City
Sept. 15, 2019 | Atlantic City, N.J.
Ironman.com
Seek out a PR on this flat and fast course while enjoying the views in this iconic seaside town. The race starts with a protected swim of about 70 degrees in the back bays of Atlantic City, where spectators can view the entire swim course from the shore. On the 2.5-loop bike course, athletes will use the Atlantic City Expressway to ride into Atlantic City. Athletes will finish the race with a half-marathon on the famous Atlantic City Boardwalk, which gives athletes picturesque views of the Atlantic Ocean. Outside of race day, the location makes for a perfect family vacation destination, thanks to beautiful beaches and a variety of world-class sports and entertainment events.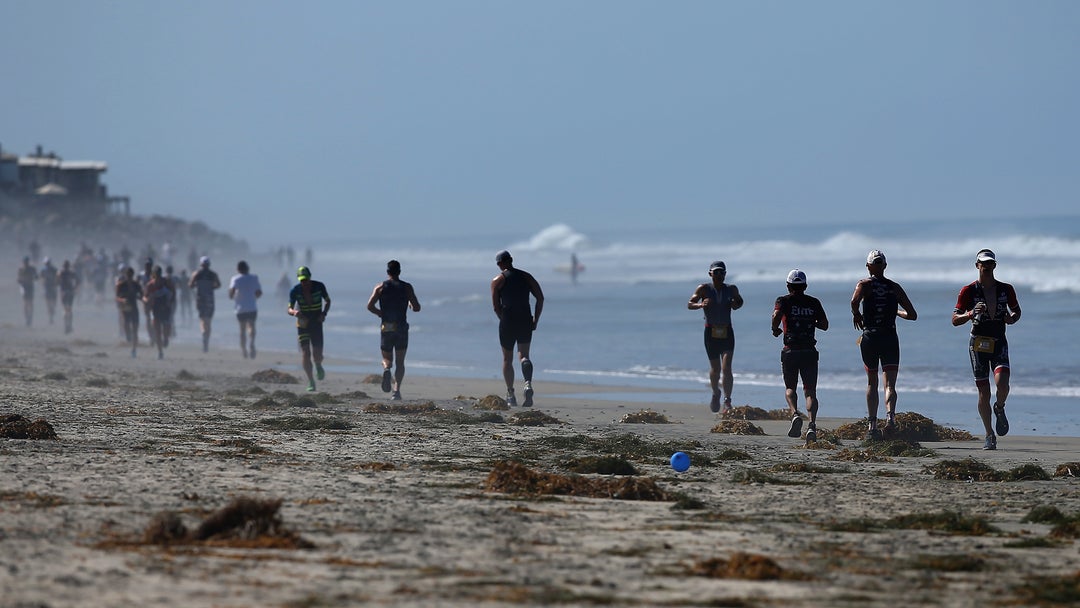 Ironman 70.3 Superfrog
Sept. 15, 2019 | Imperial Beach, CA
Ironman.com
You get a taste of Navy SEAL history at this iconic fall half-Ironman just outside of San Diego. Now in its 41st year, the race was designed to train Navy SEALs and military triathletes for the Ironman World Championship, and the tradition continues with this course designed for SEAL-style training—open to the military and civilians alike. The race starts with a two-loop swim in the Pacific Ocean with a 100-meter run between loops. The four-loop bike course is relatively flat and takes athletes on roads through Imperial Beach and Silver Strand. The four-loop half marathon takes athletes through the sand (!!), something SEALs do in training, before arriving at the finish on the beginning of the Imperial Beach Pier. The race has a feel-good bonus: A portion of the civilian entry fees goes toward the Navy SEAL Foundation.
Niagara Falls Barrelman Half Triathlon
Sept. 22, 2019 | Niagara Falls, Ontario, Canada
Niagarafallstriathlon.com
OK, this race isn't in the U.S., but it's just across the border—it's only a 40-minute drive to the race site from Buffalo Niagara International Airport in upstate New York. And the race course is worth the travel. It starts with single-loop, clean and clear swim in a canal (water temp will be 68–72 degrees) before a flat and fast bike course on quiet roads along both the Niagara River and Lake Erie. The highlight of the course, though, is the run—it takes you through the city of Niagara Falls before passing Niagara Falls itself! You'll pass both the Canadian and American Falls twice during the two-loop run.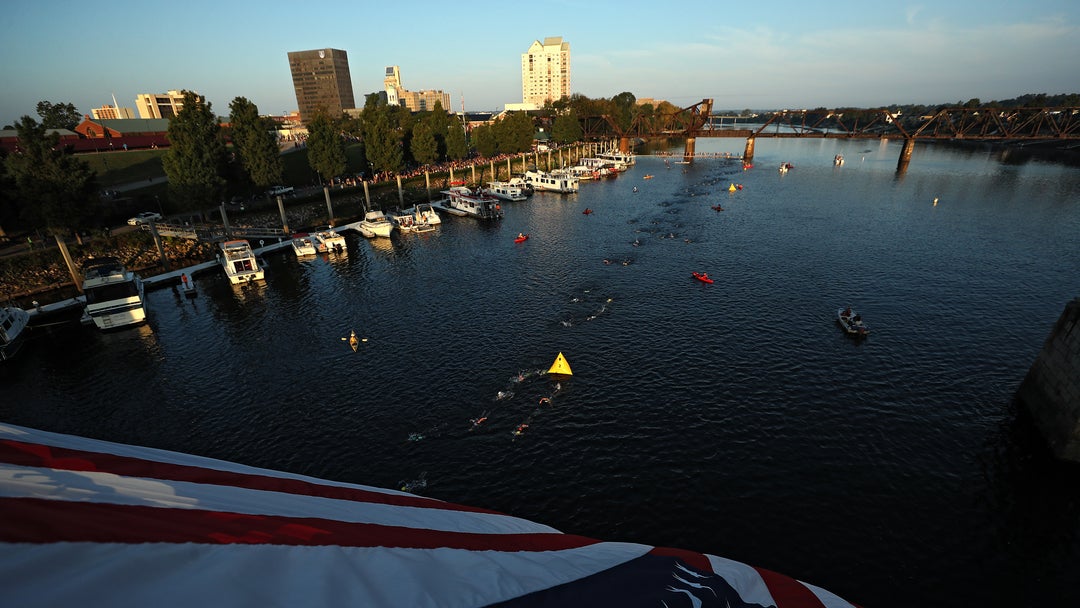 Ironman 70.3 Augusta
Sept. 29, 2019 | Augusta, Ga.
Ironman.com
You can nab a PR while surrounded by American history at this Southern race. It starts with a down-current, point-to-point swim in the Savannah River that ends at the Augusta Rowing Complex. Then the single-loop bike course takes athletes through the back country, rolling hills and lush green scenery of Georgia—while it has some technical turns and slow inclines, it also has fast descents and long straightaways. The race ends with a spectator-friendly, two-loop run course through the streets of historic downtown Augusta that is sure to be flat and fast. On the way to the finish on Broad Street, you'll feel both the crowd's energy and the Southern hospitality from spectators and race volunteers.
Ironman 70.3 North Carolina
Oct. 19,2019 | Wilmington, N.C.
Ironman.com
Wilmington's significance in U.S. naval history (it's home to the WWII battleship USS North Carolina and the USCGC Diligence) and its coastal beauty make it a unique race-cation destination, and the world-class children's museum and miles of beaches make it the perfect spot for bringing the whole family. Great for both those racing for the first time as well as those looking to earn a PR, this fall half-iron-distance triathlon features a down-current swim with the incoming tide plus flat and fast bike and run courses. The swim starts from Wrightsville Beach and travels through a channel connected to the Atlantic Intracoastal Waterway, so athletes will have the advantages of a saltwater swim without the risks. The flat bike course takes athletes through historical Wilmington and on to rural country roads. The race wraps up with a running tour of Wilmington's historical downtown, which will be sure to draw crowds of cheering spectators.