Cameron Dye, Angela Naeth Win TriRock Philly Triathlon
Cameron Dye and Angela Naeth won the Olympic-distance event in Philadelphia.
Heading out the door? Read this article on the new Outside+ app available now on iOS devices for members! Download the app.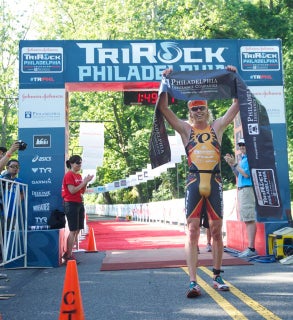 After a swim through the Schuylkill river, two laps through historic Philly and a run along the river, Cameron Dye won his second consecutive Johnson and Johnson TriRock Philadelphia Triathlon, formerly known as the Philadelphia Triathlon. Angela Naeth continued her dynamic season, using a blistering run split to earn the title. Andy Potts and Jenna Shoemaker both earned second-place finishes, with Matt Reed and Sara McLarty rounding out the podium. The pros were competing as part of the PHLY Cup, which featured a prize purse of $25,000.
PHOTOS: TriRock Philadelphia Triathlon Pros
Men
Four athletes including Potts and Dye broke away in the swim and earned a gap over the rest of the field. Hunter Clay bested the two super-swimmers, but it was Dye who took the lead out of transition. He never looked back.  "My race plan is no secret," he said after the race. "I came out of the swim around Andy and tried to hammer the bike and do as much damage on the first lap as I can since Andy has been going longer, he might not have the explosive speed but you know he's going to hold it together." The Olympic distance specialist jumped out to a 90-second lead and added another minute to his advantage on the second loop through the city. Dye came out of T2 with 2:30 over Potts. Like Dye, Potts said his "race tactics never change," and he would need an incredible run to catch Dye.
The chase was on, with Potts taking nearly 20 seconds per mile from Dye. His furious charge came up a little short, and Dye powered down the finish chute with just 30 seconds of his lead remaining.
Women
Sara McLarty is widely considered the fastest swimmer in the sport. With water temps in the mid 70s, professionals competed without wetsuits (age groupers were allowed to race in wetsuits), adding to the former NCAA All-American swimmer's advantage in the water. She
earned a massive 3-minute gap over Naeth and Parker. While McLarty was certainly expected to lead the swim, this was a gigantic time gap that the others would struggle to erase. "I knew Sara was going to be up there so my whole thought process was how much time do I need to keep to have her within striking distance," said Naeth.
Once on the bikes, Naeth and Parker both shaved a little time from McLarty's lead during the first lap. With the chasers working hard in the rear, McLarty was also riding well. "I had a great bike, I was stoked," she said. "These girls honestly had an amazing bike too, because I think that was my best of the year." Despite McLarty's admirable effort, Naeth and Parker took time from her advantage. Naeth came into T2 1:35 behind the super-swimmer.
"I've always come behind on the bike and it's kind of an advantage because you can go your own pace," explained Naeth. One the run, she first gapped Parker then caught McLarty. "The run was good because I could use the (mile marker pylons) to gauge the distance and focused on that and slowly but surely grabbed the two girls in front of me," said Naeth.
The Canadian extended her lead and took her first TriRock Philadelphia Triathlon title. Parker earned second, and Mclarty was very proud of her third-place finish.
PHOTOS: 2013 TriRock Philadelphia Triathlon
TriRock Philadelphia Triathlon with Title Sponsor Johnson And Johnson
Philadelphia, Penn. – June 23, 2013
1.5K Swim, 40K bike, 10K run

Men
1. Cameron Dye (USA) 1:49:02
2. Andy Potts (USA) 1:49:37
3. Matty Reed (USA) 1:52:53
4. Mike Gadzinksi (USA) 1:57:14
5. John Kenny (USA) 1:57:34
Women
1. Angela Naeth (CAN) 2:01:41
2. Jenna Parker (USA) 2:02:22
3. Sara McLarty (USA) 2:04:22
4. Laurel Wassner (USA) 2:04:51
5. Julie Patterson (USA) 2:07:56

Complete results.
Join in the conversation about everything swim, bike and run. "Like" us on Facebook.