Dreaming of a Race-Cation? Here Are 4 of Our Favorites
We rounded up four of the best Big Island-style events where you can S/B/R hard, then recover even harder.
Heading out the door? Read this article on the new Outside+ app available now on iOS devices for members! Download the app.
Kona fever got you dreaming about a tropical destination race? We rounded up four of the best Big Island-style events where you can S/B/R hard, then recover even harder.
Lavaman Triathlon
Waikoloa Beach, the Big Island of Hawaii
March 25, 2018
Kona factor: It's literally down the road from Kona, and although the majority of the swim and run happen within the Waikoloa Beach Resort, the bike gives you a glimpse of the Ironman course with an out-and-back on the iconic Queen K. It's just like racing the world championships, except much, much shorter and with less hullabaloo.
What makes it unique: This Olympic-distance race is an old-school classic. It's been around for 20 years and is known as a favorite among locals. But this isn't a pre-packaged, cookie-cutter event: You'll be running through lava fields, along dirt trails, and finishing in the sand on the beach. Finally, get ready for the most Hawaii post-race party ever.
Insider tip: "Be prepared for everything. It can be a choppy swim, a windy ride and most definitely a hot, rocky run," says Bree Wee, a former pro triathlete and seven-time winner of the race. But once you run through the beach finish line, "you're treated to a gorgeous ocean recovery and wonderful people to talk story with."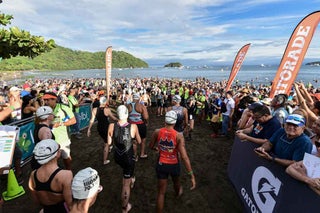 Ironman 70.3 Costa Rica
Playa del Coco, Costa Rica
June 2018
Kona factor: As you run along the beach under palm trees and through screaming crowds of kids spraying you with hoses, it'll feel almost exactly like running on Ali'i Drive—right down to the heat and humidity. Didn't you say you wanted a Kona experience? There's no doubt that the tough weather and wild beauty of the whole region will remind you of the Big Island.
What makes it unique: Take extra time post-race to explore the local snorkeling, nearby rainforests and wild animal reserves. Bonus: The national animal is a sloth.
Insider tip: There can be tiny jellyfish in the waters you'll swim through. Their stings are small and don't hurt much, but better to know ahead of race day.
Challenge Aruba
Oranjestad, Aruba
Oct. 22, 2017
Kona factor: A hot tropical island race in October—are you sure this isn't Kona? The main thing separating this half-distance race from its highbrow cousin is the laid-back approach. A super fun event, Challenge Aruba is only in its second year, but it's attracted a number of top pros looking to close their season out in style—sometimes post-Kona.
What makes it unique: With picture-perfect white sand beaches, this is an ideal place to kick off your off-season. If it sounds like too much work for a vacation, you can always sign up for the sprint or a relay instead. There'll be a club competition this year as well, so get some friends to do a team racecation alongside you.
Insider tip: "Don't let this destination race fool you. You have to earn your vacation," says pro Linsey Corbin, who took second at the inaugural event. "The race is hot, hot, hot. And the bike, although flat, has significant head- and tailwinds as well."
Ironman Lanzarote
The Canary Islands, Spain
May 26, 2018
Kona factor: One look at photos from the race, and you'll think these are the lava fields of Kona. In fact, race founder and local Kenneth Gasque took inspiration from Kona and wanted to bring the same full-distance feel to his island. Lanzarote is windy, hot, brutal and breathtaking. There are certain races known as some of the hardest Ironmans on the circuit: Kona is one, Lanzarote is another.
What makes it unique: Just like the Big Island, Lanzarote is part of a volcanic archipelago. But unlike in Kona, you actually ride up these rugged mountains. There's a reason the course records here are so much slower than anywhere else.
Insider tip: The area is also known for its athlete-focused resorts, like Club La Santa, with lap pools, organized workouts and cycling amenities. So you can arrive early, get your body used to the time change and nail your taper without worrying about where you're going to swim.