Defending Champions Return To Lifetime Fitness Triathlon
Heading out the door? Read this article on the new Outside+ app available now on iOS devices for members! Download the app.
The second race of the Lifetime Fitness Triathlon Series Race To The Toyota Cup is set for this Saturday in Minneapolis, Minn. The Lifetime Fitness Triathlon will welcome back both of its defending champions, but victory will not come easy for either athlete.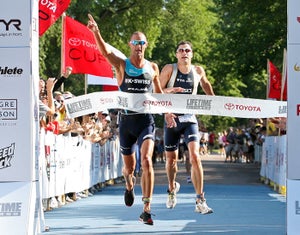 American Matt Reed won last year's race in a thrilling sprint finish with fellow American Andy Potts and Australian Greg Bennett. That win ultimately propelled Reed to win the Toyota Cup series title a few months later. While Potts has chosen to focus on longer distances this year, Bennett will be back in hopes of coming out on top in this year's foot race. The victory isn't a guarantee for Reed or Bennett. While Australian Craig Alexander has become known for his long-distance talent, he proved he can compete at the Olympic distance back in April with a third place finish at the St. Anthony's Triathlon. Two young athletes who are definite contenders for the win are Americans Matt Chrabot, winner of the 2010 Miami International Triathlon, and Cameron Dye, winner of the 2010 St. Anthony's Triathlon. Finally, American David Thompson currently sits ahead of all of these athletes in the Lifetime Fitness Triathlon Series thanks to a second place finish at the Philadelphia Insurance Triathlon, and he will be looking to take the overall series lead with a win.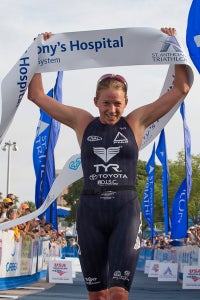 American Sarah Haskins is the heavy favorite on the women's side. Haskins established her non-drafting dominance earlier in the year with wins at both the Miami International Triathlon and the St. Anthony's Triathlon. Since then, Haskins has been putting her stamp on the ITU World Championship Series, where she currently sits in fourth place. Add to that the fact that Haskins is the defending champion both in this race and in the series and it looks like she will be tough to beat. Another Olympic-distance specialist, Rebeccah Wassner of the United States, has the run power to stick with Haskins, but has been battling a foot injury all year and may not be at 100%. While Great Britain's Julie Dibens has become a half-Ironman specialist, she has an Olympic-distance win from Rev3 Knoxville under her belt and will look to be at the front at the end of the bike. Other contenders vying for the win include Australia's Pip Taylor, and the United States' Mary Beth Ellis, Laurel Wassner and Sara McLarty.
Check back to Competitor.com for complete coverage of the event, including a photo gallery of the race.
See the current start lists below:
Men
Craig Alexander (AUS)
Greg Bennett (AUS)
Matt Chrabot (USA)
Cameron Dye (USA)
Clark Ellice (NZL)
Clayton Fettell (AUS)
Henry Hagenbuch (USA)
Filip Ospaly (CZE)
Devon Palmer (USA)
Matt Reed (USA)
Andrew Starykowicz (USA)
David Thompson (USA)
Nicholas Vandam (USA)
Andrew Yoder (USA)
Women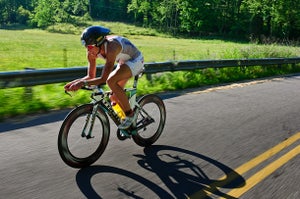 Julie Dibens (GBR)
Mary Beth Ellis (USA)
Jenny Fletcher (CAN)
Sarah Haskins (USA)
Sara McLarty (USA)
Pip Taylor (AUS)
Laurel Wassner (USA)
Rebeccah Wassner (USA)