Davies, Maslova take Inaugural Eireman Titles
Heading out the door? Read this article on the new Outside+ app available now on iOS devices for members! Download the app.
The inaugural Eireman Triathlon was marketed as a PR delight, but an unseasonal dose of Mother Nature ensured that it would be, at least for this debut, a nightmarishly tough day of wind and rain.
"That was tougher than (the) Hawaii (Ironman), said mens race winner Hywel Davies of Great Britain, who finished the shortened event in 8:18:27. "This race has amazing potential for coming years, but this year was a tough year to debut in."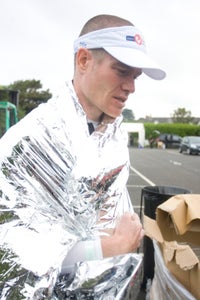 The unofficial womens winner was Russian Elena Maslova. Official results were not available as of press time.
With squalls and large storm surf pounding Courtown Beach, organizers scrambled to make the race-day the decision to remove the swim from Sunday's races, including a sprint, Olympic, half-Ironman-distance event and centerpiece Ironman-distance race. They scrambled to separate the events; Ironman-distance race began with a time trial start format, off at 30-second intervals, while the Half-Ironman-distance event was converted to a duathlon, opening with a 4k run before the 90k bike and closing 21k run.
While athletes escaped the wrath of the sea, it was matched in terms of magnitude on the bike. The northbound/southbound bike course along the freeway was smooth, but a northerly wind went from a breeze to a gale, peppering cyclists with alternating mist and rain.
"You'd do 10 miles in 20 minutes one way, and 10 miles in 50 minutes the other, Davies said. "It was brutal, just so hard trying to get any rhythm going."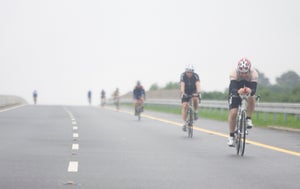 The men's race was all Davies. The high school physical education instructor back home in was just off a bike training stint in the French Alps just two days before the race. He came off the bike with a healthy 20-minute lead, and padded it on the marathon despite a run that belied initial descriptions.
"I heard it was pan flat little jog out to town and back," Davies said of pre-race suggestion. "It wasn't that at all. Hills, steps, turns around cones, rolling. Again, hard to get into a rhythm."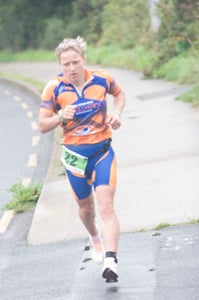 In the womens race, TeamTBB's Donna Phelan of Canada chipped away at the four out-and-back-sections to take the fastest bike by nearly 11 minutes over Russian Elena Maslova and and earn the lead headed onto the run. But Maslova made steady progress through the marathon, while Phelan began to sucuumb to a leg injury that forced her to drop out. Maslova's metronomic run backed by a solid bike ensured her the victory.
Official results with splits will be updated as received.