Crowie Breaks 15-Year-Old Course Record, Wellington Regains Title At Ironman World Championship
Two past champions regained their titles as the top Ironman athletes in the world as Australia's Craig Alexander and Great Britain's Chrissie Wellington took the wins at today's Ford Ironman World Championship in Kailua-Kona, Hawaii.
Heading out the door? Read this article on the new Outside+ app available now on iOS devices for members! Download the app.
Two past champions regained their titles as the top Ironman athletes in the world as Australia's Craig Alexander and Great Britain's Chrissie Wellington took the wins at today's Ford Ironman World Championship in Kailua-Kona, Hawaii. The sight of Alexander and Wellington on top of the podium is a familiar one, as they have collected seven of the last ten titles between them over the past five years. Alexander's win was highlighted by a course-record finish time of 8:03:56. For Wellington, the victory came despite a bike accident she suffered two weeks ago in Boulder, Colo.
Men's Race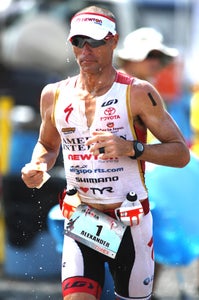 American Andy Potts defended his position as the top swimmer at the Hawaii Ironman by exiting Kailua Bay in 49:44, about a minute slower than his pack-leading time last year. Behind Potts a large second group including most of the primary contenders exited the water together. The chase pack included 25 athletes and the likes of American Chris Lieto, Australian Craig Alexander and German Andreas Raelert.
Potts' two-minute lead was short lived as the large chase group of athletes swallowed him up. Uber cyclist Lieto took charge earlier than he has in past years and grabbed the lead by the 20-mile mark. The move was not a permanent one though; Lieto relinquished his lead and rejoined the main group. With Lieto back in the pack, a handful of athletes, including Germany's Faris Al-Sultan and Australia's Luke McKenzie, took turns at the front. The race was far from decided at the turn around point in Hawi, with the favorites populating the group. Eventually Lieto powered his way back to the front, forcing the pace and carrying a lead of five minutes over McKenzie, Marino Vanhoenacker and Craig Alexander. Alexander turned in an impressive showing on the bike, earning a bike split of 4:24:05.
Lieto managed to hold the front position for the first few miles, but with the swiftest runners in the sport not far behind in he had little hope. Alexander took the lead just past the six-mile mark. Germany's Andreas Raelert looked to be gaining ground as he turned onto the Queen K, but his stride eventually slowed. Alexander showed no sign of weakness throughout the entire day, racing his way to a 51:56 swim, 4:24:05 bike and a 2:44:02 marathon to earn the win and a course record time of 8:03:56, snapping Luc Van Lierde's 1996 record of 8:04:08. Alexander also becomes the first person to win both the Ironman World Championship 70.3 and the Ironman World Championship in the same year. Australia's Pete Jacobs ran the fastest marathon of the day at 2:42:29 to earn the second spot in 8:09:11. Germany's Andreas Raelert earned his third podium spot in as many years, finishing third at 8:11:07.
RELATED: Alexander Rides to Ironman Greatness
RELATED: Training Day With Craig Alexander
Women's Race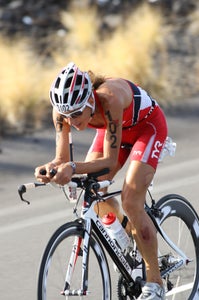 The women's race started with the United States' Amanda Stevens and Great Britain's Julie Dibens making the main pack of the men's race, giving them a large advantage over the rest of the women's field. The biggest story early on in the women's race was the less-than-stellar swim performance of Great Britain's Chrissie Wellington, a three-time Kona champion. She exited the water in 17th position at 1:01:03, more than six minutes slower than her swim time when last she won here in 2009.
With the strongest cyclist out of the water in a top position there was little hope for the rest of the competition on the bike leg. Dibens quickly overtook Stevens and broke away, establishing a gap of nearly six minutes over last year's runner-up Caroline Steffen of Switzerland at the 42-mile mark. At that point the two fastest runners, and former world champions Mirinda Carfrae and Chrissie Wellington, were at least 10 minutes back. Dibens continued to build on her lead, entering T2 with a gap of about 11 minutes over Steffen. Dibens has been up front about a foot problem that has plagued her since her win at June's Ironman Coeur d'Alene. That foot injury did turn out to be problematic and she was forced to walk while still leading the race. Steffen eventually took over first position, but her lead didn't last long. Great Britain's Chrissie Wellington ran her way from sixth off of the bike to first position by mile 16 of the marathon. Wellington went on to earn the victory in 8:55:08, just over one minute shy of her 2009 course record time of 8:54:02. Defending champion Carfrae once again ran her way through the field, earning second in 8:57:57. She also broke the run course record for the third year in a row, going 2:52:09 in this year's marathon. Great Britain's Leanda Cave earned her top placement ever, finishing third in 9:03:29.
RELATED – Wellington: Another Dimension Revealed In The Unfathomable Great
Ford Ironman World Championship
Kailua-Kona, Hawaii – Oct. 8, 2011
2.4-mile swim, 112-mile bike, 26.2-mile run
Men
1. Craig Alexander (AUS) 8:03:56
2. Pete Jacobs (AUS) 8:09:11
3. Andreas Raelert (GER) 8:11:07
4. Dirk Bockel (LUX) 8:12:58
5. Timo Bracht (GER) 8:20:12
Women
1. Chrissie Wellington (GBR) 8:55:08
2. Mirinda Carfrae (AUS) 8:57:57
3. Leanda Cave (GBR) 9:03:29
4. Rachel Joyce (GBR) 9:06:57
5. Caroline Steffen (SUI) 9:07:32
Click here for complete results.
RELATED CONTENT:
– Chrissie Wellington's Mindset Heading Into Saturday's Race
– TYR Signs Craig Alexander
– Video: Crowie's Aero Helmet Decision
– Craig Alexander's New Specialized Shiv
– Video: Craig Alexander's Specializes Shiv